How To Apply Makeup To An Oblong Face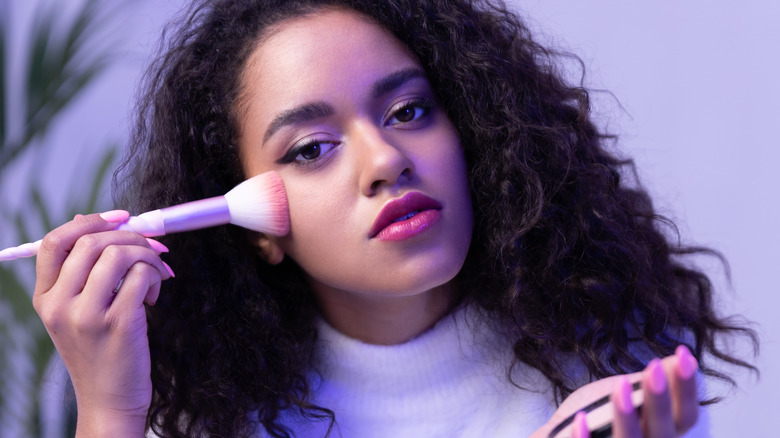 popcorner/Shutterstock
Makeup is all about enhancing your natural features and shining a light on you. It gives you room to experiment and find out what colors and shades look best on you. With around eight billion people on the planet, we are bound to have just as many unique facial structures and one method just won't do for all of us. For the best face beat, you should dig a little first to find out what face shape you have. 
If your face shape is oblong, you might not like your makeup results if you follow a routine by someone who has a heart- or diamond-shaped face. Your makeup should highlight your beauty and traits. It should be a reflection of yourself and make your features stand out.
This is important to learn because, with social media makeup tutorials and influencers trending every day, it's easy to get caught up in imitation. If you have a different facial structure from your favorite influencer, their own procedure might not favor your own face as it does theirs. You have to learn to tailor your makeup to your oblong face. Luckily, there are tips you can add to your makeup routine to help you balance everything out.
Makeup can widen your oblong face
The great thing about makeup is that you can also create illusions to offset some features or draw attention away from them. In the case of people with oblong faces, makeup tends to look better when it achieves a widening effect on the face to balance out your length.
Sephora Pro makeup artist Chris Sams made it known via Byrdie that people with oblong faces typically have a 2:1 ratio in terms of length to width. He says that a great way to widen your long face is through the use of products that "de-emphasize the height and enhance the width of the bone structure." According to him, this can be done by applying bronzer along the corners of the face, from the hairline to the cheekbones, with the jaw, and across the nose bridge. The contour should be done in such a way that it widens the center of the face. Contouring underneath the jaw is vital because the dark contrast will make it seem like you have less jaw.
Even your blush should be applied according to your face shape. Sams directs people with oblong faces to use their blush brush directly on their cheekbones and blend it backward for more width.
Highlight key areas to reflect light in a wider proportion of the face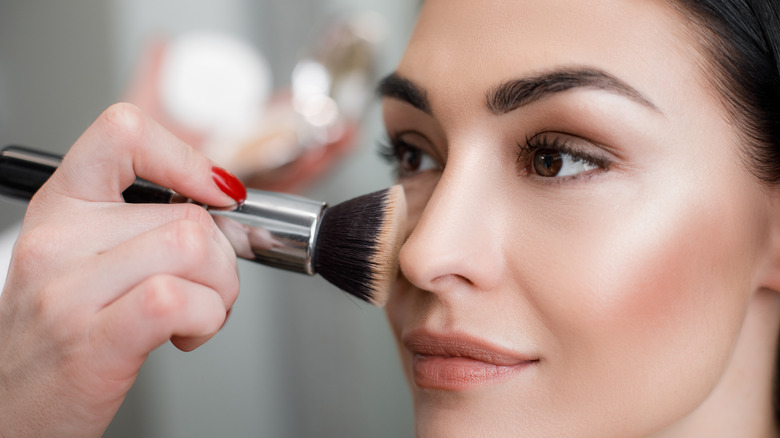 Olena Yakobchuk/Shutterstock
Once contouring is complete, highlighting comes next. Highlighting should be done on the cheekbones in a line toward the temple to create width. You can also add it to your nose and under your brows. However, don't highlight your forehead or chin because that would emphasize the length of your face. You should aim to emphasize the middle of your face as opposed to the top or bottom.
If your oblong face has more angular features such as prominent cheekbones, then you would want to contour a little less and vice versa. Rounder features call for more contouring to create the illusion of depth. That depth beneath your cheekbones is important because it will make your eyes seem like they are at the center of your face. You can play around with these tricks until you find the most suitable technique for your face.