Previously Unseen Home Videos Show Meghan Markle Was A 'Royal' Long Before She Met Prince Harry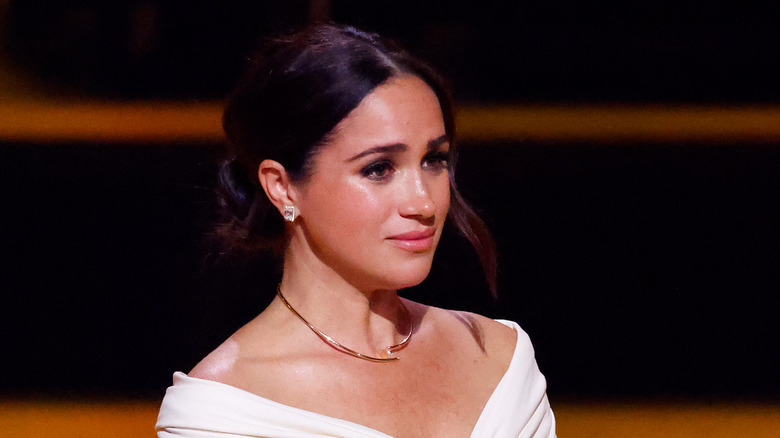 Max Mumby/indigo/Getty Images
Before Meghan Markle joined the royal family, she didn't have a depth of knowledge about the ins and outs of royal protocol, and as an American, that makes complete sense. Meghan said she never even Googled Prince Harry prior to meeting him. When the former "Suits" star first met the queen, it was in private. But it was clearly much more than meeting her future grandmother-in-law. Meghan didn't realize that even behind closed doors, you have to curtsy and bow to the monarch. 
She recounted the embarrassing moment in the Netflix docuseries "Harry & Meghan," assuming it was a joke when Harry asked her if she knew how to curtsy. As unexpected as some of the royal protocols may have been for Meghan when it came to her wedding, she seemed to fit right in. The Duke and Duchess of Sussex definitely looked the part as they rode in a royal carriage and waved at the crowds of fans lining the procession route in Windsor after their wedding. 
And, for the big event, Meghan wore Queen Mary's diamond bandeau tiara, borrowed with the blessing of Queen Elizabeth II — what's more royal than that? But her wedding day was not the first time Meghan wore a tiara, though the one she donned beforehand was certainly not made of diamonds. According to Express, the duchess's family released home footage of Meghan being crowned high school homecoming queen, complete with tiara, signaling she was always destined to be a royal. 
Home footage of the duchess proved she was always a royal at heart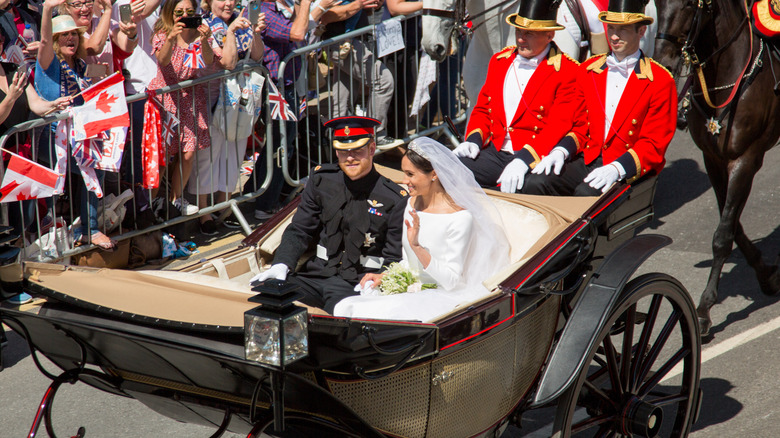 MattKeeble.com/Shutterstock
Footage of Meghan Markle being crowned homecoming queen shows her on a football field carrying a bouquet of flowers, waving from the back of a convertible next to the homecoming king, and, yes, wearing a tiara. Along with home videos of her attending homecoming, there's also footage of Meghan performing in school events and just being around her (now estranged) family. The footage on its own could be seen as a sweet throwback memory, but it's actually a part of something much bigger.
The clips are featured in the trailer for a 7News Spotlight interview with the estranged side of the duchess's family. Her father, Thomas Markle Sr., and half-sister Samantha Markle are joined by Meghan's half-brother, Thomas Markle Jr., to talk about Meghan and her husband, Prince Harry, with the interview set to air on Australian TV the Sunday before King Charles III's coronation — which is surely no accident.
In the trailer, Samantha repeats some of her previous, highly-publicized criticisms about her estranged sister, and decries Meghan's relationship with Harry as "toxic." Their father, meanwhile, seems to be hoping for some kind of reconciliation with the duchess. The timeline of the drama surrounding Meghan and her sister Samantha is already lengthy and, clearly, it's only going to get longer with this latest release.