A Timeline Of The Drama Surrounding Meghan Markle And Her Sister Samantha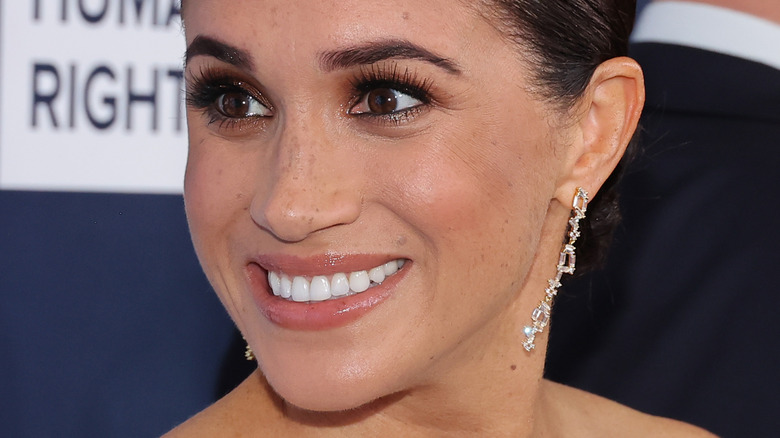 Mike Coppola/Getty Images
We may receive a commission on purchases made from links.
There's nothing quite as bad as a rogue family member stepping out into the spotlight, and it would seem as though both Meghan and Samantha Markle would argue their case. To Samantha, Meghan is the younger, prettier half-sister who struck gold in her career, only to go on to marry a literal prince — all while distancing herself from her family, or at least that's how Samantha has framed it. To Meghan, Samantha is the already-distant half-sister who was never around, to begin with, only to step into the spotlight and capitalize off of her notoriety after making things official with Prince Harry. Each story places blame on the other, and both sisters have made it clear throughout their own media appearances that they do not see eye to eye.
When Meghan and Harry were in the throes of planning their wedding, it seemed as though headlines with Samantha were cropping up time and time again. Meghan was a sweet, lovable little sister in some accounts and a shallow diva in others. Samantha seemed to flip-flop in each media appearance, and the subsequent fallout with Meghan's father just days before the wedding certainly dealt the final blow. Or did it? As it turns out, the drama between Meghan and her sister has not gone away with time, and they are now set to battle it out in court. This is the entire timeline of the drama surrounding Meghan Markle and her sister Samantha.
Samantha Markle first struck out at Meghan back in 2016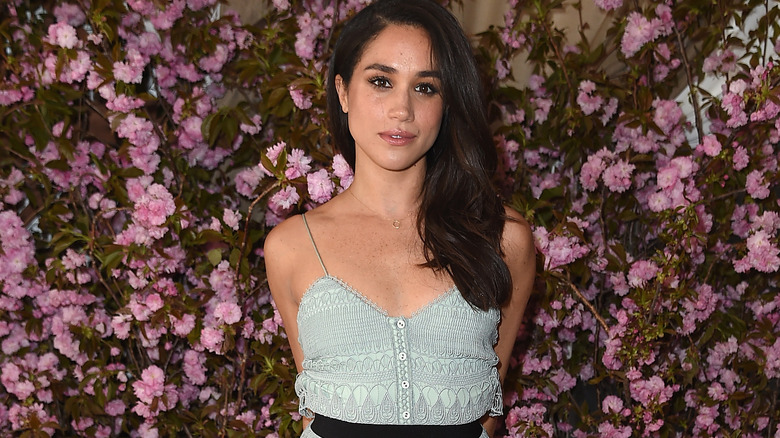 Nicholas Hunt/Getty Images
When Meghan Markle and Prince Harry's romantic relationship hit the headlines, the two had already been seeing each other in private for quite some time. But, as they detailed in their Netflix documentary, they knew that their little bubble would burst into the public eventually — surprisingly, it was Meghan's seemingly estranged half-sister that dealt one of the first blows against the couple. Speaking exclusively to RadarOnline in the immediate aftermath of Harry and Meghan's public news, Samantha Markle — who went by Samantha Grant at the time, but that's a whole other issue that'll come later — said that the royal family would want nothing to do with Meghan after the supposed truth came out about the "Suits" actor and her own relatives back in California.
"The royal family would be appalled by what she's done to her own family," Samantha said at the time. "The truth would kill her relationship with Prince Harry, he wouldn't want to date her anymore because it puts her in a bad public light. I certainly don't think Harry or his family would want to associate with her afterwards."
Claiming that their father — their only mutual parent — was bankrupt at the time, Samantha took issue with Meghan seemingly not helping him financially or otherwise. It should be noted that Meghan was primarily raised by her mother, Doria Ragland, after her parents split when she was just 6 years old.
Samantha teased a tell-all book about Meghan in October 2017
As Prince Harry and Meghan Markle's relationship continued to blossom over time, Samantha Markle got more and more vocal with her criticism against her half-sister. She continued to do the rounds on the morning talk shows in Great Britain and appeared to flip-flop back and forth in her estimations of Meghan — on the one hand, she was "very graceful," according to Samantha, but then, on the other hand, she was far too much for the British people to handle. In one particular appearance on Good Morning Britain, Samantha dropped a bit of a bomb — she was writing a tell-all book, and Meghan was a primary part of it.
"I think the British people and the world will be surprised. There's so much the public doesn't know," she said at the time (via People), revealing that the title of the book would be "The Diary of Princess Pushy's Sister." "Well, it is true that I'm writing a book and the title is accurate, what is not true [is] this unbelievable swell that's been created that it's some sort of slamming 'tell-all,'" she continued.
Samantha's barrage continued in October of 2017, claiming that Meghan had always wanted to be a princess and had a "soft spot for gingers" (via Vanity Fair). Her narrative that the "Suits" star had turned her back on her own family only continued to strengthen over time, with Meghan choosing the silent route.
She changed her tune when Meghan and Harry got engaged in November 2017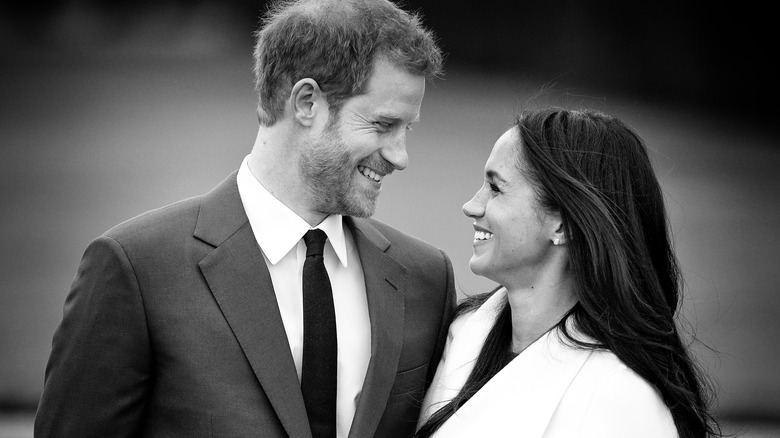 Max Mumby/indigo/Getty Images
First comes love, then comes marriage, and Samantha Markle's tune changed when it was announced that Prince Harry and Meghan Markle were engaged. Having maintained that her half-sister was pushy and neglectful, Samantha seemingly realized that her narrative would not aid her in being invited to the wedding. In the immediate aftermath of the November 2017 news, she once again appeared on Good Morning Britain with an entirely different perspective on Meghan — one that was full of praises.
Claiming that Meghan was not in it for the royal perks — a far cry from her previous commentary — Samantha said of Meghan: "As you can imagine, she's very creative, charming, lovely, full of life, very vibrant, and she's never changed. She's just so sweet and charming. I've seen that so much in her recently. She's overwhelmingly happy. So all that comes out. It's nice!"
Bringing her own family into the narrative, Samantha then claimed that the Markle side only wanted to see Meghan happy. "It's lovely, but I have to say I think what's more important to our family, and certainly to her, is that you find the person that's the best fit for you, that you love, that really makes you happy," Samantha said. "I don't think it's so much who he is in terms of royalty as who he is as a man. I can see she's just bubbling. It's so charming and so warm."
Things began to shift once again in January 2018 when it became clear Samantha wouldn't be invited to the wedding
Though she seemingly tried to put her best foot forward in her November 2017 media appearances, it became clear with time that Samantha Markle would not receive an invitation to the royal wedding. Lashing out on social media with different complaints against her half-sister, Samantha continued to take aim at Meghan Markle for seemingly not helping their father financially or otherwise during his time of need.
When Meghan and Prince Harry's engagement photos were revealed, Samantha once again fired back, taking issue with Meghan's dress of choice. As it set her back thousands, Samantha took to Twitter in January 2018 to file her complaint with the world wide web. "If you can spend $75,000 on a dress, you can spend $75,000 on your dad," she wrote at the time (via The Sun).
Still, Samantha seemingly still had hope that an invitation to the wedding of the decade would arrive in the mail for her, saying shortly thereafter: "It would be pleasing for us to be there and be invited. But it's entirely her decision." It should be noted that Samantha's status on Twitter has been a little all over the place with time, and it was claimed that she — at one point — had 12 different accounts all with the intention of slamming her half-sister. She claimed that her primary account was taken down by bots, but returned to the site in November 2022.
Samantha lost it on social media in April 2018 after it was clear she wouldn't be there on the big day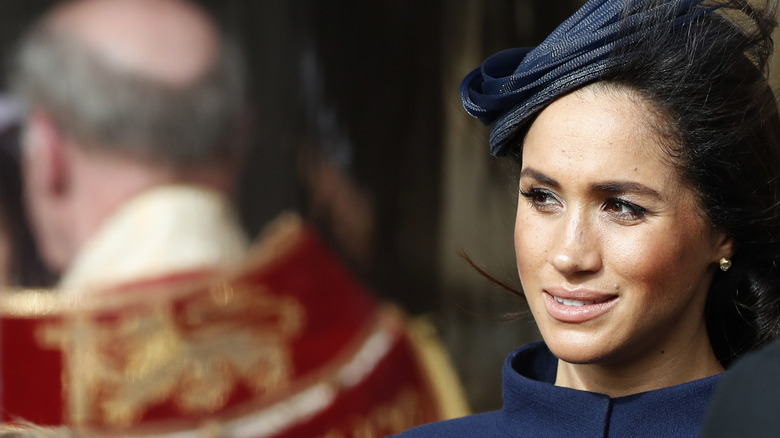 Wpa Pool/Getty Images
The big day was just around the corner, and the royal wedding guest list was made publicly available. Notably, Samantha Markle did not make the cut. As it became clear that she wouldn't be in Westminster Abbey alongside the world's nobility, she just about lost it on social media. 
Meghan Markle and Prince Harry had a guest list of about 600 people who would actually be in the abbey for the ceremony held at Windsor Castle. For their reception, about 2,500 guests would be included — it should be noted that royal weddings are not just personal celebrations but often state events, meaning that politicians, members of the military, and other high-profile guests attend the nuptials. This, however, was not adequate for Samantha, who pointed out on social media that hardly anyone from the Markle side of the family would be there — Doria Ragland, of course, would be in attendance and Meghan's father was initially going to be there as well (but that's a whole other story).
"Out of respect and humanitarianism, the Markles should be invited if 2,000 complete strangers are," Samantha tweeted at the time (via the Mirror), taking aim at Meghan and Harry and their exclusion of the California-based relatives. "Our uncle, brother, me, best friend of 30 years, nephews. At issue is not a matter of closeness. Family is family [sic]," she continued.
Samantha went on a media tour in May 2018 to continually blast her sister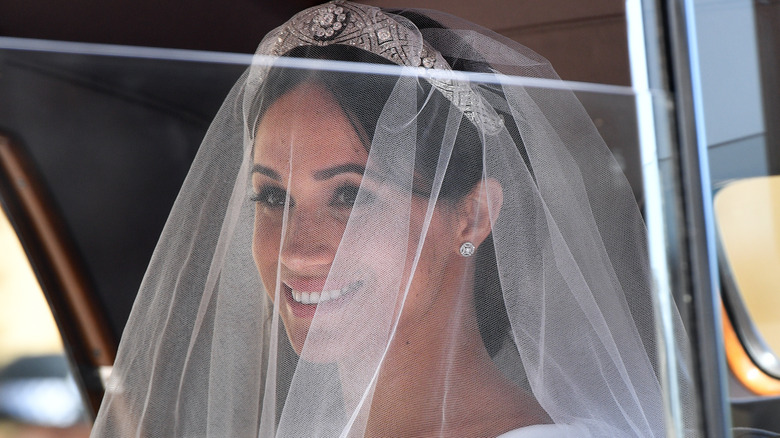 Pool/max Mumby/Getty Images
Prince Harry and Meghan Markle got married on May 19, 2018. It was a gorgeous spring day, and the bride looked simply stunning. It seemed that nothing would get the happy couple down that day, but Samantha Markle certainly tried — in the days leading up to the wedding and the weeks afterward, she went on what can only be described as a media tour, blasting her half-sister at every turn.
This iteration of their feud started on May 15, three days before the wedding. In an appearance on Good Morning Britain, Samantha took issue with the members of the press, calling them "media vultures," before then-host Piers Morgan accused Samantha of being a media vulture against Meghan. That same day, she appeared on Channel Four and continued her media escapades. The following day, she took aim at Meghan and called her out for supposedly telling Samantha not to make public statements about their father.
Harry and Meghan then got married, but it was only 10 days later that Samantha was back in the news. On May 29, she took aim at the Duke and Duchess of Sussex's coat of arms, arguing on Twitter that it looked like it had been "drawn by someone in kindergarten" (via The Sun).
September 2018 brought a new level of confrontation to their feud
Samantha Markle — in the aftermath of Meghan Markle's wedding to Prince Harry — could only be likened to a kettle of water coming to a slow boil. By the time the water was bubbling, Samantha was just about screaming and Meghan's continued silence on the issue seemingly made things even worse. In September 2018, Samantha took things to the next level and got on a plane headed for Great Britain. Her plan, according to her publicist Rob Cooper, was to confront Meghan about the supposed ill-treatment of their father.
"Samantha Markle is coming to the UK," Cooper wrote in a Twitter statement at the time, accompanied by a picture of him and Samantha. "After making numerous attempts in private to arrange a one on one meeting with The Duchess of Sussex to discuss their 74 year old father's health, Kensington Palace have refused to respond. I fear Meghan may not be made aware of these discreet attempts and therefore making this public is the only option we have left."
For her part, Samantha took to social media and said she was having a great time in Europe, with Cooper doubling down on their intentions to confront Meghan whether she "liked it or not." Samantha ended up standing outside of the gates of Kensington and Buckingham Palace, with no response from her half-sister.
Samantha once again took aim at Meghan over Thanksgiving 2018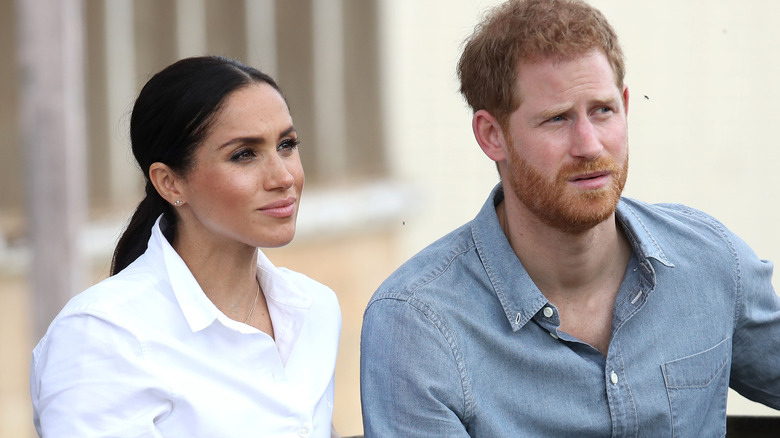 Chris Jackson/Getty Images
Even over Thanksgiving — which is notoriously the most food-coma-inducing holiday in the United States — Samantha Markle would not rest. After attempting to confront Meghan Markle about their feud — and specifically their father — in the United Kingdom, Samantha once again took aim at her half-sister. Standing in front of the gates at Buckingham and Kensington Palace wasn't enough, so Samantha took to Twitter once again to assign blame on Meghan for their father's health and well-being, which according to her was declining.
Claiming once again that Meghan and the entire royal family as a whole had cut the Markle family off, Samantha wrote on Twitter: "Dad's [sic] are special! I love my dad more than anyone in the world!" (via Vanity Fair). Posting a selfie of her and Thomas Markle alongside the tweet — which was uncharacteristically chipper of her — Samantha further rubbed it in. "Had a fantastic birthday and thanksgiving with my dad!" she wrote.
Granted, the tweets were more peaceful than some of Samantha's other attacks. It should be noted, however, that Samantha's plans to drop her memoir, "The Diary of Princess Pushy's Sister," to coincide with the birth of Prince Harry and Meghan's first child had been brought to light. The book was eventually released on January 17, 2021, to mixed reviews.
Things cooled off a bit, but were reignited when Harry and Meghan stepped away from the royal family in March 2021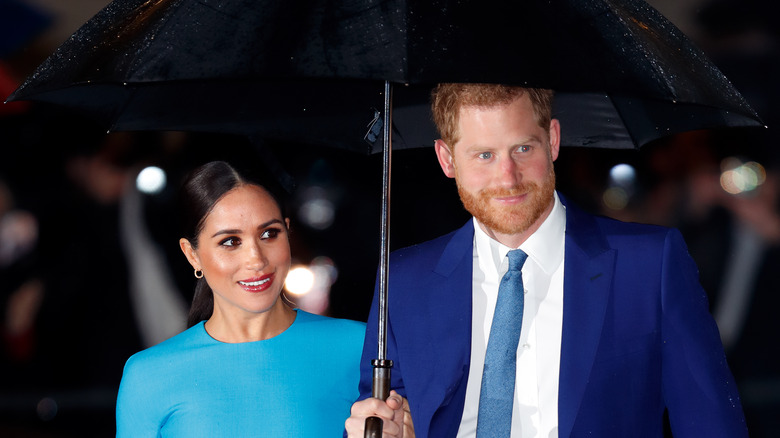 Max Mumby/indigo/Getty Images
When Prince Harry and Meghan Markle announced that they were stepping back from their roles as senior royals, it seemed as though an era was coming to an end. Just how severe things would get, however, remained to be seen. Harry and Meghan set off for Canada and then the United States, settling down in Montecito, California, just a stone's throw from Los Angeles. Attempting to set the record straight as to why they left the firm, Meghan and Harry sat down for a bombshell interview with Oprah Winfrey and, of course, Samantha Markle had something to say about it.
Ahead of the interview's release, Prince Philip — Harry's grandfather — was admitted to the hospital as his health had been steadily declining. Meghan and Samantha's father, meanwhile, was also reportedly experiencing health complications. On these grounds, Samantha argued, the interview shouldn't air.
"I'm worried all this could affect my dad's health. And it's terrible that this is happening when Prince Philip is in hospital," Samantha told the Mirror ahead of the interview. "It's stressful to have someone making this drama and personal affronts on the family at a time when he's so fragile. My dad could die at any time but it doesn't seem to matter to Meghan. All that seems to matter to her is she gets her way. She's like a bull in a china shop."
An unflattering truth about Samantha emerged in 2021
Despite Samantha Markle's attempts to put her father's health in the headlines and stop the Oprah Winfrey interview from running, Prince Harry and Meghan Markle joined the media mogul for the highly watched sit down (via YouTube). The couple shared their motivations for leaving the royal family, the pressures of the royal rota, and so on. Surprisingly, however, Meghan addressed Samantha, her tell-all book, and their relationship as a whole, saying that it would be "very hard to 'tell all' when you don't know me," referring to her half-sister.
"The last time I saw her must've been at least 18 or 19 years ago, and before that, 10 years before that," Meghan further revealed about Samantha and the nature of their relationship. It should be noted that this was one of the first instances when Meghan directly addressed what had become the sisterly elephant in the room.
Even further shocking details came in 2021 when it was revealed that Samantha — who went by Samantha Grant — intentionally changed her last name to Markle after Meghan and Harry started dating. Markle had become an internationally recognized name at that point, and it was the last name Samantha had plastered on her memoir which was released about a month and a half prior to the Oprah interview.
Samantha started a suit against Harry and Meghan in 2022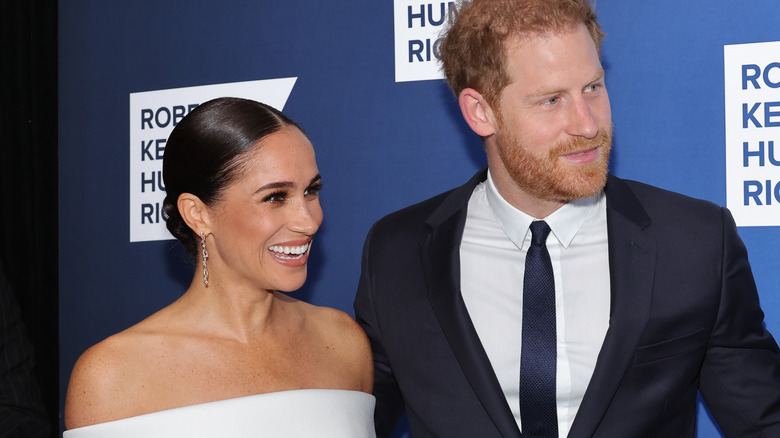 Mike Coppola/Getty Images
If you thought things between Samantha and Meghan Markle would've calmed down with time, you're sorely mistaken. In the latest turn of events as of publication, Samantha is suing Meghan and Prince Harry for defamation, claiming that her half-sister damaged her name and reputation with her "rags-to-royalty" story. Suing Meghan and Harry in federal court, Samantha's suit specifically cites the Oprah Winfrey interview as well as the 2020 book, "Finding Freedom" — written by Carolyn Durand and Omid Scobie — as the venues in which "demonstrably false and malicious statements" were made about her (via the New York Post). The suit, as a whole, paints a picture of Meghan as an opportunist who turned her back on her family in order to make it within the royal family.
"[Meghan] orchestrated the campaign to defame and destroy her sister's and her father's reputation and credibility in order to preserve and promote the false 'rags-to-royalty' narrative [Meghan] had fabricated about her life to the Royal Family and the worldwide media," the suit reads, with Samantha's lawyer Peter Ticktin further doubling down on claims that Samantha's name had been dragged through the mud by the couple.
"Why else is she putting her sister down? Why else is she putting her father down? Why else is she denying her family who has done nothing but good to her all her life?" Ticktin told the Daily Mail of the suit. "She never had a problem with them at all."
Harry and Meghan will be deposed in the case in 2023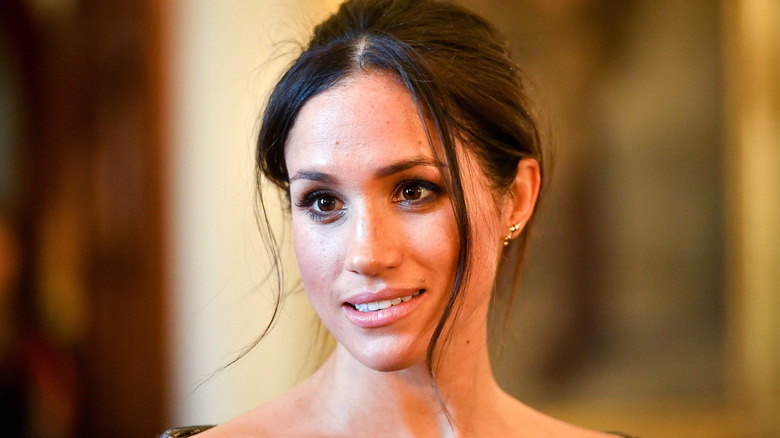 Wpa Pool/Getty Images
In the latest string of events as of publication, Samantha Markle's defamation suit against Prince Harry and Meghan Markle isn't going anywhere. In response to the suit, Meghan filed a motion in September 2022 in the hopes of avoiding a deposition in order to gain more information about the case. In February 2023, however, a Florida judge — Charlene Edwards Honeywell – dismissed the motion, noting that: "[Meghan] does not show that unusual circumstances justify the requested stay, or that prejudice or an undue burden will result if the Court does not impose a stay. Defendant Markle does not satisfy the high standard required to stay discovery pending the resolution of a dispositive motion" (via CNN).
In the suit specifically, Samantha is suing for "defamation and injurious falsehood" and is pursuing a payout of more than $75,000. Citing the Oprah Winfrey interview further, Samantha claimed that Meghan and Harry "[made] demonstrably false and malicious statements....to a worldwide audience," bolstering the idea that her name was tarnished as a result. It remains unclear when Harry and Meghan will be deposed in the case as of publication.