Skincare Ingredients That Can Restore Collagen In Your Face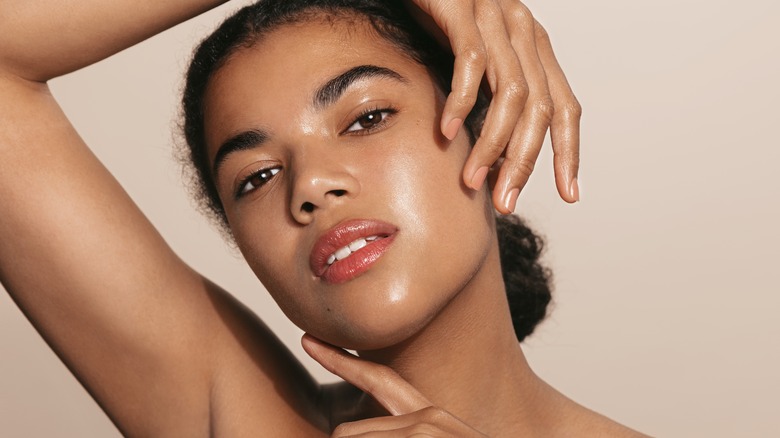 Lyubov Levitskaya/Shutterstock
Whether you feel like your skin needs a new skincare routine or want to jump on the latest ingredients to help an array of skin ailments, finding the right products for you can be challenging. But one of the things many people are focusing on is collagen. According to the Cleveland Clinic, collagen is what makes up the majority of protein in our bodies and works to support everything from our bones to our muscles.
Beyond that, though, collagen is basically a super protein, also helping clear out dead skin cells and giving your skin a more youthful look by increasing elasticity. Unfortunately, as we get older, the collagen in our bodies is not as abundant and we begin to produce less and less of it naturally. This is why finding skincare products that contain collagen can be a game changer when it comes to helping our skin stay fresh and young. Any products that contain vitamin C, aloe vera, hyaluronic acid, retinol, and antioxidants can be great for restoring any lost collagen in the face. Here's how to find them and which ones are best for your skin type.
Collagen enhancing ingredients for your skin type
You don't have to choose a product with collagen in the name to help restore collagen in your face. In fact, while things like collagen creams are a great option, you need to make sure you are using the right one, as many of them simply sit on top of the skin and are not able to penetrate beneath it, which is vital for restoring the protein. So before you begin searching for collagen-based products, it's best to first understand your skin type.
If your skin is in need of added moisture and hydration, products with hyaluronic acid should be at the top of your list. Add this ingredient to your skincare routine and you'll soon see your collagen production pick up. If dull skin is your concern, a product that has the right amount of Vitamin C will help with elasticity, while retinol-based products are ideal for those suffering from acne or other forms of inflammation of the skin. And don't forget your sunscreen: protecting your skin from the sun and outside elements is essential in protecting the skin and maintaining the collagen you have.
Products that are great for restoring collagen
You may have quickly figured out that your acne-prone skin needs a retinol-based product that also aids in collagen production. But with so many product options out there, it can be hard to find one that is perfect for you and your specific skin issues. According to Dr. Jessica Krant (via Art of Dermatology NYC), using a collagen cream is likely doing nothing for your skin, as it is difficult for the creams to absorb into the skin. Instead, consider a product that penetrates the skin.
Using a vitamin C serum each morning has been proven to help collagen production, per Dr. Krant. The Kiehl's Powerful-Strength Vitamin C Serum has the right percentage of vitamin C, plus it also contains hyaluronic acid for added benefits. Other great products include the CeraVe Skin Renewing Retinol Face Serum, for those who want to increase collagen and protect the skin, and the La Roche-Posay Hyalu B5 Serum, which is great for dry skin.