Emma Chamberlain Nails Outfit Change Trend At 2023 Met Gala (With A Gen Z Twist)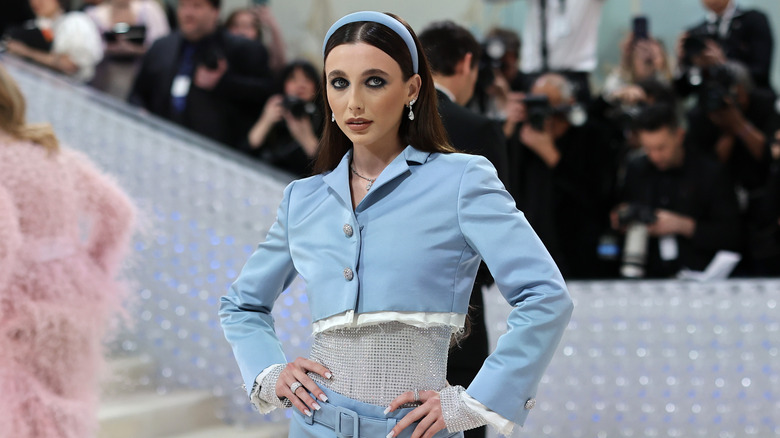 Mike Coppola/Getty Images
The Met Gala didn't used to be so star-studded. In fact, it wasn't always hosted at The Met. In the 70-plus years since its inception, this highly-anticipated night has gone from a Costume Institute fundraiser to a who's-who of Hollywood. Over the years, we've seen our fair share of outrageous outfits, but we've also been treated to looks that will go down in history: Rihanna's iconic Guo Pei yellow dress, Princess Diana's silky John Galliano gown, and anything and everything worn by Blake Lively. Most recently, The Met opened its doors to social media influencers, a move that has garnered its fair share of backlash.
Emma Chamberlain, who got her start as a vlogger in 2017, used her successful YouTube channel to launch a multi-faceted carer. She's spent the last few years helming a coffee business, Chamberlain Coffee, creating her own top-performing podcast, and achieving fashion it-girl status — she's truly a Gen Z icon. May 1 also marked her second time as a Met Gala red carpet host. At this year's event, which paid homage to the deceased designer Karl Lagerfeld, Chamberlain kept fans guessing with a memorable outfit change. Although her two outfits might look cutting-edge, she's not the first star to switch it up mid-show.
Emma Chamberlain wore two trendy Miu Miu sets on the red carpet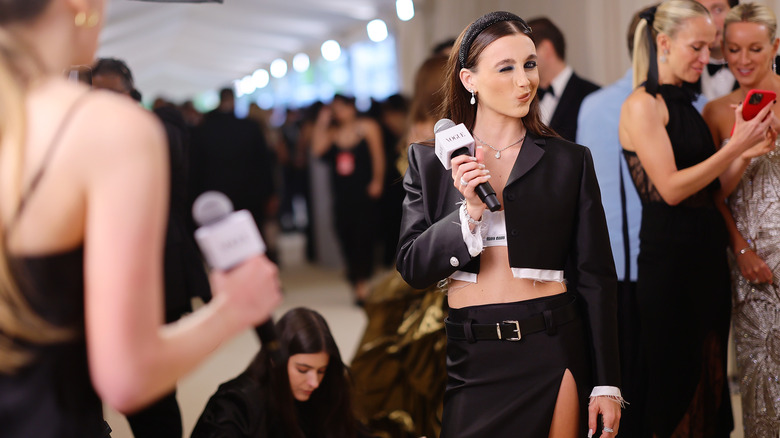 Matt Winkelmeyer/mg23/Getty Images
Emma Chamberlain started the biggest night in fashion off strong in a light blue Miu Miu two-piece. Although the brand is perhaps best known for its polarizing micro mini skirts, Chamberlain opted for a floor-length low-rise maxi. Popular amongst other it-girls like Bella Hadid and Julia Fox, long skirts and Y2K-inspired dropped waistlines are a Gen Z staple. Underneath her cropped collared blazer, the YouTuber-turned-entrepreneur wore a glittering mesh layer, paying homage to the sheer fashion trends dominating runways post-pandemic.
Before picking up the mic and beginning her hosting duties, Chamberlain made the impressively-quick change from her blue set to an exact copy in black. This time around, she unbuttoned the cropped blazer and let a Miu Miu branded bra top show underneath. Still wearing a slitted maxi, albeit in black, the host switched out her baby blue headband for a darker copy.
Finally, the influencer's grungy eyeliner truly takes this look above and beyond. It's giving "Sk8er Boi"-era Avril Lavigne with a hint of "Euphoria" sparkle.
Emma Chamberlain isn't the first star to switch it up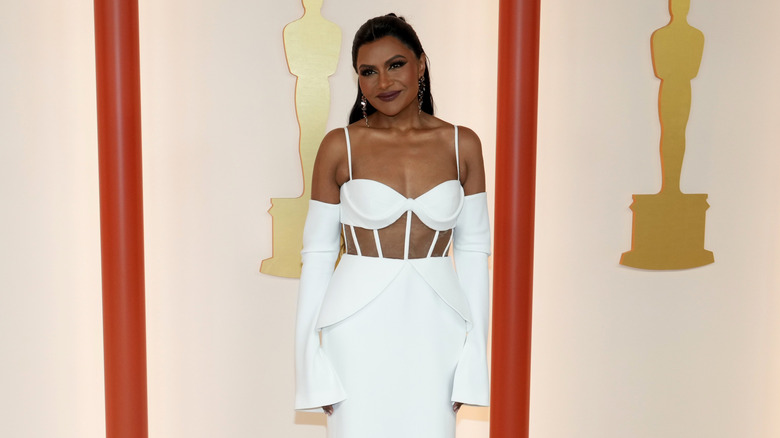 Jeff Kravitz/Getty Images
Some brides change from their wedding gowns into shorter dancing dresses post-ceremony, Taylor Swift is making waves with her 16 Eras tour looks, and Erin Andrews had an unexpected outfit change at the Superbowl. At the 2023 Oscars, writer and actress Mindy Kaling changed from a white corseted Vera Wang gown into a black copy, a move which admittedly confused viewers. Emma Chamberlain is far from the first to try out two looks in one night.
In fact, at the 2018 Met Gala, Amal Clooney, renowned human rights activist and wife of actor George Clooney, kept photographers guessing by changing out of her cascading Richard Quinn floral two-piece and into an intricately-tiled red dress. If this year proves anything, two is sometimes better than one. In the words of designer Karl Lagerfeld, "I am a fashion person, and fashion is not only about clothes — it's about all kinds of change" (via Harper's Bazaar).