Sheet Masks Vs. Mud Masks: Which One Is Right For You?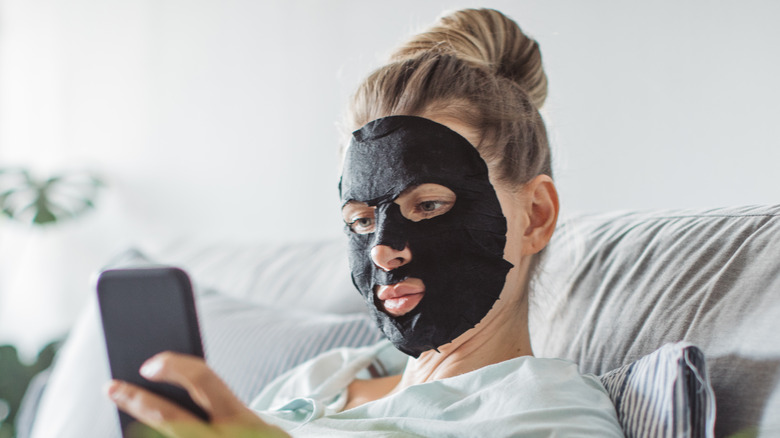 Svetikd/Getty Images
You splash warm water onto your face to rinse off cleanser, but then what do you reach for next? The single-use sheet mask or the packaged mud mask? This decision depends largely on how oily your skin is and what you're looking for. Both are great options, but one may be better for your skin type than the other.
Sheet masks have become a staple as a result of the K-beauty trend, and their popularity has a global reach. You don't have to search hard for them, you can find them on the shelves anywhere from convenience stores to skincare specialists to online shops. These thin layers made of fabrics like cotton, fiber, or cellulose, are packed with moisturizing ingredients. Each face mask contains different ingredients for different purposes, making the options seemingly endless.
Mud masks are equally as popular. They're made of minerals, silts, clays, and soils. You've probably heard of masks made from the Dead Sea's mud, or from volcanic mud. Both types, like most mud masks, have anti-inflammatory properties. 
Sheet masks for hydrated and dewy skin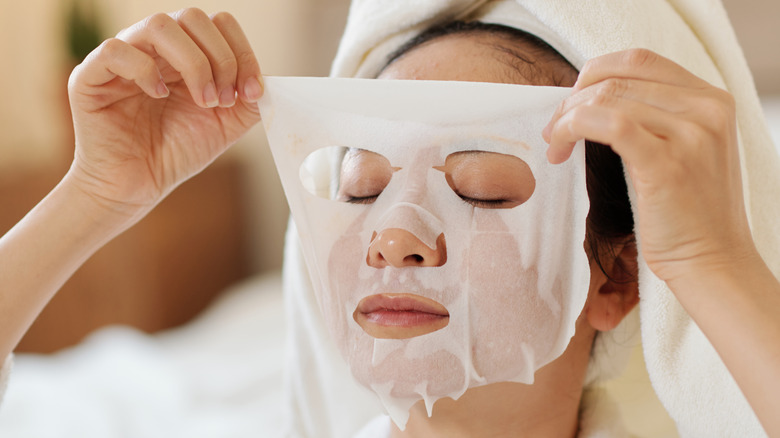 Dragonimages/Getty Images
Applying sheet masks are fantastic for moisturizing skin: they're quick, easy, and hydrating. For most, adding them to your daily skincare routine can be an added boost, as long as the mask doesn't contain anything too irritating — you should limit use of masks containing ingredients like glycolic acid and retinol to about once a week. Replacing moisturizer with a sheet mask can leave your skin glowing. "[It's like] using a super-powered moisturizer every day rather than a regular moisturizer," dermatologist Ava Shamban told Allure. Individuals with acne-prone skin, however, should limit the use of all sheet masks to once per week.
The sheet mask is effective in the way it functions as an occlusive. "Occlusives are moisturizing agents that work by forming a protective layer on the surface of your skin and create a barrier to prevent moisture loss," Olay Scientific Communications Senior Director Frauke Neuser, Ph.D., told Good Housekeeping. Sheet masks often contain butylene glycol, which helps with absorption as well as making your skin look bright and refreshed.
In comparison to mud masks, sheet masks are going to have more of a hydrating effect that leaves your skin looking dewy. Different masks use different ingredients, creating different results that range from anti-aging to brightening. People with sensitive skin can especially benefit from sheet masks, and those with other skin types will also reap the many benefits.
Cleansing your skin for a fresh look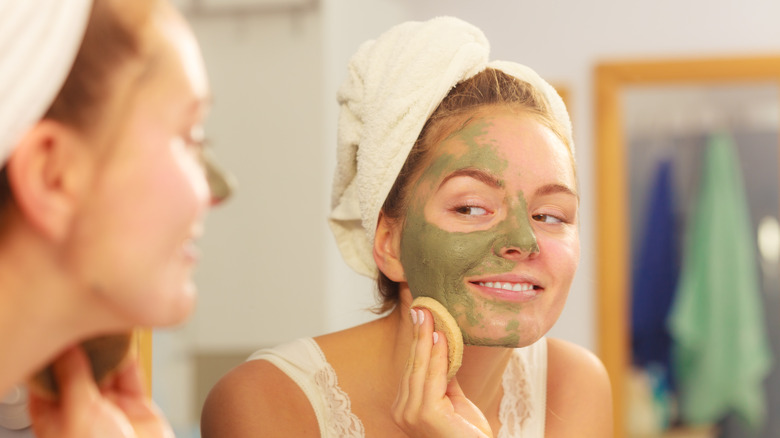 Voyagerix/Shutterstock
In general, mud masks are beneficial and great for unclogging pores, tightening skin, exfoliating, clearing up acne, and more, making them an ideal choice for those with oily, acne-prone, or combination skin. Mud masks absorb bacteria and oils from the skin, unlike sheet masks where the skin absorbs the ingredients. Essentially, mud masks have a cleansing effect while sheet masks have a hydrating effect. Once washed off, mud masks leave the skin soft and tightened as opposed to dewy. Those with dry skin should err on the side of caution with mud masks and use them once every two weeks, whereas those with oily skin can use them weekly.
In addition to deeply cleansing the skin, mud masks transfer vitamins and nutrients into your epidermis. Different muds bear different results, for example, volcanic mud has antibacterial properties, Dead Sea mud is known for its minerals, and Moor mud is great for tightening skin and anti-aging. Regardless of which mask you use, applying moisturizer immediately after use is a step you need to do in order to rehydrate the skin and help lock in the results from the mud mask.