Hallmark Star Andie MacDowell's First Hollywood Role Didn't Go Quite As Planned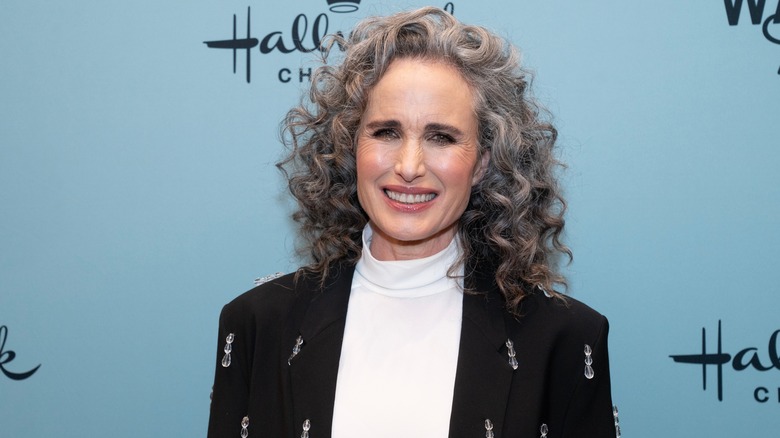 lev radin/Shutterstock
Hallmark enthusiasts know Andie MacDowell from her roles in "Cedar Cove" and the film "The Beach House." In 2023, the actor starred in a new Hallmark series, "The Way Home." However, MacDowell, one of Hollywood's most recognizable names, first broke out in the entertainment world as a fashion model. The South Carolina native began working for Elite Model Management in 1978, and she went on to model for big names like Calvin Klein. It was through modeling that MacDowell caught the attention of film director Hugh Hudson, who is best known for his 1981 historical film, "Chariots of Fire."
After "Chariots of Fire," Hudson went on to work on "Greystoke: The Legend of Tarzan, Lord of the Apes." The 1984 film centers on Tarzan and his new life in the United Kingdom. Hudson cast Christoper Lambert as Tarzan, Ralph Richardson as The Sixth Earl of Greystoke, and MacDowell as Tarzan's love interest, Jane Porter.
In an article for The Hollywood Reporter, Hudson explained how MacDowell landed the role. He said, "I found Andie MacDowell on the cover of a magazine and we tracked her down and she had the right look. I didn't want her to be blonde because every Jane is blonde." This was MacDowell's first-ever film role, and it did not go off without a hitch.
Her voice was dubbed in 'Greystoke: The Legend of Tarzan, Lord of the Apes'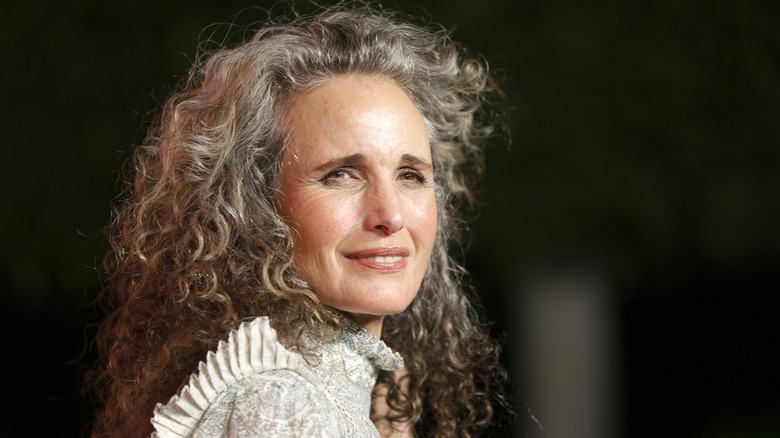 Amy Sussman/Getty Images
In an interview with The Chicago Tribune, Andie MacDowell told the publication that she was only 23 when she portrayed Jane Porter on "Greystoke: The Legend of Tarzan, Lord of the Apes." At the time of filming, she had no prior acting experience. Nevertheless, she revealed, "I showed up and there were no complaints about my performance. I felt like I did a good job. I was a little scared the first scene I did with Sir Ralph Richardson, but I think that's normal. But nobody ever told me there was a problem." However, somewhere down the line, director Hugh Hudson decided that MacDowell's voice would not do for the role of Jane.
Hudson explained that MacDowell had a Southern accent. As a result, he had actor Glenn Close dub her voice in the film in an uncredited role. Per The Hollywood Reporter, Hudson was the one who disclosed this news to MacDowell. In 2019, she told Yahoo Entertainment's Role Recall that this decision shattered her. MacDowell said, "Disappointing is not a big enough word. It was shocking, and heartbreaking. I went back in and we were going to try to fight for it, but I could barely speak. ... People were horrible to me. The press made fun of me. It was cruel, it was a very cruel time in my life."
Andie MacDowell bounced back from the debacle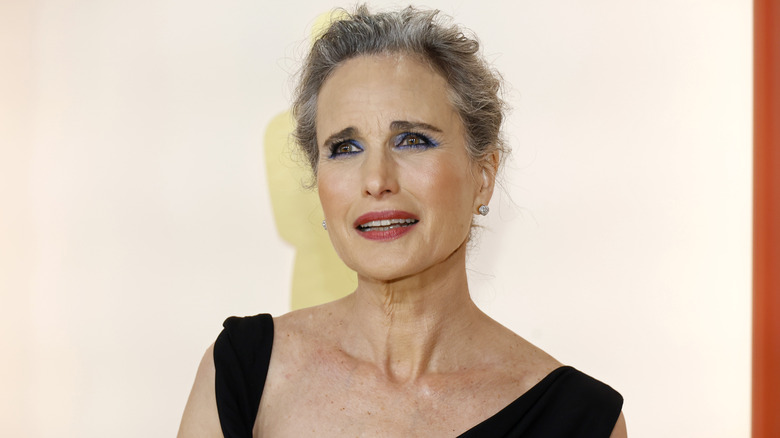 Mike Coppola/Getty Images
Despite the dubbing disaster, IMDb reports that "Greystoke: The Legend of Tarzan, Lord of the Apes" received three Academy Award nominations and several other awards. Although Andie MacDowell admits that the situation broke her confidence, she was determined to continue acting. MacDowell left modeling, studied the craft, and met with a dialogue coach. It wasn't long before MacDowell shot to fame after landing roles in films like "St. Elmo's Fire" and "Sex, Lies, and Videotape." MacDowell explained to Yahoo Entertainment's Role Recall how she persevered after the failure. 
She said, "I had to make a decision: It was give up or fight. I thought about what my grandchildren would think of me, that's really what I thought. I thought, 'My grandchildren someday are gonna say, "Yeah my grandmother did this movie, she did this movie about Tarzan and they dubbed her voice. And she was a model."' And that was the fight. The fight for me was my legacy on a personal level."
Besides working for Hallmark, MacDowell's recent projects include the film "Ready or Not" and the Netflix series "Maid," whom she stars alongside daughter Margaret Qualley. While promoting the former, MacDowell disclosed to The Chicago Tribune that she still finds running into Glenn Close "awkward."