Donald Trump Lands In Scotland With Plans To Open Another Golf Course Amid Legal Troubles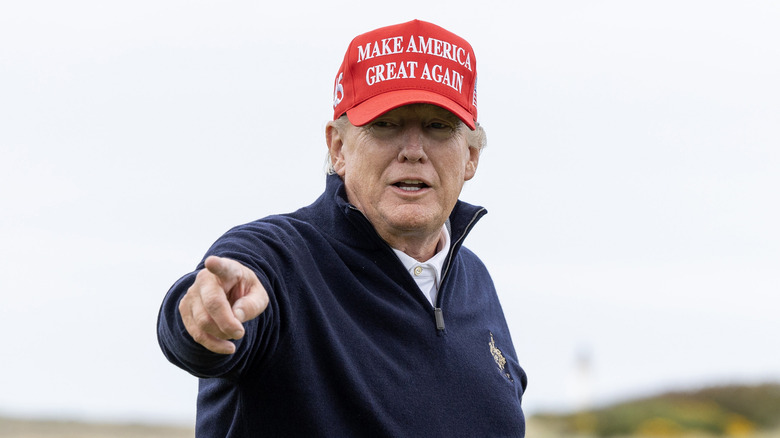 Robert Perry/Getty Images
Donald Trump is facing legal troubles on multiple fronts. He became the first former president to be charged with a crime; he pled not guilty to the 34 felony charges against him in relation to allegedly falsifying business records in connection with payoffs made to Stormy Daniels. There's the ongoing civil rape trial, and Trump's defense in the E. Jean Carroll defamation trial recently suffered a major blow. And in Georgia, investigations are ongoing to determine if he acted illegally and tried to overturn the state's 2020 election results.
He's been posting on Truth Social about the various legal entanglements he's in, frequently calling them "witch hunts." And Trump's legal woes are reportedly affecting his marriage to Melania.
Amidst all of this, Trump is visiting the United Kingdom this week. Not to attend the upcoming coronation of King Charles III, but to stop by his golf courses in Ireland and Scotland and to break ground on a second Scottish golf course.
Donald Trump played a round of golf during his Scotland visit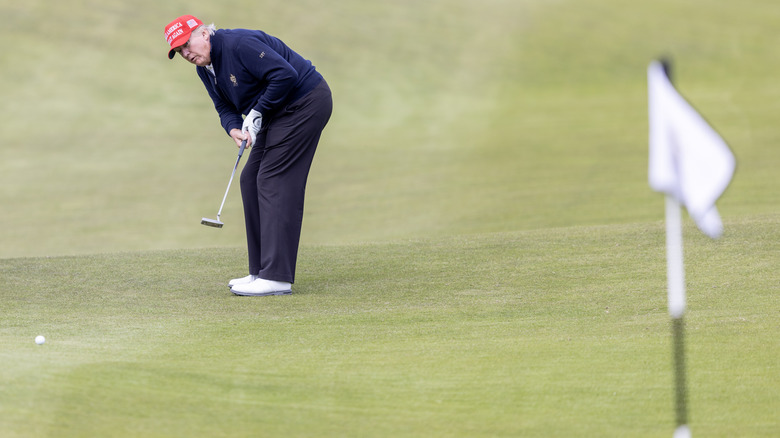 Robert Perry/Getty Images
On Truth Social, Donald Trump posted about the trip, writing, "Will be leaving for Scotland & Ireland soon in order to see and inspect my great properties there. The Golf Courses and Hotels are among the Greatest in the World – Turnberry and Aberdeen, in Scotland, and Doonbeg, in Ireland." But lest we forget that he is running for president for a third time, he closed out the post with, "it is "MAKE AMERICA GREAT AGAIN" that is on my mind, in fact, America will be GREATER THAN EVER BEFORE!!!"
Donald was accompanied on his trip by his son, Eric Trump, and as they deplaned from the Trump private plane at the Aberdeen airport, they walked a red carpet and were greeted by two bagpipers, per The Guardian. As they arrived, Donald said, "It's great to be home, this was the home of my mother." His mother was born in the Outer Hebrides.
At the groundbreaking for the new golf course in Aberdeen, Donald scooped up a shovelful of dirt and quipped, "And we throw [the dirt] at the press, right in their faces. We throw it right in their faces," via Twitter. During his visit to Scotland, Donald played a round of golf at Trump Turnberry in Ayrshire where staff wore hats that read "we make Turnberry great again," as reported by BBC News.