Meghan Markle Had A Different View Of Kate Middleton's Wedding Before She Met Harry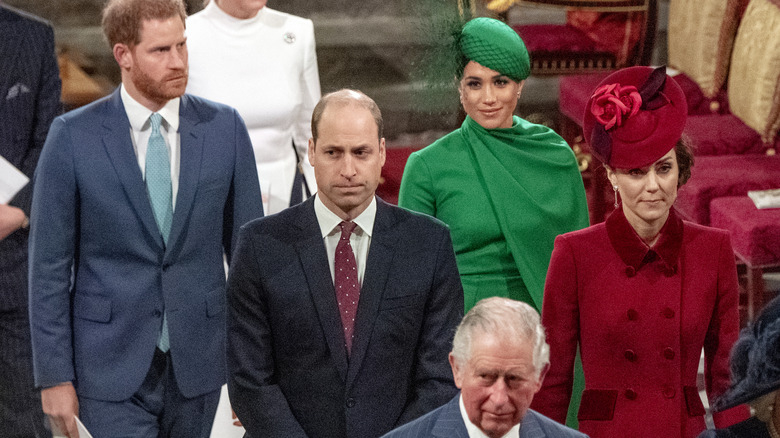 Wpa Pool/Getty Images
Blending two families through marriage is tricky, but when they click, it's a lifelong bond. Sisters-in-law can become as tight as if they were blood relatives: Nicole Richie and Cameron Diaz, for instance, are good friends who just happen to be married to brothers Benji and Joel Madden. Likewise, Priyanka Chopra and "Game of Thrones" star Sophie Turner became family when they each wed a Jonas brother. Then there are the less successful in-law pairings, of which two famous royals immediately come to mind. 
It was probably optimistic to expect Catherine, Princess of Wales, and Meghan Markle, the Duchess of Sussex, to become besties just because they married "the heir and the spare" to the British throne, but no one could have anticipated the chilliness that has developed between them. A new biography of King Charles III even claims Kate could barely stand to be around Meghan and Prince Harry, the Duke of Sussex, when they greeted the public following the death of Queen Elizabeth II (via the Daily Mail). 
No one, other than the royals themselves, knows exactly when things began to go south. Did Kate and Meghan's relationship fall apart over the infamous quarrel over the bridesmaid dress Princess Charlotte wore to the Sussexes' wedding? Was Kate skeptical when Harry first announced he was dating an American actor? Or was it Meghan herself who set the stage for trouble long before she even crossed paths with her prince? An unearthed blog post is causing a bit of chatter.
Was Meghan dissing princesses or praising them?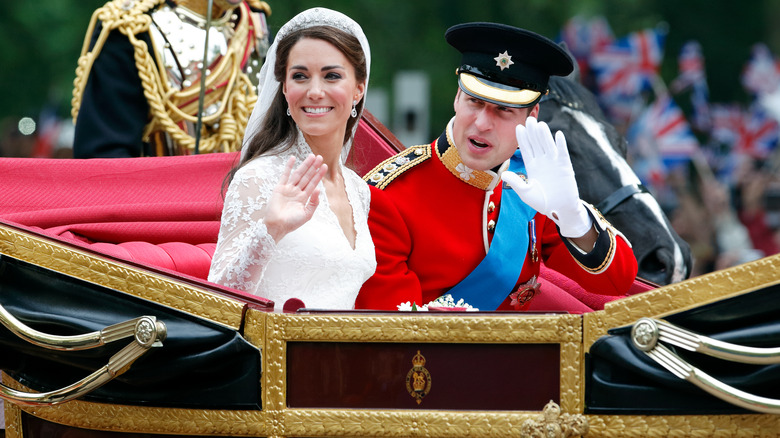 Max Mumby/indigo/Getty Images
Prior to her entry into royal life, Meghan Markle ran a blog called "The Tig" (named after her favorite wine). In addition to covering fashion, food, and travel, the site featured interviews with intriguing women such as Serena Williams and Priyanka Chopra. Just days before King Charles's historic coronation, the Daily Mail unearthed one of Meghan's posts from 2014 that seemingly shows scorn for Kate Middleton long before the two even met. At the time, the princess had been married to Prince William for three years. 
"Little girls dream of being princesses. I, for one, was all about She-Ra, Princess of Power," Meghan wrote. "And grown women seem to retain this childhood fantasy. Just look at the pomp and circumstance surrounding the royal wedding and endless conversation about Princess Kate." But was this really a slam at her future sister-in-law? Taken in context, perhaps not. It was an introduction to a Q&A with Princess Alia Al-Senussi of Libya, as seen here on the Meghanpedia website. 
In fact, the duchess acknowledged having a fangirl moment of "pinch-myself-I'm-emailing-with-a-princess" when the interview was initially set up. She also praised Al-Senussi for "shifting preconceived notions" and "flexing her respective royal muscle" as a highly educated woman active in preserving Libyan cultural heritage. So, it appears Meghan herself didn't entirely let go of her own childhood fantasy — and, of course, she lived to see it come true in a big way.
Will Kate and Meghan ever thaw the ice?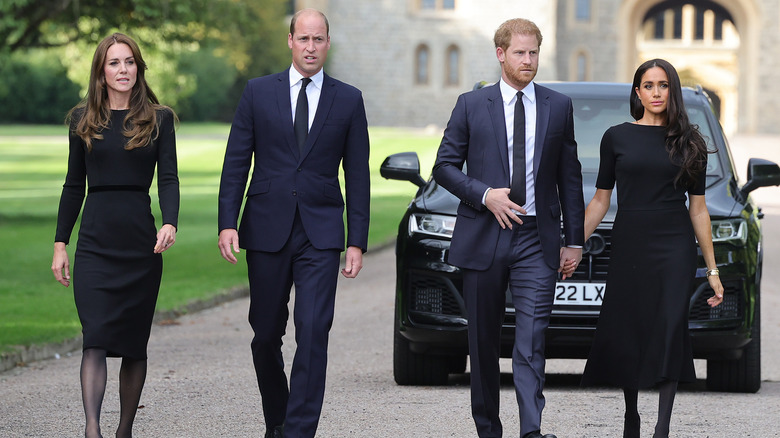 Chris Jackson/Getty Images
The controversial "Megxit" of Prince Harry and Meghan Markle from royal life did nothing to strengthen the fragile bond between the American newcomer and her more polished British sister-in-law — quite the opposite in fact. Many royal experts believe Kate and Meghan's relationship is as icy as ever, and rumor has it the Princess of Wales is quietly "relieved" the duchess will be skipping King Charles' coronation so she can celebrate son Archie's fourth birthday, as a source told the Daily Mail. 
Sadly, things don't seem likely to change any time soon. Kate was once said to be trying to negotiate peace between the warring princes, but Express recently reported that she's given up. The Sussexes' desire to speak their truth in public has created too many raw feelings, according to royal watchers. Once the coronation weekend is over, there also won't be any convenient opportunities for the two couples to meet and work things out. It may be up to the king to try reuniting his sons and their wives for the sake of maintaining a unified family front.
Or, perhaps, it may be the next generation that brings hope to the palace. Meghan's own children now hold the royal titles she once admired, and at their young ages, they have no quarrel with their aunt and uncle. In years to come, maybe Archie and Lilibet will reach out to their cousins and create the close tie their fathers once had.