What Only True Fans Know About Hallmark Star Kristoffer Polaha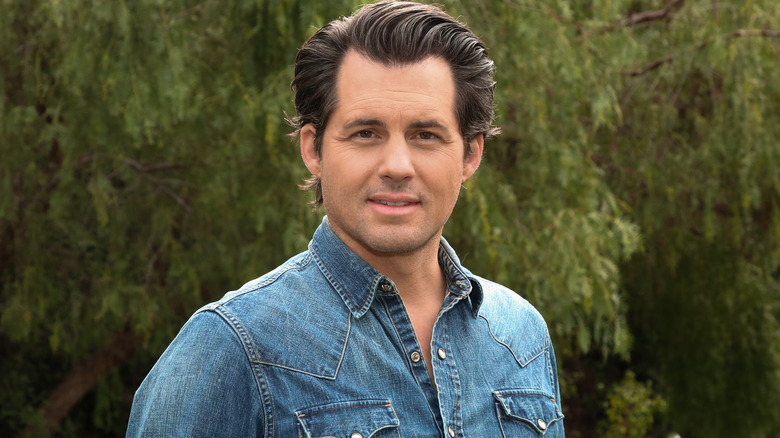 Paul Archuleta/Getty Images
The name Kristoffer Polaha is practically synonymous with the Hallmark Channel at this point; since 2016, the widely beloved actor has starred in several Hallmark originals including popular movies like "The Dater's Handbook," "Rocky Mountain Christmas," and "A Dickens of a Holiday!" Unfortunately, Hallmark unexpectedly canceled his hit series "Mystery 101" on April 24, 2023, but the channel will most likely continue to hold a special place in his heart. 
There's a touching reason why Polaha adores working for Hallmark so much — the actor and his grandmother are able to bond over the content. "I'm leaning in, because my 91-year-old Nana finally thinks I've made it in Hollywood because I'm on Hallmark," he shared in a 2018 guest column for The Hollywood Reporter. Polaha emphasized, "Mildly put, I love acting for Hallmark ... Love is the theme of every Hallmark movie. The leads fall in love every time, whether over baking, on a book tour, ice-skating, tree lighting, protecting old traditions and old homes, or while on safari."
As much as Polaha loves Hallmark, his fans might just love him even more. Here's some insider information that the most passionate ones know about the actor.
He's given Meghan Markle dating advice
Kristoffer Polaha and Meghan Markle, Duchess of Sussex, became friends when they costarred in the 2016 film "The Dater's Handbook" together. During a 2022 interview with She Knows, Polaha reflected on some of his memories with the actress-turned-royal. According to the Hallmark star, Markle was dating someone in Toronto while they were filming, but she wasn't very invested in him. The actor recalled offering her a bit of dating advice at the time. "You just got out of a marriage," he pointed out to her. "Why are you jumping into another relationship? Go be single, be free." (Markle was married to film and TV producer Trevor Engelson from 2011 to 2013.)
According to Polaha, Markle later texted him to tell him she was taking his advice and exploring her options as a single woman. A few months later, the former actress texted her costar again to share that she met someone. "Do you like him?" Polaha asked, to which she responded, "I kinda do." 
The "Suits" star's new man was Prince Harry, of course, so Polaha's advice really worked out for her.
He's a romance novelist
Kristoffer Polaha just can't get enough of romance, so he also writes love stories when he's not acting them out. The Hallmark star and his co-author Anna Gomez have released two books so far that are part of their romantic series set in Hawaii, "From Kona With Love." The first book in the series, "Moments Like This," was released in 2021 and tells the story of a woman named Andrea Matthews who prioritizes her professional life over her personal life before meeting an intriguing man. "Where the Sun Rises," the second book, came out the following year and centers on Andrea's friend, Maele Moana, as she navigates her own tricky love journey. 
Polaha and Gomez's tale is also reportedly becoming a movie. In 2022, Bassett Hound Distribution optioned "Moments Like This" for film development and announced that they would collaborate with Polaha's production company, Podunk Productions, on the project. "This is an auspicious beginning," the actor and author captioned his announcement on Instagram. "When Anna and I started our journey together we always dreamed we'd turn our books into films."