Gwyneth Paltrow's Most Iconic Fashion Moments
Andrea Raffin/Shutterstock
Leave it to Gwyneth Paltrow to make being sued look good. In March 2023, the Oscar winner-turned-lifestyle guru found herself in a Utah court, facing a lawsuit over a skiing accident. The trial that followed turned out to be well beyond your standard legal exercise — from luxe, chunky-knit sweaters to floor-length skirts and oversized combat boots, Paltrow dramatically raised the bar for courtroom attire. The New Yorker even chimed in and summed up the trial fittingly: "Gwyneth Paltrow's Trial Is Her Best Role in Years."
Since starring in acclaimed films in the 1990s like "Emma" and "Shakespeare in Love," Paltrow's move into the celebrity lifestyle and wellness space has been lucrative both professionally and financially and has been met with similarly high levels of skepticism. But Paltrow, ever with her finger on the pulse of what's next, hasn't let the criticisms derail her or her business, as she told CEO Magazine in 2021: "People initially were like, 'This is nuts.'... Now look: it's a billions of dollars market. I don't care about the haters. They are irrelevant to me."
What's never been irrelevant is Paltrow's ability to elevate any event with her fashion, whether it's the Academy Awards red carpet or a northern Utah courtroom. Let's look back at some of the star's most iconic fashion moments.
In a monochromatic tones, Gwyneth Paltrow embodied '90s minimalism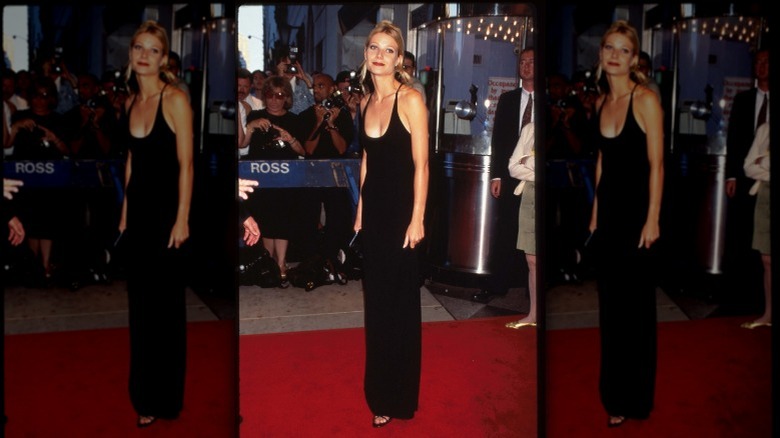 Evan Agostini/Getty Images
Throughout the '90s, Gwyneth Paltrow maintained a devotion to one of the most popular trends of the time: minimalism. She frequently opted for all-black or all-white dresses or top/skirt combos and eschewed large or showy jewelry and bags. She also generally kept her hairstyling on the simpler side. To the 1996 premiere of her hit film "Emma," Paltrow looked classy chic in an all-black tank dress with a matching clutch and strappy heels. The simplicity of the streamlined look transcends the '90s and would still be considered fashionable today.
Even to the 1996 Oscars, Paltrow's first time at the storied event, the star kept her overall look simple but still elegant, and very in line with the minimalist aesthetic. With her long, blonde hair down, Paltrow stood out on the Oscars red carpet in a sparkly, cream-colored Calvin Klein slipdress. She kept her accessories simple, carrying only a matching pashmina wrap and wearing a small bracelet and earrings. On her first Academy Awards red carpet, however, she did have one memorable accessory beyond her pashmina — her then-boyfriend, Brad Pitt.
Gwyneth Paltrow's red Gucci suit made an impression at the 1996 MTV Video Music Awards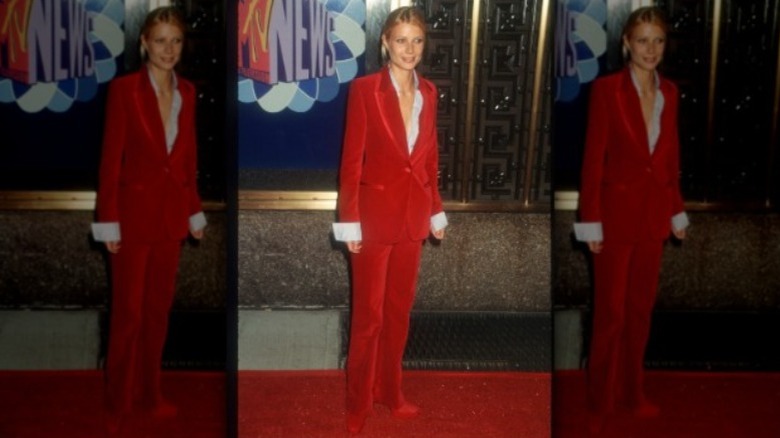 Evan Agostini/Getty Images
It may have been a bit out of her less-colorful wheelhouse at the time, but perhaps that's why it's become one of Gwyneth Paltrow's most iconic fashion moments. To the 1996 MTV Video Music Awards, she managed to make a red-velvet suit stand out on the red carpet. With the suit (which was from the Tom Ford for Gucci era), Paltrow wore a light blue button-down shirt underneath, its cuffs turned upward at her wrists. She paired it with chunky red heels and her hair pulled back into a loose updo.
In 2021, Paltrow revisited her outfit when she participated in the Gucci Love Parade fashion event in L.A. Alessandro Michele, Gucci's creative director at the time, added his own touches and reinterpreted the suit, which Paltrow wore that evening. She kept her styling reminiscent of her late '90s self: a light blue shirt underneath and her hair swept back. On Instagram, Paltrow shared her enthusiasm after taking part in this sartorial blast from the past: "Beautiful tailoring never goes out of style. I loved wearing @alessandro_michele @gucci creation based on the one I borrowed in 1996 by the master @tomford. A special night."
Gwyneth Paltrow was a pretty-in-pink princess when she won the Best Actress Oscar in 1999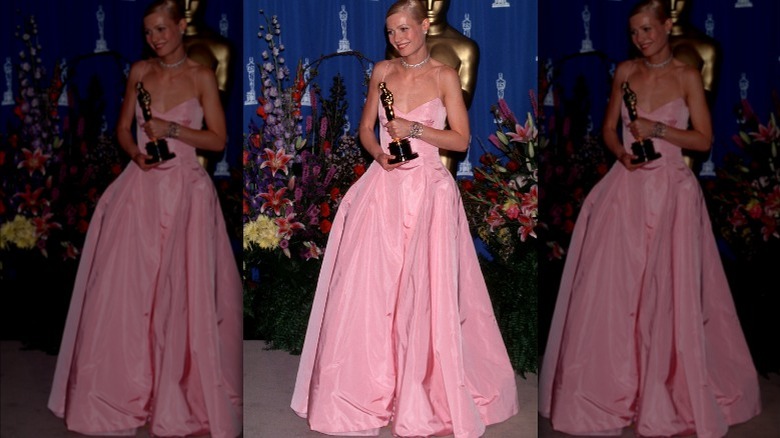 Evan Agostini/Getty Images
Just three years after making her Academy Awards red carpet debut in a minimalist slipdress, Gwyneth Paltrow returned to the carpet in a gown that was decidedly more traditional. The actor and wellness guru was nominated for Best Actress for her lead role as Viola De Lesseps in 1998's "Shakespeare in Love," She went on to win the golden statue later that evening, wearing a pale pink Ralph Lauren gown with a full skirt and matching wrap.
While Paltrow kept her styling and accessorizing in line with her minimalist bent, the bright and cheerful color ensured she had a true princess moment on the red carpet that year. According to Marie Claire UK, Paltrow didn't work with a stylist prior to the event and instead selected the Ralph Lauren dress because she thought it was pretty.
Paltrow's daughter, Apple, will have her pick of couture looks to choose from should she ever be in the mood, thanks to her mom saving many of the pieces she's worn over the years. Referring to the pink dress, Paltrow told the Hollywood Reporter in 2015, "Maybe she'll wear it to prom and do a "Pretty in Pink" thing and resew it and cut it up."
In goth glam, Gwyneth Paltrow walked the Oscars red carpet in one of her most memorable (and least favorite) looks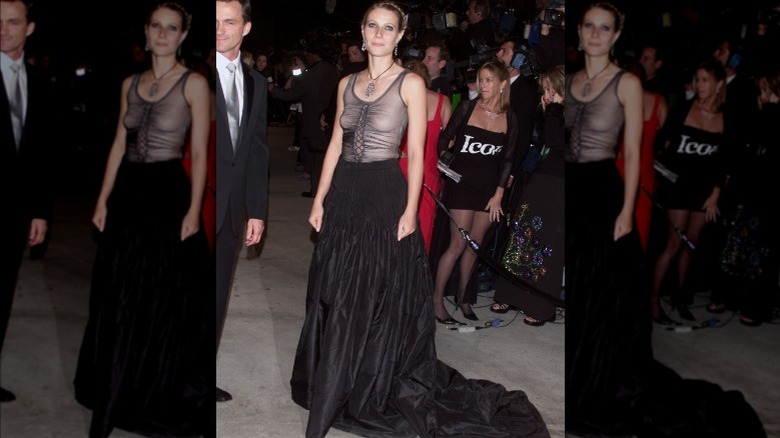 Evan Agostini/Getty Images
From pastel princess to goth queen? That certainly seemed to be the case in 2002, when Paltrow walked the Academy Awards red carpet in a look that left many fans and fashion enthusiasts scratching their heads. Her Alexander McQueen gown for the evening featured a long black, ruffled skirt, with a sheer black, ruched top. With her hair slicked back and wearing strong, dark eyeliner, Paltrow kept her styling as severe as her outfit.
Over the years, Paltrow has talked about this fashion moment being one of her least favorites in her long career. On her Goop site in 2013, she said she still had love for the dress itself but should've opted for a softer hairstyle and makeup (and a bra!). Since then, though, her affection for the look has grown stronger, as she shared with Vogue in 2021. "I think it's kinda dope," Paltrow said in a YouTube segment for the magazine. "I had, like, a weird hangover about it for a while because people were really critical. I think at the time it was too goth. I think people thought it was too hard. So I think it sort of shocked people. But I like it."
Gwyneth Paltrow slayed in a caped gown at the 2012 Oscars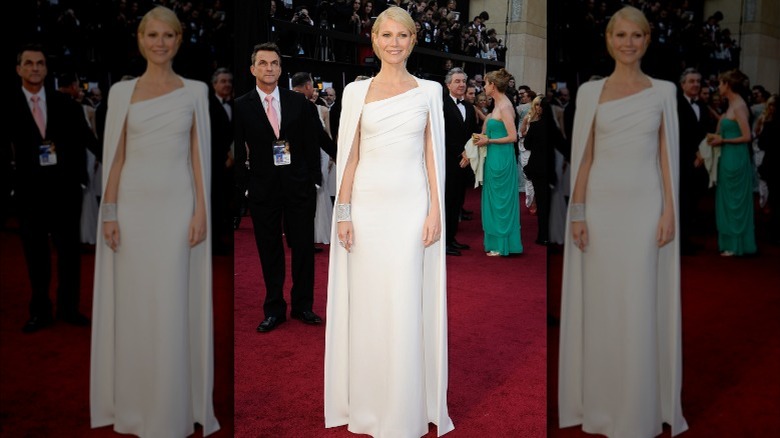 Kevork Djansezian/Getty Images
In a look that seemingly nodded to her role in the "Iron Man" superhero franchise, Gwyneth Paltrow pulled off a major fashion moment at the 2012 Academy Awards. Her simple, white, Tom Ford dress was accentuated with a dramatic matching, floor-length cape. Paltrow also wore a thick diamond cuff bracelet and her hair slicked back into a chic ponytail. As reported on Paltrow's Goop site after the Oscars that year, her ensemble was settled on just a week before the event!
At the time, a caped dress was a new sartorial sight on the red carpet. But soon after, they were everywhere, including on stars like Beyoncé, Katy Perry, and Lupita Nyong'o. In 2015, Vogue noted Paltrow's white Tom Ford as one of the big first appearances of the trend. Paltrow's stylist for the event, Elizabeth Saltzman, told Goop that the outfit checked all of the Oscar-worthy fashion boxes they were looking for: "It was composed of all the elements that I like for Gwyneth: Supreme elegance, grace, royalty, modern luxury, simplicity ... but intense skill and risk are still there. It had a positive edginess to it as well."
In a sheer-sided dress, Gwyneth Paltrow owned the red carpet at the 2013 Iron Man 3 premiere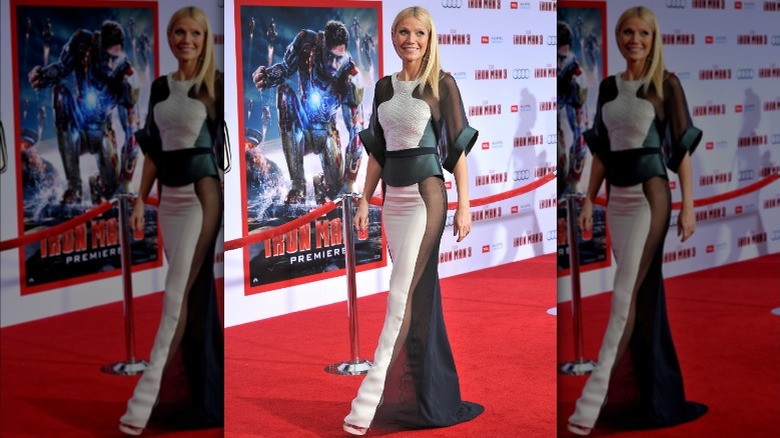 Featureflash Photo Agency/Shutterstock
Speaking about Paltrow, stylist Elizabeth Saltzman told US Weekly in 2013, "The point is that this girl has taste, this girl has confidence... She's not flaunting anything but the hard work that she's put into being a happy body, happy person, healthy person." Saltzman wasn't speaking generally in this instance. She was referring to the bold and headline-making dress Paltrow wore to the premiere of her film "Iron Man 3" in the spring of 2013. The Antonio Berardi piece consisted of a white front and back silhouette, green sleeve and waist detailing, and head-to-toe sheer black paneling on the sides.
Of the dress that managed to be both elegant and revealing, Paltrow for her part recalled the event being a bit more stressful than she'd imagined. As she shared on The Ellen DeGeneres Show that same year (via the Hollywood Reporter), she had an unexpected wardrobe complication prior to the movie premiere. She'd planned on wearing underwear, but the dress dictated otherwise. "I kind of had a disaster," Paltrow told DeGeneres. "Let's just say everyone went scrambling for a razor."
At the 2017 Met Gala, Gwyneth Paltrow stood out in simple sequins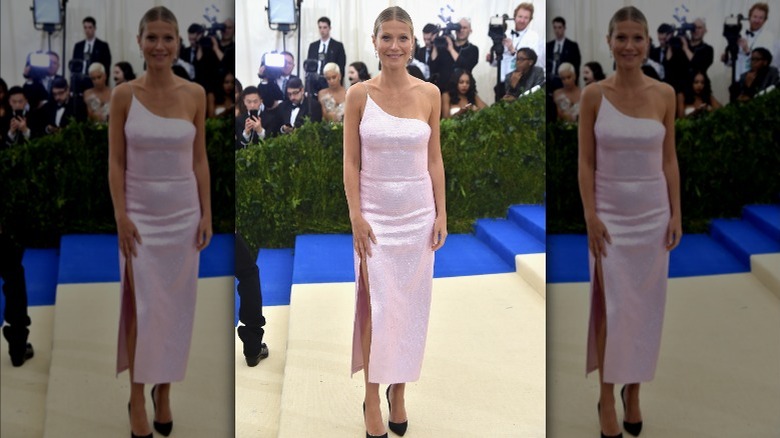 Theo Wargo/Getty Images
Not that long ago, the Met Gala was a relatively standard, high-society fashion event. In the 2010s and beyond, the annual charitable event supporting New York City's Metropolitan Museum of Art's Costume Institute has morphed into one of the biggest red carpets in the world, with celebs and other notables going to great lengths to match the year's particular theme. 
The 2017 gala celebrated famed Japanese designer Rei Kawakubo, known for her avant-garde approach to fashion. While stars like Rihanna, Zendaya, and Priyanka Chopra dominated the red carpet in over-the-top ensembles, Gwyneth Paltrow opted for something on the simpler side. Even though it wasn't the evening's biggest splash in terms of length, size, or color, her soft pink, one-shouldered, sequined Calvin Klein midi dress managed to stand out because of its simplicity. 
Paltrow's affection for Klein and penchant for wearing his clothes go back decades, as she described in a 2021 YouTube video for Vogue, looking back at some of her most memorable looks. "I was so thrilled because he always wanted to dress me and lent me beautiful things," Paltrow said. "And some of them he gave me, and some of them I still have to this very day."
In vintage Valentino at the 2019 Emmys, Gwyneth Paltrow made headlines for more than just her classic gown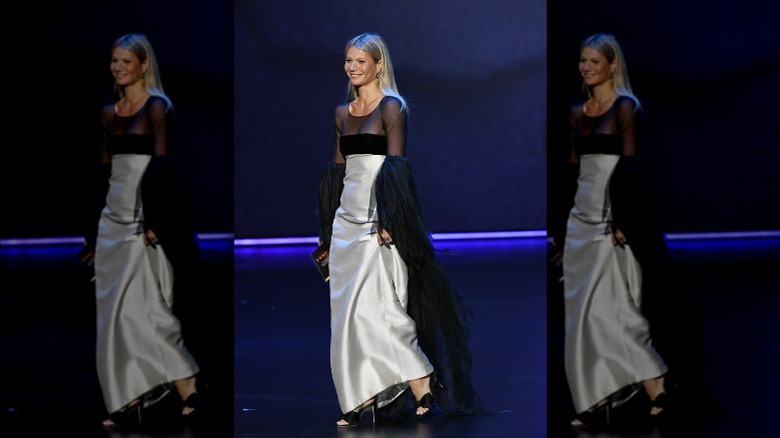 Kevin Winter/Getty Images
A vintage gown on the Academy Awards red carpet is guaranteed to not only give the star wearing it an old Hollywood look but also will generate headlines about its history. Some stars, like Demi Moore in 1992, wear dresses from many decades earlier, while others, like Julia Roberts in 2001, select more recent pieces, like when she won Best Actress in vintage 1992 Valentino. To the 2019 Emmys, Gwyneth Paltrow also wore a vintage Valentino gown, hers from the 1960s. The black-and-white column dress featured long, sheer black sleeves each festooned with long, feather-like leaves beginning around her elbows.
The dramatic look would make fashion headlines at any event, but when Paltrow appeared on stage to present the Emmy award for lead actress in a drama series, it was her shimmy that many viewers noticed. Likely due to the fit of her gown and/or heel selection, Paltrow had to take smaller, shorter steps as she made her way to the microphone. When asked about her strut on Today later that week, she didn't see what all the fuss was about: "I think I looked pretty normal too. I don't totally get it."
Gwyneth Paltrow donned a love it or hate it sheer gown to the 2020 Golden Globes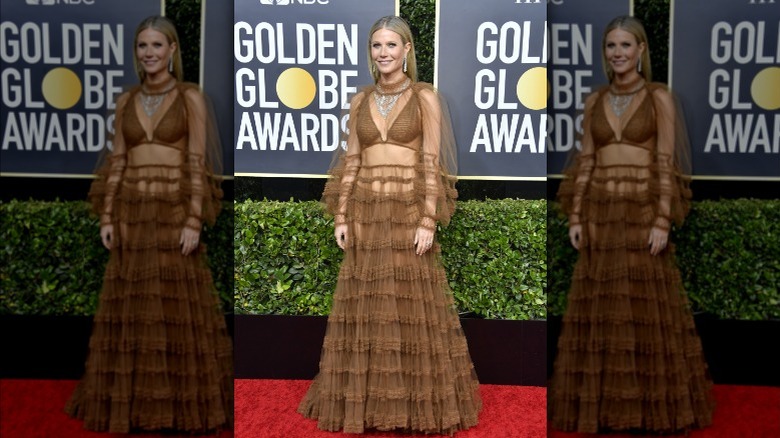 Frazer Harrison/Getty Images
Gwyneth Paltrow is no stranger to sheer detailing in her fashion choices. For the 2020 Golden Globes, though, she wore a gown that was basically entirely sheer. The brown Fendi was a long-sleeved, high-collared sheer overlay, under which Paltrow wore a bikini top and bottom in the same color. Unusual for the understated (accessories-wise) Paltrow, she also wore a large diamond, bib-style necklace, and statement diamond earrings.
The look became an instant love-it-or-hate-it red carpet moment for fashion fans. Paltrow's stylist, Elizabeth Saltzman, told InStyle after the event that the outfit was a culmination of Paltrow's style ethos: confident, elegant, and risky, with a touch of fairy tale thrown in for good measure. On Instagram after the Golden Globes show, Paltrow posted a picture of herself relaxing in the car on her way home, legs up on the front seat. Her accompanying caption: "The best part of the night is always getting home."
Even in a courtroom, Gwyneth Paltrow can bring the fashion drama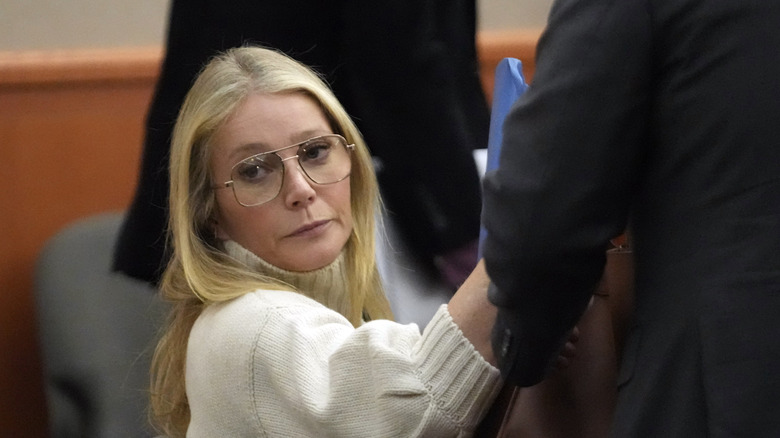 Pool/Getty Images
When Gwyneth Paltrow attends an event, she always makes sure to dress for the occasion. Even when that event is a lawsuit brought against her in a Park City, Utah, court. Terry Sanderson, a retired optometrist, claimed Paltrow crashed into him while skiing in Park City in 2019. Paltrow countersued Sanderson, resulting in a televised trial in early 2023 and about a million memes of everything from Paltrow's luxe outfits to the words she whispered to Sanderson on her way out of the courtroom after winning the case. Many folks online imagined "I wish you well" products soon to be sold on Goop's website!
People reported on Paltrow's rich mom fashion aesthetic during the trial and noted that a number of the pieces she wore were from her own G. Label by Goop line. The retired actor and wellness titan sported a range of classy, comfy-looking, but still, uber-stylish neutrals like chunky-knit sweaters, long skirts, and mix-and-match suiting separates. Accessories like layered gold jewelry, aviator glasses, and designer boots added to the appeal of Paltrow's outfits.