Everything You Need To Know About Gwyneth Paltrow's Pale Pink 1999 Oscar Stunner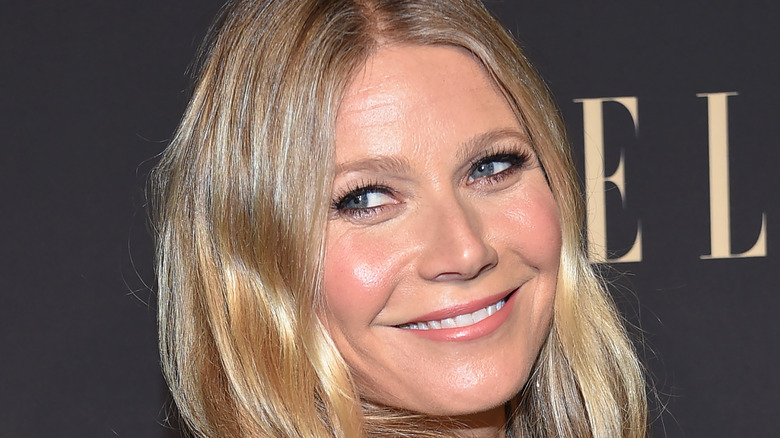 DFree/Shutterstock
Gwyneth Paltrow is a figure that is constantly surprising everyone, whether that's with a candle titled "This Smells Like My Vagina" or a very unusual morning routine. Previously best known as an actress for her roles in "The Royal Tenenbaums" and "Shakespeare in Love," Paltrow has branched out into wellness and skincare in the past decade, with her brand Goop being the cause of much contention (via Good Housekeeping). 
Known to many now as being a lifestyle influencer rather than an actress, Paltrow is still very much in the public eye after 30 years. Her style is always polished, sophisticated, and chic, whether she's in a burgundy velvet suit at a talk or a flowing gown at an awards ceremony (via Elle). 
However, one dress she wore all the way back in the 1990s is still talked about to this day. For all those who are still fans of the iconic look, we've collected all the information we can find below to reminisce about one of Paltrow's most stunning looks.
Gwyneth Paltrow wanted to keep things simple so she wouldn't get stressed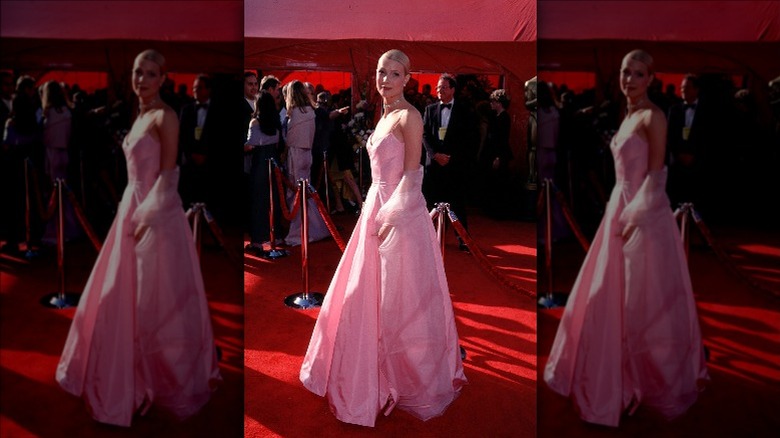 Evan Agostini/Getty Images
The dress in question was designed by Ralph Lauren and is a beautiful baby pink shade. According to Marie Claire, Gwyneth Paltrow actually didn't have a stylist at the time and picked out the dress at Ralph Lauren herself a few days before the 1999 Academy Awards. Simple yet chic, the dress apparently didn't have the top part seen on Paltrow, but instead one with more of a corset style. By changing it, Paltrow ensured the dress would remain timeless whilst also embodying the straightforward cuts of that fashion era. 
Paired with a matching pink shawl, the dress was accessorized with a Harry Winston diamond jewelry set that included a choker, earrings, and bracelet. Paltrow told reporters on the red carpet that she didn't want to feel pressured on the night by turning up in a statement look, instead stating, "I just tuned it all out and wore what I thought was pretty." The look clearly worked, as Paltrow glowed in the soft pink color. Plus, it was saved from looking too dull by the diamond accessories, which helped to turn it into a memorable look. Chokers were a major trend of the 1990s and have made a comeback in recent years, showing that they are always a staple jewelry item.
The dress wasn't loved by everyone when she wore it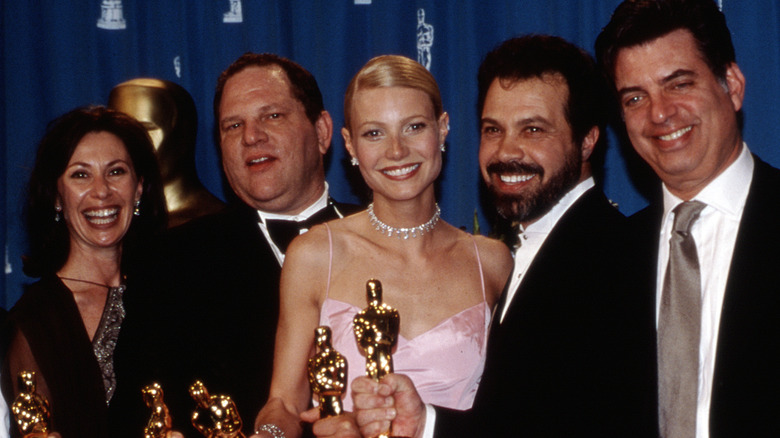 Everett Collection/Shutterstock
Although gorgeous, the dress caused some controversy at the time, with Marie Claire stating that Gwyneth Paltrow's mother Blythe Danner apparently didn't approve of the dress at all. Still, Paltrow seems to be fond of the dress over 20 years later. It also clearly worked as a good luck charm, as she won the Oscar for Actress in a Leading Role for her part in "Shakespeare in Love."
Originally sourced from People Stylewatch, Paltrow revealed she has been saving some of her favorite looks for her daughter Apple, including "every Oscar dress" (via Bustle). This is unusual, as most celebrities have to return their borrowed outfit soon after the event, but it's definitely something Apple is sure to appreciate. Paltrow also reflected on the nostalgia factor of her 1999 pale pink gown, sharing that her daughter may "wear it to prom and do a 'Pretty in Pink' thing and resew it and cut it up." She clearly isn't too attached to the original shape, then. 
We personally love that Paltrow is willing to let Apple put her own personal spin on things, and look forward to seeing what's she's doing with the beautiful pieces she'll inherit in the future.