Donald Trump Doesn't Hold Back On Meghan Markle's Treatment Of Queen Elizabeth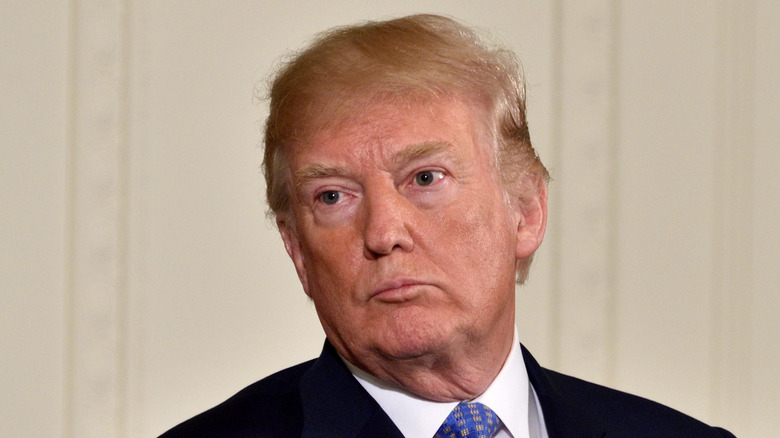 Evan El-Amin/Shutterstock
Donald Trump is currently in the United Kingdom, though not for King Charles III's coronation. He's visiting his golf courses there, and Trump also broke ground on a new golf course in Scotland, all while legal troubles swirl back in the States. During Trump's visit, he sat down for an interview with Nigel Farage, a controversial former politician who was a key player in the Brexit negotiations.
They had a wide-ranging chat, during which Trump talked about how he feels wind turbines are bad for the environment, that the 2020 election was rigged, China was at fault for the coronavirus, and that he would stop the Ukraine war in 24 hours if he becomes president again (via Twitter and GB News). Naturally, the unlikely duo also discussed the upcoming coronation. Trump noted that President Joe Biden isn't going to be attending the big event — traditionally, no U.S. president has attended a British coronation — which he claimed was disrespectful (via YouTube).
The former president was also surprised to learn that Prince Harry, who has been open about his dissatisfaction with how the royal family and the British tabloids have treated him and his wife Meghan Markle, was even invited to the coronation, per Twitter. Likewise, Trump also continued to voice his displeasure with how he felt Meghan had treated the late Queen Elizabeth II.
Donald Trump thought Meghan Markle acted disrespectfully towards Her Majesty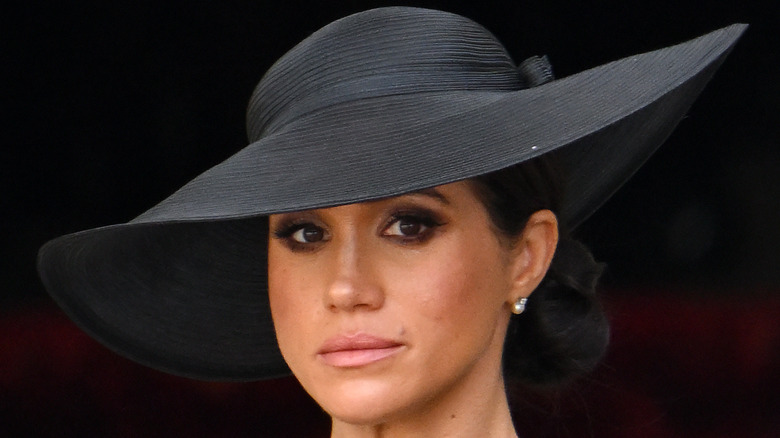 Karwai Tang/Getty Images
During the GB News interview (via Twitter), when the topic of King Charles' coronation came up, Nigel Farage argued that it was probably better that Meghan Marke wouldn't be there. Donald Trump seemed to agree with him, gushing about how wonderful he thought Queen Elizabeth was and taking another opportunity to point out, "You cannot be disrespectful to her and I think Meghan was very disrespectful to her, very disrespectful."
The former "Suits" star doesn't have a lot of love for Trump either. In 2016, she described him as "misogynistic" during an appearance on "The Nightly Show With Larry Wilmore" (via YouTube). Meghan also said that if Trump won the election, she'd seriously think about moving to Canada. And, true to form, upon hearing about her comments in 2019 in the run up to a state visit to the United Kingdom, Trump responded, "I didn't know that she was nasty," per The Sun.
Donald Trump once had good things to say about the Sussexes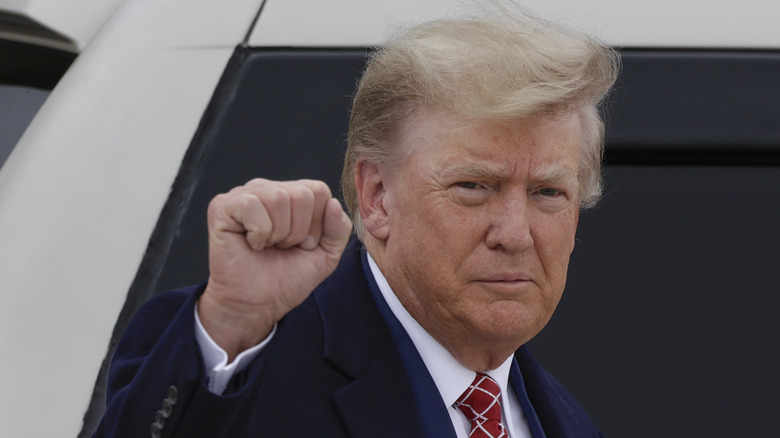 Jeff J Mitchell/Getty Images
When Trump visited the United Kingdom in 2019, shortly after referring to Meghan Markle's comments as nasty, neither Prince Harry nor Meghan went to the state banquet held for him. Though it may have been less of a snub and more to do with the fact that Meghan had given birth just a month before, as reported by the Daily Mail. And in an interview about the visit for "Good Morning Britain" with Piers Morgan — who famously is one of Meghan's biggest critics — Trump seemed to be only complimentary about the couple. Trump said that he wasn't calling Meghan herself nasty in his comments to The Sun, but that what she said about him was nasty, via Twitter. He went on to refer to Meghan as "very nice" and said, "I think she's doing very well." And he called Prince Harry "a terrific guy."
But Trump's tune changed when Harry and Meghan stepped back from royal duties in 2020. In a 2022 interview with Piers Morgan, this time for "Piers Morgan Uncensored," Trump admitted, "I'm not a fan of Meghan, and I wasn't from the beginning," called Harry "whipped," and asserted that the Sussexes' relationship wouldn't last, as The Sun reported at the time. He also said that he felt Queen Elizabeth should have taken away Harry and Meghan's duke and duchess titles. So this isn't the first time that Trump has picked sides between Meghan and the queen.