Go Wild And Accessorize Your Favorite Little Black Dress With Animal Print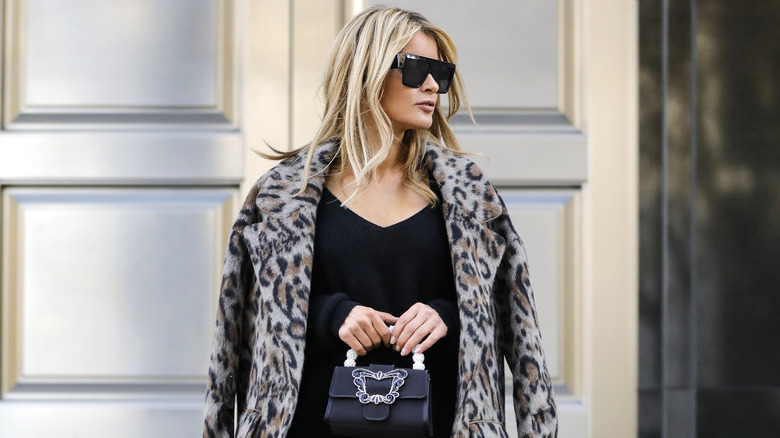 Streetstyleshooters/Getty Images
A little black dress, or LBD, is a timeless piece that can be worn over and over again. Short, midi, or long, everyone should have an LBD they can rely upon for every last-minute occasion or even as a backup outfit option. However, it's always good to put a twist on things now and again, and one of the ways you can do this is with accessories.
When it comes to animal print, most people think only of leopard. Synonymous with old-school glamour, leopard print started to become more popular in the '50s and was one of legendary singer and actor Eartha Kitt's favorite prints. As well as leopard and cheetah prints, zebra and cow prints are also popular styles, as is snakeskin.
Coats are one of the easiest ways to incorporate animal print into your regular wardrobe, but accessories like bags, shoes, and hats are also all smart methods of add some bite to your little black dress look. Here are just a few of our favorite ways to accessorize your LBD with animal print so you can take a walk on the wild side.
Leopard print shoes are an easy way to spice up your LBD
A timeless classic, leopard print heels are undeniably chic when paired with a little black dress. Of course, you don't need to shell out for leopard print Louboutins to recreate this ensemble yourself (though we can't deny they look pretty good). For a more modern take, platform heels or even leopard print boots would achieve a similar, attention-grabbing effect. Finish your outfit off with gold jewelry to pick out the warmth of the leopard print, or tortoiseshell if you want to emphasize the black/brown spots instead. 
Dip your toe into this trend with a leopard print bag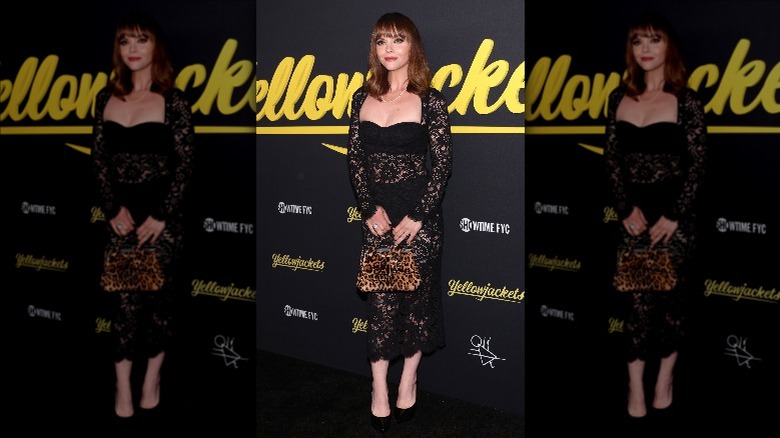 David Livingston/Getty Images
An animal print handbag is the perfect accessory to finish a little black dress look with, and we love how Christina Ricci's leopard print bag accentuates her all-black outfit. Leopard print is loud and eye-catching, so, if you're going for a bag, we recommend sticking to a smaller size to prevent it from overshadowing everything else. A leopard print bag is also a great way to incorporate animal print without necessarily having to plan your whole outfit around it.
This print is an attention-grabbing outlier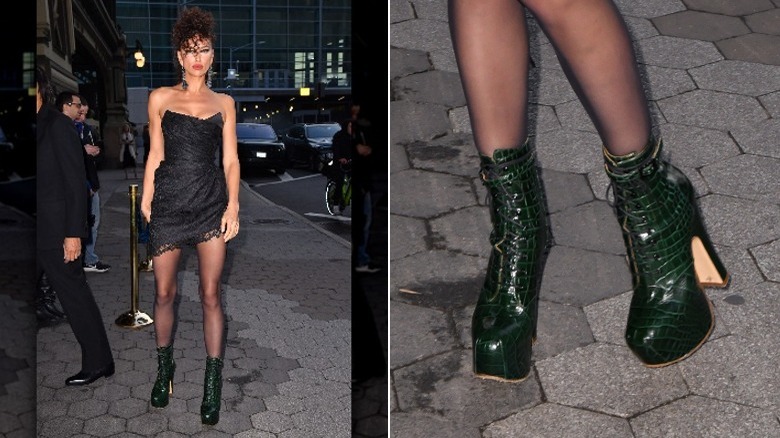 James Devaney/Getty Images
A bit of an outsider when compared to other, more popular animal prints, snakeskin could be the one you've been looking for. Endlessly versatile due to the fact it's more of a texture than a print, snakeskin looks good on bags, boots, and so much more. However, we love the idea of snakeskin boots paired with a little black dress. They will give your look a slight edge but won't overshadow your dress. Additionally, snakeskin accessories come in many different colors, so you can pick and choose the one that best fits your wardrobe.
A black and white bag will keep things sophisticated and elegant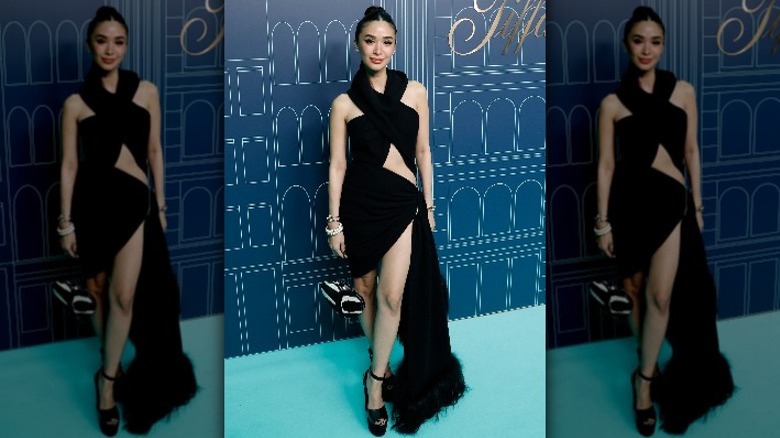 Taylor Hill/Getty Images
Much like a leopard print bag, a zebra print bag is an excellent way to dress up your little black dress. Unlike leopard print and other, brighter animal prints, zebra print is more neutral because of its monochrome color scheme, meaning you can wear it with plenty of other colors. Plus, the black and white pattern isn't as in-your-face as the leopard and cheetah prints, so it's more of a complementary rather than a standout print to accessorize with.
Branch out from your usual footwear with an animal print twist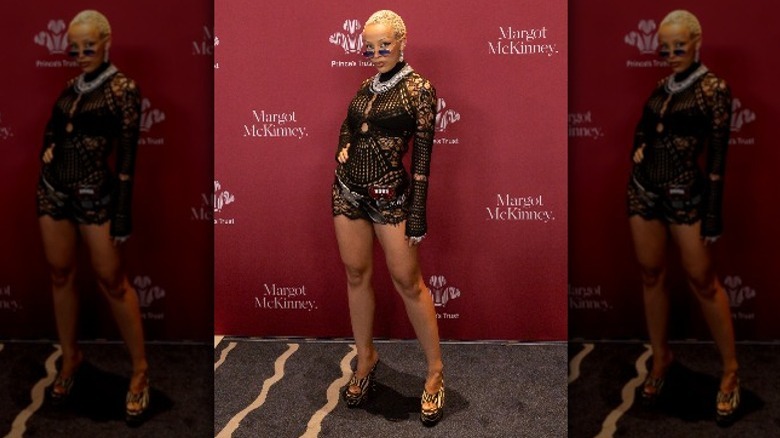 Joy Malone/Getty Images
If you're feeling adventurous, make like Doja Cat and opt for some bold, zebra print shoes. While the singer's pair features an open-toe and platform style, zebra print boots would look equally chic and add a cool '90s vibe to the overall look. Doja's LBD is a little more risqué than a regular black dress, of course, but her shoes would easily work with any style. Animal print platforms like these will make a statement all by themselves, so make sure you keep the rest of your accessories simple.
This style is perfect for when the weather starts getting warmer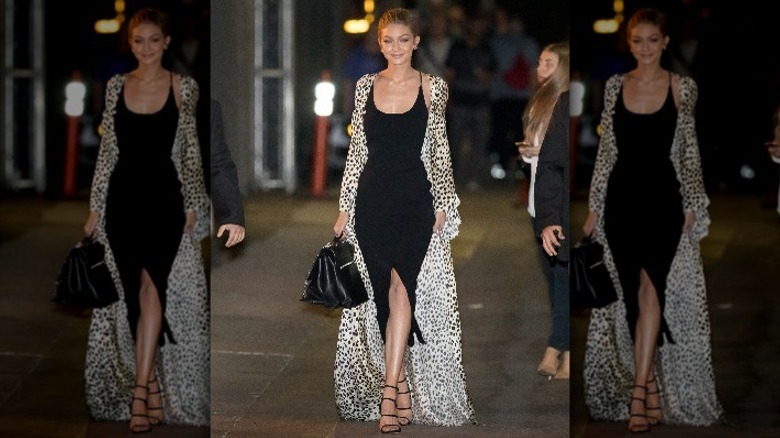 Rb/bauer-griffin
Technically a coat is a clothing item and not an accessory, but a long duster jacket like the one Gigi Hadid is wearing here is too light to really count as outerwear. Not only will it give your outfit some drama, but we also love the vintage-inspired way Hadid's cover-up drapes all the way to the floor. Sexy, sleek, and adding the touch of glamour that makes any LBD-centric outfit pop, a cheetah print duster is definitely what your wardrobe needs.
Accessorizing doesn't stop at bags and shoes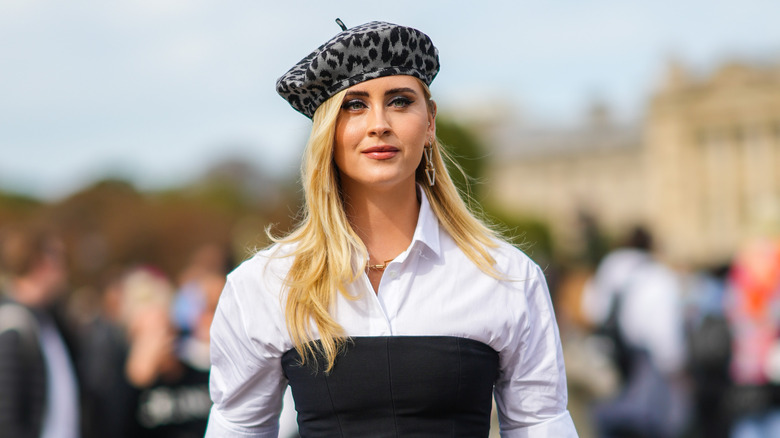 Edward Berthelot/Getty Images
Hats may not be your first choice when it comes to styling a little black dress, but what if we told you they add not only depth but make your look appear far more high fashion too? A beret is a good option for formal black dress outfits, but an animal print bucket hat should also be your new go-to for more dressed-down LBD ensembles. Plus, a cute hat will instantly make you feel like you're walking through the streets of Europe eating a croissant ("Emily in Paris," anyone?) which is always a plus.