Cheetah Vs. Leopard Prints: How To Coordinate Like A Pro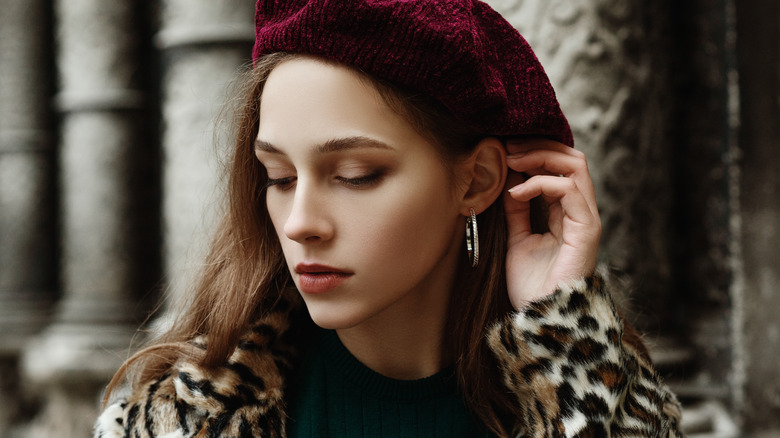 Victoria Chudinova/Shutterstock
From luxurious furs to statement wallpaper to a velvet chaise lounge, animal prints have long been a staple element in design. And according to The Zoe Report, these beastly spots and stripes are making a comeback. Stylist Mickey Freeman attributes this to a quarantine-induced cabin fever. "In my opinion, animal prints are synonymous with the desire to abscond and experience the energy of exotic lands and their climates," he says. Perhaps this is why runways, magazines and even the Vice President's family have spent 2021 featuring head-to-toe animal print looks. 
Freeman states that he's seen "leopard, ocelot, and cheetah prints that are comprised of sumptuous-looking silks and synthetic fabrics." But while these prints may appear similar at first glance, to the trained eye they're anything but. Leopard prints have a trademark golden tan background, much warmer than a cheetah's coat. Leopard prints are also characterized by the light brown centers to their "spots" or black rosettes (via The Inside). Meanwhile, cheetah prints have a much more subtle look, with a light tan background and all black, uniform spots.
With all their intricate details, it may seem overwhelming to incorporate these majestic prints into your everyday wardrobe. But we've got the tips and trips to take you from fashion victim to polished queen of the jungle.
Balance leopard print with neutral shades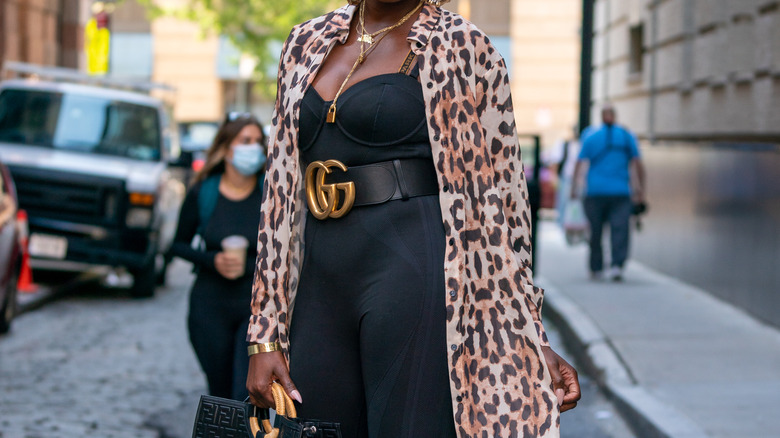 David Dee Delgado/Getty Images
When donning leopard print, look to the fashion greats for tips and tricks. Designers like Yves Saint Laurent and Dolce & Gabbana never shy away from integrating these felines' spots into their collections (via The Inside). At New York Fashion Week 2021, we even saw a western-inspired cow print (via Forbes)! However, if you're new to the animal print game, we do suggest starting small.
Leopard print, with it's caramel undertones and varying shades of brown, offers dimension and depth to any outfit. The Zoe Report recommends investing in a long leopard dress to either layer over jeans during the winter or debut as soon as the summer solstice hits. But don't go too crazy.

Hot Drops suggests limiting your leopard print to one item per outfit, so as not to visually overstimulate. Stick with a printed blazer, high-waist trousers, shoes, a maxi skirt or a dress. And remember to balance the look with neutral shades such as black, brown or white.
Use cheetah print to mix bold colors and patterns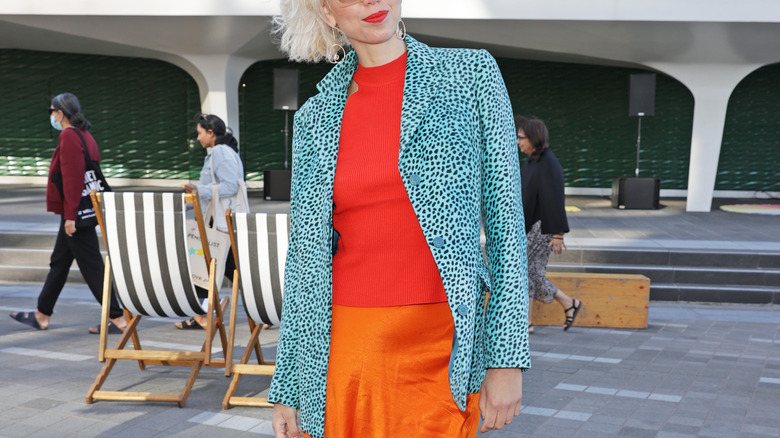 David M. Benett/Getty Images
Cheetah print's minimalist pattern works well for sleeker, more elegant looks in a stand-alone outfit, but it also give wearers extra room to play with color! Creative Fashion Glee suggests clashing against the print with bright, jewel-toned colors to seamlessly soften your bold look. Which brings us to our next cheetah print hack...
If you're going to mix prints, this is the animal coat to experiment with! When mixing patterns with cheetah, opt for a similarly neutral one, such as polka dot, in the same shade as the coat. If the look still seems like print overload, layer a single colored pattern in between the two items for immediate balance.
Finally, if you're still working up to mixing prints, Creative Fashion Glee suggests first practicing with matching accessories such as printed boots, purses and/or headscarves. Animal print is a timeless trend and, for those daring enough to try it, the payoff of looking chic is worth the styling stress!