The Two Factors That Can Make Or Break A White Eyeliner Look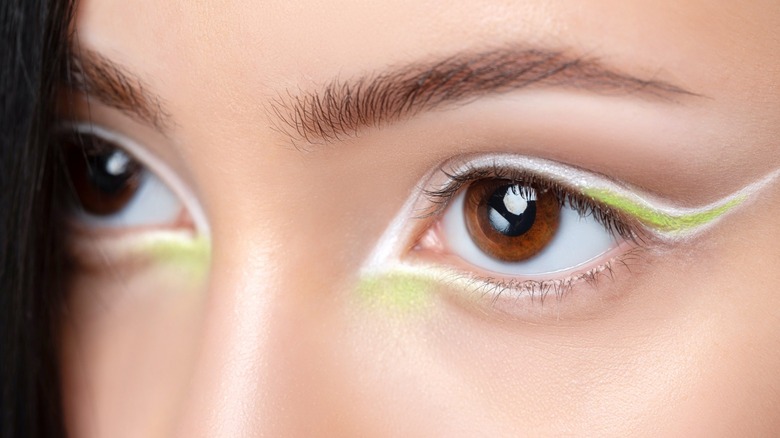 Dimid_86/Getty
White eyeliner is typically used to make your eyes look bigger and brighter. When trying to determine the best ways to wear white eyeliner, you should experiment with it. White eyeliner can be used on your waterline, lash line, or in the corners of your eyes — the standard eyeliner spots. You can also apply it to your eyelids as an eyeshadow primer. Its versatility continues because white eyeliner works as a highlighter for your face and/or lips as well.
Some people will even combine a white eyeliner with a darker eyeliner, by using white below the eye and the darker shade above. But, before you can add white eyeliner to your usual makeup rotation, you need to purchase a product that will work for you. There are a couple of important factors to keep in mind when shopping for white eyeliner so you can make the right decision and find something that is both good quality and also ripe for experimentation. 
There are two things to keep in mind when buying white eyeliner
The first thing to remember when searching for white eyeliner is pigmentation. Pigments are what give your cosmetics color. You need to ensure that your white eyeliner of choice has high pigmentation so it is visible and bright. In an interview with Marie Claire, professional and celebrity makeup artist Carly Giglio recommended that before you choose a white eyeliner, you test it out on the back of your hand to see how it looks against your skin tone. 
This process is also known as swatching. The second factor to remember as you narrow down your eyeliner options is texture. The best eyeliner is one with a creamy, blendable texture. Eyes are very sensitive, so a creamy eyeliner that goes on smoothly is best to avoid too much trouble during application. And if you use eyeliner in pencil form, Giglio suggests that you ensure it's blendable. That will make it easier for you to smudge the eyeliner after application.
TikTokers recommend their favorite white eyeliners
You can find some great eyeliner tips on TikTok, including plenty of recommendations for white eyeliners to try out. Content creator @maj.beauty shouted out crème gel eyeliner in the shade Exit from Colourpop for a white eyeliner that's not too stark when applied. On Colourpop's website, the Exit eyeliner is described as being a matte eyeliner that's designed to provide simple and smooth application and blending.
Another matte, white eyeliner to try is the Stroke of Gorgeous color liquid liner in the shade Snowed In from Hard Candy. This recommendation comes from TikToker @eva.createcolor. Hard Candy describes the Snowed In liquid liner as being easy to apply and smudge-proof once it has dried completely. Likewise, the liner includes "lash boost serum" for your eyelashes. 
Both Exit from Colourpop and Snowed In from Hardy Candy are listed as products with longevity (i.e., they should last all day without any trouble). If you want to give white eyeliner a try, be sure to look for a product with good texture and pigmentation. And don't be discouraged if you have to try a few different options before you discover the best white eyeliner for you.