Why Samantha Markle Thinks Meghan And Harry Are Destined For Divorce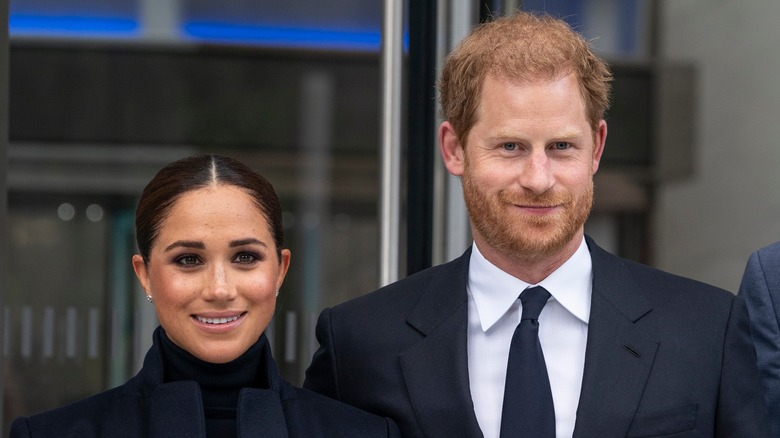 lev radin/Shutterstock
In a recent interview for 7NEWS in Australia, Samantha Markle, alongside her father Thomas Markle Sr. and half-brother Thomas Markle Jr., talked about what seems to be a favorite topic of hers: Her half-sister Meghan Markle, Duchess of Sussex. The Markles shared previously unseen home videos that show Meghan was a 'royal' long before she met Prince Harry, as well as other childhood photos in an attempt to counter the claim that Meghan made in her 2021 Oprah interview where she said she grew up feeling like an only child (via YouTube). And Samantha didn't hold back in her assessment of her estranged half-sister, calling her a "narcissist," and saying "she'd still be a waitress if it wasn't for dad."
Fresh off that interview, Samantha went on GB News to share more thoughts about the Duchess of Sussex. This time it was about what happened when Meghan and Harry stepped out for a date night as King Charles' coronation nears. They watched the Lakers game with some Archewell staff from a private suite, and at one point, the "kiss cam" showed the couple on the Jumbotron. The interaction looked a bit awkward as they both laughed, Harry grimaced, and they didn't kiss. And from that, Samantha said it seems like a clear sign that the couple could be headed for divorce.
Samantha Markle thinks Meghan and Harry could use counseling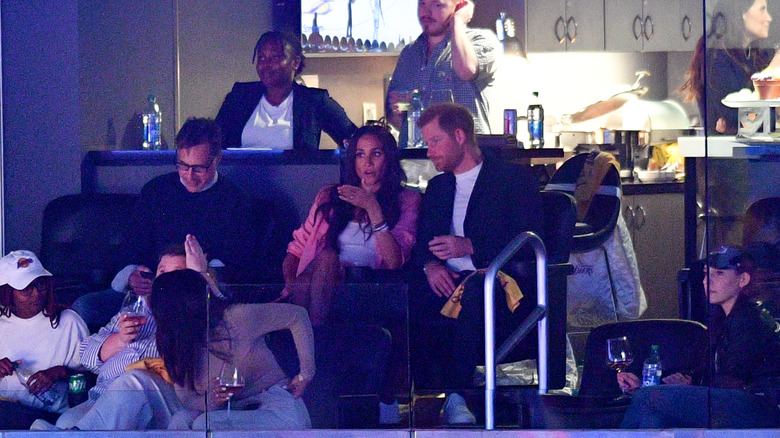 Allen Berezovsky/Getty Images
Samantha Markle talked to GB News about how she thought the kiss cam interaction between Meghan Markle and Prince Harry at the Lakers game was clearly in contrast to how Meghan has acted before. Harry leans in towards Meghan in the quick clip, some think it was for a kiss, but Meghan doesn't do the same. "Previously, in all the photographs she was pining over him," Samantha said, "putting her hands all over him, grabbing his hands, grabbing his back."
With that seeming change in behavior, Samantha saw it as "telling the rest of the world, all of us, that they are at an impasse and maybe they're making decisions to part." She also suggested that perhaps some counseling could help the potentially unhappy couple in how they treat each other and the people around them.
A lot of Twitter comments seemed to disagree with Samantha's assessment. One user wrote: "They look very happy and enjoying a night out with friends." Another said, "I don't care for those two one bit, but that doesn't look bad to me. Just a bit awkward."
Samantha Markle didn't always have harsh things to say about Meghan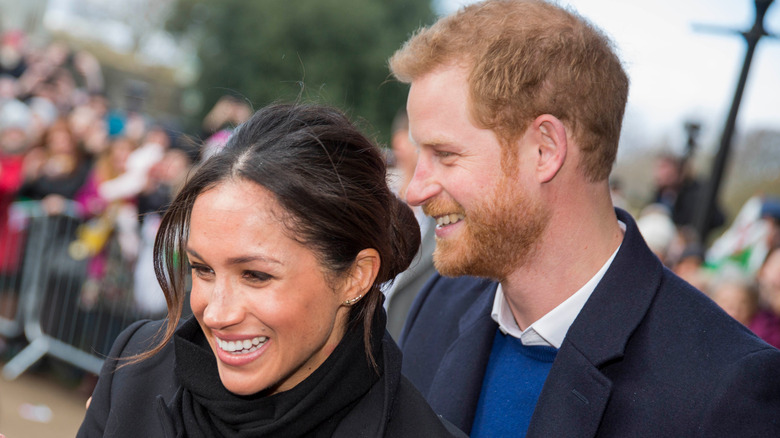 ComposedPix/Shutterstock
It's not the first time that Samantha Markle has commented on the body language of Prince Harry and Meghan Markle. In the 7NEWS interview, she said that when she watched the wedding of Harry and Meghan that "there was something in my opinion missing in their eyes. It didn't seem real to me," via YouTube.
But things weren't always quite so contentious for Samantha when it came to Meghan. In an interview with InTouch Weekly before Harry and Meghan's wedding, Samantha described Meghan as being "extremely well-behaved and respectful" as a child. After Harry and Meghan's engagement announcement, Samantha told US Weekly, "I am so happy for her ... We didn't know it was going to come out this soon, so it was nice to wake up to." She also referred to her relationship with Meghan as "a whirlwind," and said, "I'm sad she believed some of the other interviews I did where words I never said were taken out of context." But there doesn't seem to be many ways to take what Samantha said about the Lakers game "kiss cam" interaction out of context, so fences most likely won't be mended anytime soon.