Everything We Know About Florence Pugh's Dating History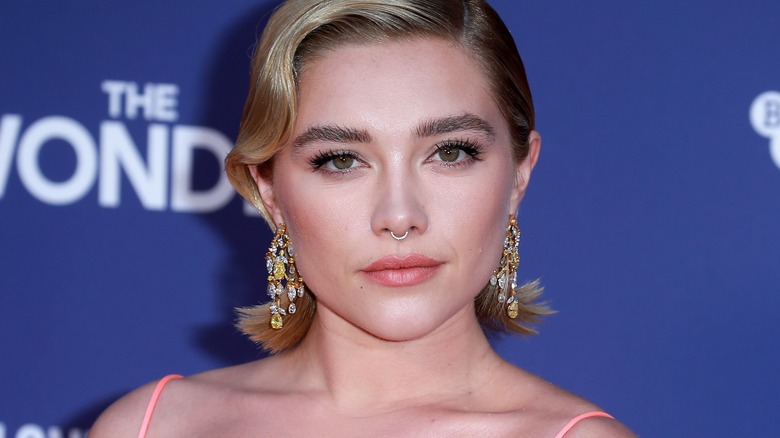 Fred Duval/Shutterstock
There's no doubt about it; Florence Pugh is one of the most talented young actors working today. Despite her age, Pugh likely looks familiar because of her extensive and impressive work portfolio. The British star made her big screen debut when she was just 17 years old, in the dark drama "The Falling." The movie received generally positive reviews, and Pugh in particular was dubbed a standout for her performance, which notably came about without any formal training.
Unsurprisingly, though, Pugh was interested in acting from a young age. In an interview with The Guardian, she fondly reminisced on her first stage performance as Mary (albeit with a thick Yorkshire accent) in a nativity play. Shortly after her breakout work in "The Falling," Pugh was cast in a TV show called "Studio City," but it never actually made it to air. Later, Pugh told Variety about how studio executives sadly wanted to change things about her face and body at the age of 19 and its negative impact on her. 
She admitted, "I'd thought the film business would be like [my experience of making] 'The Falling,' but actually, this was what the top of the game looked like, and I felt I'd made a massive mistake." Thankfully, Pugh kept at it and ended up with another critically acclaimed role in "Lady Macbeth." And since then, she's given several memorable performances in gems like "Little Women," "Midsommar," "Black Widow," and "Don't Worry Darling." Her love life, meanwhile, is much less varied. 
Florence Pugh has only had one confirmed public relationship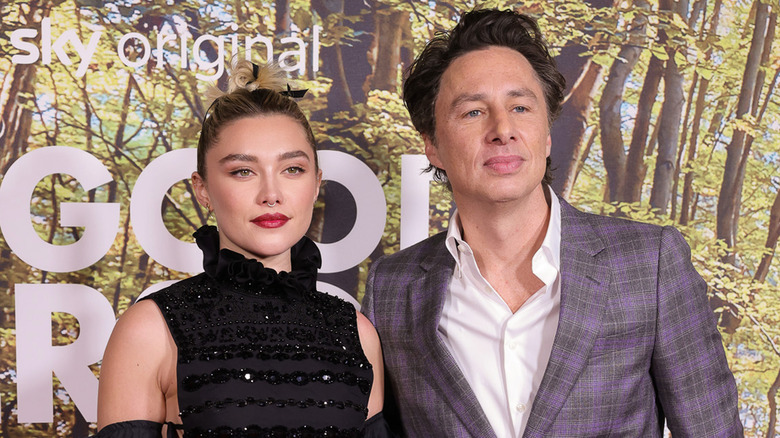 David M. Benett/Getty Images
Florence Pugh and Zach Braff's relationship supposedly began in 2019. And, while neither party has confirmed how they met, it's safe to assume that sparks flew when Pugh starred in Braff's short film, "In the Time It Takes to Get There." Braff is 21 years older than her, and fans weren't too happy when Pugh seemed to confirm their relationship in an Instagram comment. When the "Scrubs" star commented with a princess emoji on her post, one user responded: "You're 44 years old," leading Pugh to swoop in and quip, "[A]nd yet he got it."
During a 2023 chat with Vogue, following their breakup, the Oscar nominee revealed why she reckons people weren't too fond of the relationship: "They imagined me with someone younger and someone in blockbusters." Pugh elaborated, "I think young relationships in Hollywood are so easily twisted because they add to the gossip sites. It's exciting to watch. And I think I was in a relationship that didn't do any of that."
Although the couple shared several photos on Instagram over the years, they remained resolutely tight-lipped about their romance in an attempt to protect it. Pugh spoke about this during a podcast interview on "This Cultural Life" (via Yahoo!), arguing, "I don't think that people, just because they have this job, that every aspect of their life should be watched and written about." She added, "We haven't signed up for a reality TV show."
The actor might have a new love in her life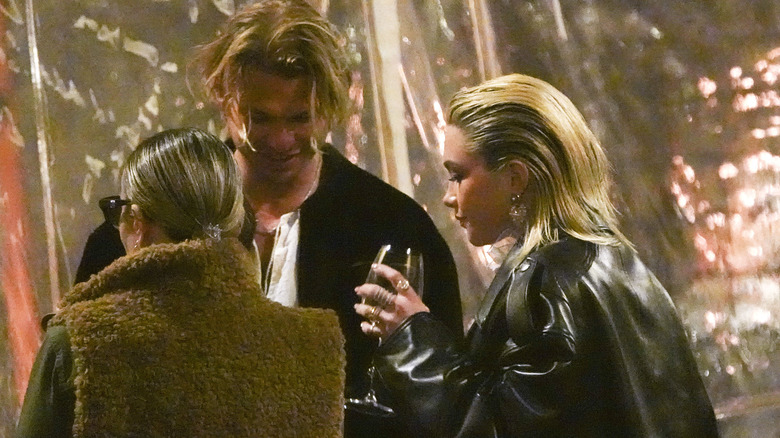 Mega/Getty Images
In August 2022, Florence Pugh confirmed to Harper's Bazaar that her relationship with Zach Braff had sadly ended, but they'd chosen to keep the split private to avoid adding salt to their wounds from Internet trolls who would be all too pleased when the news broke. The pair have remained friends since their breakup, and Braff even called her a legend in a sweet birthday post. Pugh also shared the love for Braff's birthday with an equally endearing post.
Before the news of their split officially broke, people speculated she was dating fellow British actor Will Poulter after they were spotted vacationing in Ibiza together. But Pugh was quick to shoot these rumors down via Instagram Stories. After confirming that she wasn't dating Poulter, the "Little Women" star pointed out that paparazzi pics had been cleverly positioned to keep their other friends out of the frame.  
As of 2023, she's rumored to be dating photographer Charlie Gooch after the two made several public appearances together, including attending a 2022 British Fashion Awards afterparty. They were snapped holding hands as they hung around London on Valentine's Day. Shortly after, Pugh and Gooch enjoyed a Roman holiday. And, in February 2023, they were spotted happily heading to lunch with Pugh's mother and sister. She's apparently known Gooch since he photographed her during the 2021 "Black Widow" press tour, and Pugh even gushed about his photography skills in an Instagram post.