The Complete Dating History Of Alexandra Daddario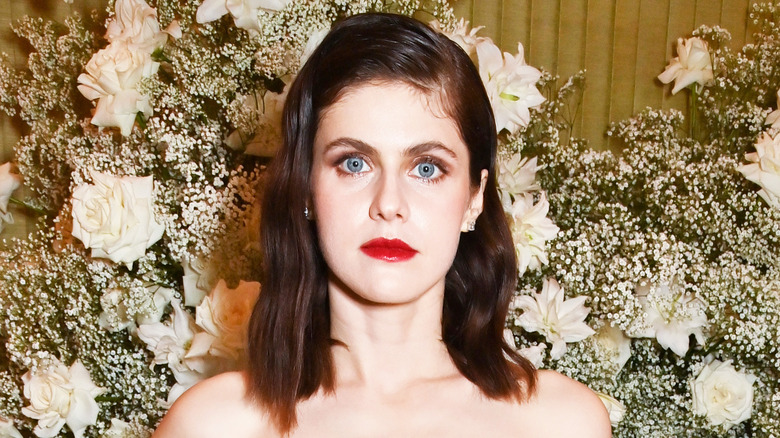 David M. Benett/Getty Images
Actor and blue-eyed beauty Alexandra Daddario has been a hot topic since her 2010 breakout role in "Percy Jackson and the Olympians: The Lightning Thief." Now more than a decade later, she's continued to find success in front of the camera on hit shows like "The White Lotus" and "Mayfair Witches." And though she's been in the spotlight for some time, Daddario has managed to keep some pieces of her story relatively under wraps; she's mindful of how much she shares about her personal life. That said, she has dropped a few little kernels here in there. For example, she did tell Women's Health in 2017 about her brief Tinder experience, saying, "I thought, maybe I'll meet the love of my life there, but people have recognized me and it's embarrassing."
So, when Daddario married her film producer beau in June of 2022, headlines emerged and readers demanded to know more about the man who stole this actor's heart. While the couple look as happy as can be, it came as a surprise to some that Daddario was no longer single and ready to mingle; it seemed like just yesterday she was holding hands with her "Percy Jackson" co-star. But alas, that romance ended years ago and Daddario has since undergone an incredible transformation. Still, the media and fans alike love to reminisce on what once was, which has prompted some digging into Daddario's old flames. Here is a look at the complete dating history of Alexandra Daddario.
Jason Fuchs was Alexandra Daddario's first public boyfriend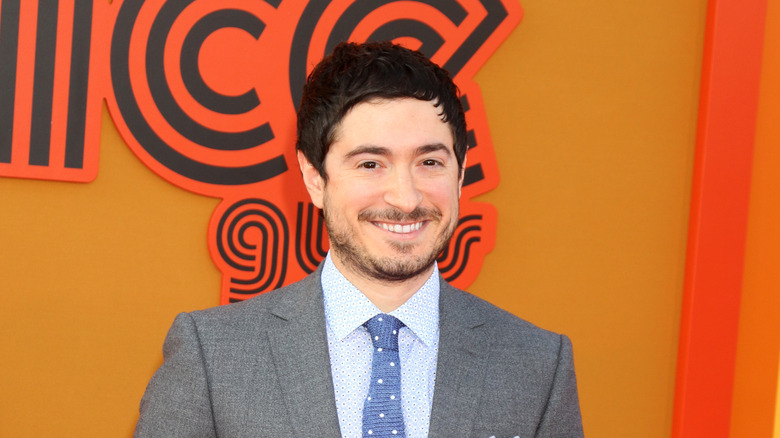 Kathy Hutchins/Shutterstock
Back in 2006, it was revealed that Alexandra Daddario was dating actor, writer, and producer Jason Fuchs. At the time, neither of them had worked on any blockbusters but they had co-starred in a short written by Fuchs titled "Pitch." In a since-archived article, Inquisitr reported that Daddario had even referred to Fuchs as her "first love," and it seemed like the couple would be together forever. But as we know now, the romance unfortunately wasn't meant to be.
The pair dated for three years before calling it quits. It was never confirmed what sparked the ending of their relationship, but perhaps it was for the best as Fuchs went on to write the screenplay for "Ice Age: Continental Drift," the story for 2017's "Wonder Woman," and played the part of Carlo, a screenplay writer, in "La La Land." He is also now married to actor Alixandra Fuchs (nee von Renner), another stunning and tall brunette — seems like he has a type. Although he and Daddario didn't work out, they've both made names for themselves in the industry and found the partners they were meant to be with.
She dated her Percy Jackson co-star Logan Lerman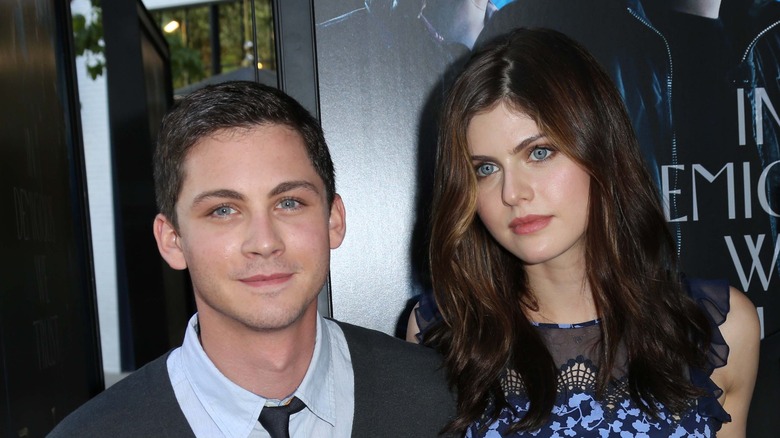 s_bukley/Shutterstock
The blue-eyed actors of "Percy Jackson and the Olympians: The Lightning Thief" were nothing short of adorable when they co-starred in the 2010 fantasy flick. Alexandra Daddario and Logan Lerman played opposite each other in both of the movies, sporting notable chemistry. This could be due to the fact that behind the scenes, the actors were supposedly dating.
Although they never publicly confirmed their status, it was reported in December of 2014 that Daddario and Lerman were engaged. "Percy Jackson" fans were thrilled, but of course, this fairy tale didn't have a happy ending and the couple split in the following year. Daddario has remained coy about her dating history and she has kept her lips sealed about her relationship with Lerman. 
Lerman continues to act and has starred in movies like "The Perks of Being a Wallflower" and television series like "Hunters," and has even branched out into the realm of producing. He's now dating Analuisa Corrigan, an artist based in Los Angeles in New York, and seems to have happily moved on.
There were rumors involving Baywatch co-star Zac Efron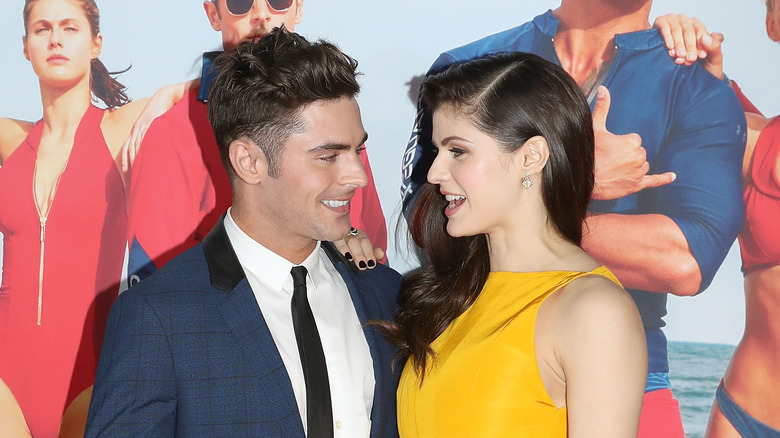 Cole Bennetts/Getty Images
In 2017, the "Baywatch" reboot premiered, and audiences couldn't help but detect the chemistry between co-stars Alexandra Daddario and Zac Efron. Of course, the washboard abs and classic slow-motion running would be hard to resist for anyone, but Daddario and Efron seemed to be inseparable following the filming of the movie and even posted a handful of flirty pics on Instagram. This sparked a series of rumors, as everyone was dying to know the inside scoop on their supposed relationship.
In March of 2017, a source told Hollywood Life, "Alexandra is all in with Zac but not all in about telling anyone about it. She was very coy about it at the 'Rampage' premiere to friends and her fellow 'Baywatch' co-star The Rock has even been kept in the dark about it." This revelation had fans buzzing with excitement, but people still wanted to hear it from the horse's mouth.
Eventually, following the release of "Baywatch" and the onslaught of gossip, Daddario sat down with E! News to clear the air. In speaking about the rumors, she said, "I don't know that I started it. We work together closely; he's my love interest in the film. I understand why people would go crazy over something like that, but Zac and I are very good friends." This may be true, but it wouldn't be the first time a celebrity lied to obscure their private lives from the public.
She was spotted kissing Ari Melber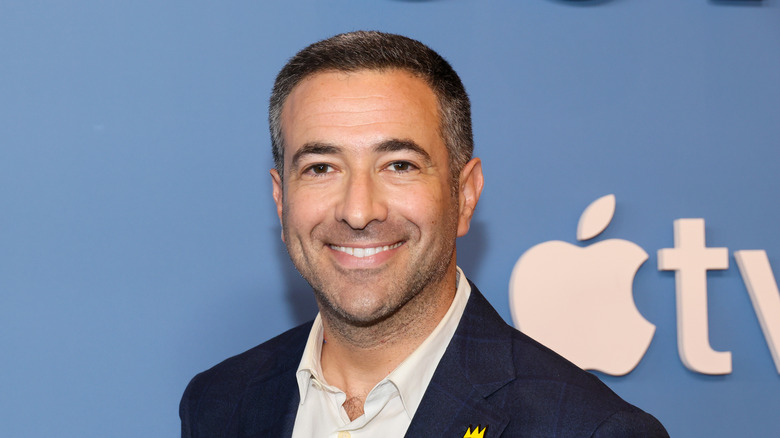 Dia Dipasupil/Getty Images
The are-they, aren't-they rumors surrounding Alexandra Daddario and Zac Efron were quickly extinguished in 2018 when she was spotted kissing Ari Melber, journalist and host of MSNBC's "The Beat." While Daddario has been working in Hollywood for years, and with Melber's show being filmed in New York, it's unlikely that they would have crossed paths through work. In fact, the two were first seen together just a few days prior to the kiss, when comedian Richard Lewis tweeted a photo of himself with Daddario and Melber, claiming they were helping him celebrate a whopping 24 years of sobriety.
With Daddario dressed in leggings and sneakers, there's a chance they could have been on a romantic outing, as she's been known to take her love interests on fitness-based dates. Daddario told Women's Health in 2017, "I've gone on yoga dates with guys, which I love. They might get grossed out by me because I sweat so much, but that's how you know if they're a keeper." However, this seems to be the last time the pair were spotted together, so whether they had a brief fling or are just (incredibly intimate) long-distance friends, only the actor and journalist know for sure.
She dated Emma Watson's ex Brendan Wallace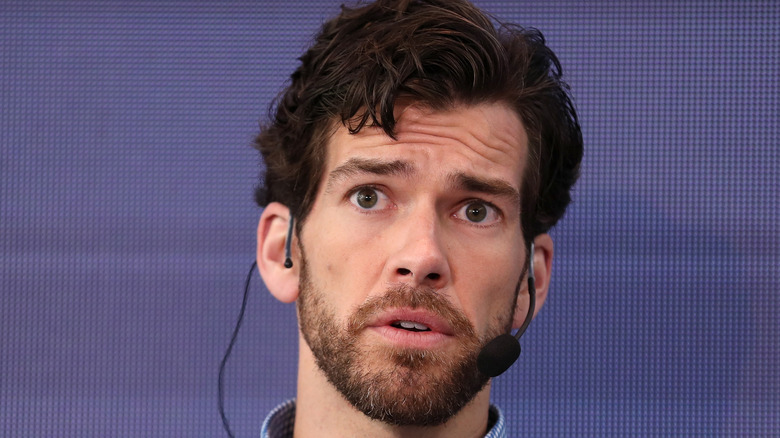 Bloomberg/Getty Images
Tall, dark, and handsome seems to be Alexandra Daddario's type, and she's not the only one. It would seem that she and one "Harry Potter" star in particular may have the same taste in men, as Daddario's dating history overlapped with Emma Watson's when she linked up with businessman Brendan Wallace. He is a co-founder of Cabify, and also co-founder and managing partner of Fifth Wall, a venture capital firm. What's more, he seems to be a real hit with Hollywood's leading ladies.
In October of 2018, Watson and Wallace were spotted sharing a kiss while vacationing in Mexico. It would seem that things didn't work out between the two though, as Wallace was seen in Italy in the summer of 2019 with Daddario, and it was clear they were more than friends. The couple walked through Rome with their arms around each other, occasionally stopping to smooch. But like most of Daddario's relationships, she hasn't addressed this romantic European vacation, nor has she confirmed the timeline of her supposed relationship with Wallace.
There's a strong chance that this was another fling, as Watson and Wallace made another public appearance in March of 2023, this time at a Taylor Swift concert. Regardless of their current relationship status, Daddario has since moved on to bigger and better things, finally finding someone she's deemed marriage material.
Alexandra Daddario married Andrew Form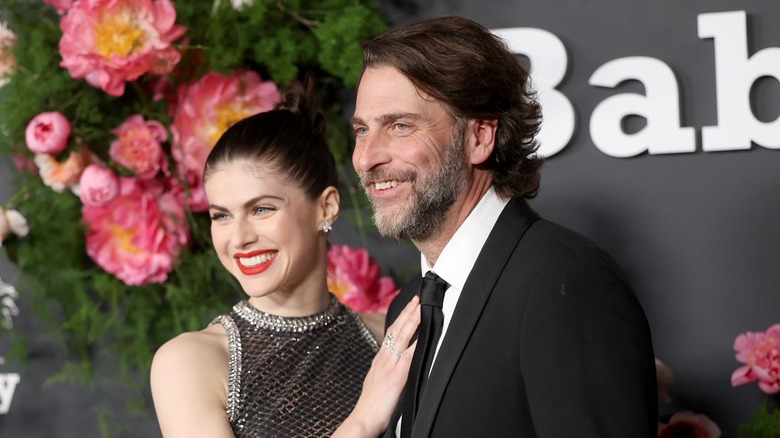 Phillip Faraone/Getty Images
In the midst of the COVID-19 lockdown, Alexandra Daddario had been out on a walk when she met producer Andrew Form. As she told Vogue, "He was also on a walk, and we passed each other downtown. He turned back and said 'hi' just as I was turning around to glance back at him. I laughed and said 'hi,' and then we both laughed about how we were the only two people on what is normally an incredibly busy street, and he asked if he could take me to dinner." Following their meet-cute, Daddario and Form went out on several dates and by May of 2021, the couple were Instagram official.
In early 2022, Daddario confirmed her engagement to Form when speaking with People. "It feels so exciting," she said. "But mostly it just feels very peaceful. I feel very at peace with him and very happy, and I just feel very lucky." The couple wed in New Orleans at Preservation Hall in June of 2022, with Form's two children from his previous marriage acting as his groomsmen. Daddario wore a stunning Danielle Frankel dress, and her look was even partly inspired by Meghan Markle's wedding to Prince Harry.
Having finally found her Prince Charming, Daddario seems the happiest she's ever been. As she told Women's Health in 2022, "When I met Andrew, we just both knew. The wedding was wonderful; it felt a bit like an inevitable conclusion. So I feel really at peace."