The Incredible Transformation Of Zac Efron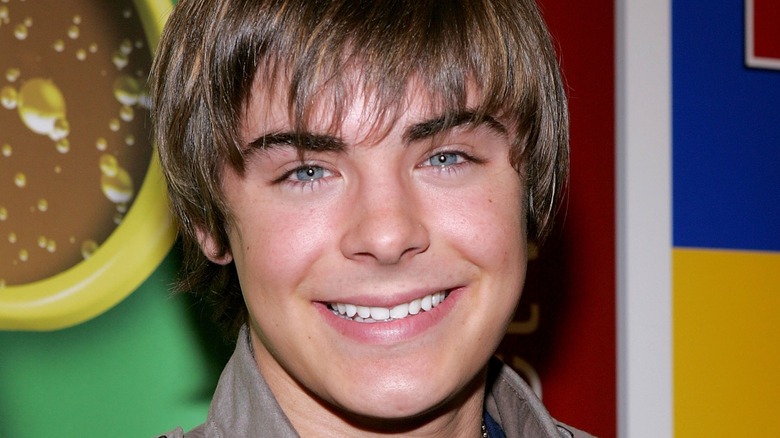 Paul Hawthorne/Getty Images
Let's be honest — we all have had a crush on Zac Efron at one time or another. Whether it was "Hairspray" or "The Greatest Showman," there is no doubting that Efron is a force to be reckoned with in Hollywood (per IMDB). While he is a multifaceted star, his rugged good looks didn't hurt him either.
Efron — who has a huge net worth — got his big break thanks to the Disney Channel Original Movie "High School Musical."  He had a baby face (like a lot of the former Disney stars), sported a mushroom haircut, and sang his little heart out. The actor played the captain of the basketball team, Troy Bolton, and while the film was not slated to do well, it surpassed Disney's expectations and caused Efron to take off within the tween community (per Insider). There is no doubt that Efron has grown tremendously within his craft since then — but not only has he worked on his acting chops, he has evolved into a physical powerhouse. People even named him one of the sexiest men alive in 2017.
Zac Efron is known for his acting just as much as his physique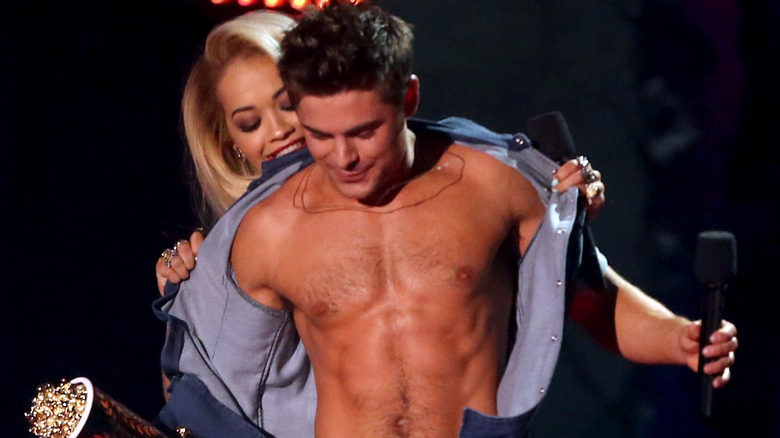 Frederick M. Brown/Getty Images
While he was always a good-looking actor, Zac Efron has been pegged as a form of man-candy to fans and other stars. Page Six shared that at the 2014 MTV Movie Awards, Rita Ora stripped Efron down on stage because she wanted to show off his famous six-pack. It's fair to say that his muscles really started to show off, but most importantly, he looked happy and healthy. Efron was often asked about his appearance, especially after he filmed "Baywatch." He once spoke with Page Six about not wanting to overdo his look, saying that he never wanted to be in "that good of shape" ever again. 
"You're working with almost no wiggle room, right. You've got things like water under your skin that you're worrying about, making your six-pack into a four-pack," he said. "S*** like that it's just not ... it's just stupid."
He also spoke to Men's Journal, who dubbed him the "shredded human Ken doll" about his diet for that particular role. During the interview, it was revealed that he ate a low-carb diet with food that was organic. The actor went from looking like any other Californian guy who enjoys a gluten-free muffin to a real-life lifeguard who, if ever felt obliged, could have saved anyone from drowning. Efron said that he didn't think of himself as one of those stars that only cares about his looks — he once told "Hot Ones" via Men's Health that if you, "Take care of your heart, take care of your brain. You're good."
Zac Efron will always be handsome in the eyes of his fans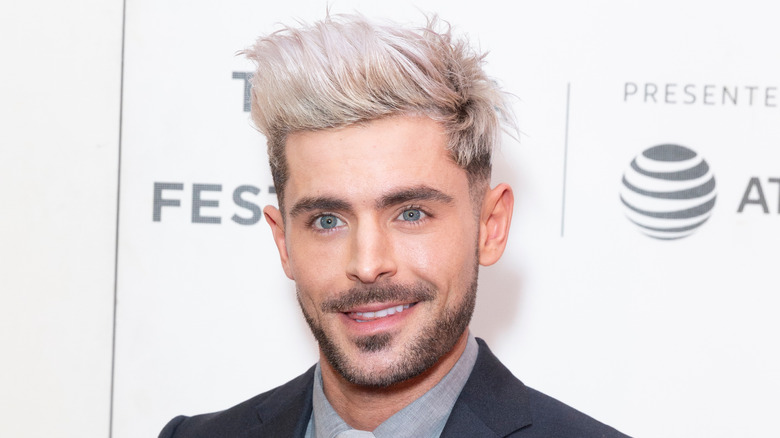 Shutterstock
Zac Efron surprised fans with a Facebook Watch appearance in April 2021 as he promoted Bill Nye the Science Guy's "Earth Day Musical" special. But fans were a little thrown when Efron seemed to be sporting a new look that showed off fuller lips and a more distinguished jaw bone. Naturally, Twitter blew up with one fan writing that he looked like the "human Shrek."
But Insider pointed out that it is important not to speculate about someone's appearance without knowing the full story. The outlet spoke with dermatologist Dr. Muneeb Shah who said the A-list actor could have "gotten anything from fillers to implants" or even had his teeth done. Whatever the changes Efron made to his appearance, devoted fans will be ready to support him in his next big project, which is the lead role in Disney's remake of "Three Men and A Baby" (via The Hollywood Reporter). Who knows, we may be falling in love with him for his dad bod next!