Lexi Ainsworth Speaks Out On Astonishing General Hospital Exit (But We Still Have Questions)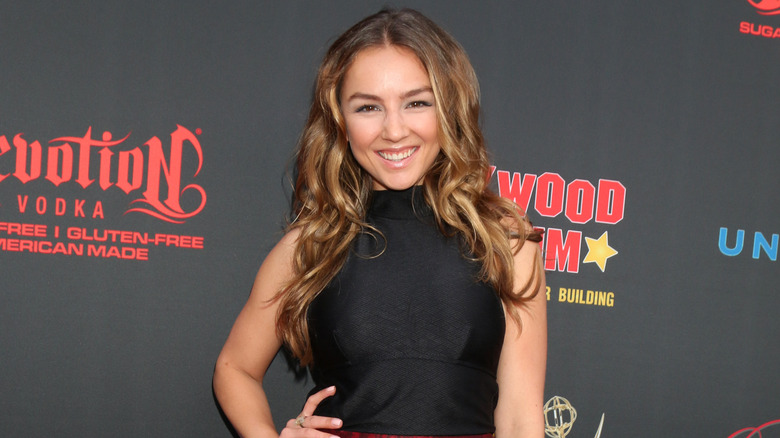 Joe Seer/Shutterstock
Lexi Ainsworth has been a "General Hospital" fan favorite ever since she started playing Kristina Davis in 2009. From the character's disturbing relationship with the abusive Kiefer Bauer (Christian Alexander) to her groundbreaking love story with college professor Parker Forsyth (Ashley Jones), Ainsworth has brought emotional depth to Kristina. She's been recurring on the show for the past few years, and in September of 2022, she told Soap Opera Digest, "Every time I come back, it's like no time has passed." On her return back then, she stated, "I'm really happy about it — and I'm very excited that it seems like I'm sticking around for a while."
However, on Thursday it was announced that Ainsworth would be stepping away from the character, with "Days of Our Lives" alum Katie Mansi taking over the role. Twitter fans were all over the map, with many praising Ainsworth's portrayal of Kristina and wishing her well, while others were angry and reluctant to accept Mansi as the recast. "What the heck? Why? Why? Why? Nothing against Kate Mansi, but no! I'm not okay with this. Hate it!" wrote one fan, exemplifying the feelings of a good portion of viewers. Still others were familiar with Mansi's work and felt she would be a good replacement.
Many viewers wondered whether the change was Ainsworth's or the show's decision, and the actress took to social media to formalize her announcement.
Lexi Ainsworth is excited to expand her talents
Lexi Ainsworth announced her exit from "General Hospital" on Instagram, stating that the past decade was "transformative" for both her and Kristina. "I was looking forward to this upcoming storyline because it was inspired by a personal experience of mine," she said, adding, "But I am currently working on writing my own story from my point of view, which has been thus far cathartic and hopefully inspiring to other women." She explained that she's been looking to expand her career with projects "that align with my evolving interests and goals." She also took a moment to thank the fans for their support and loyalty, which has continued to inspire her over the years. "I am forever grateful. The show would not be what it is without you guys," she lovingly stated.
Ainsworth explained that her goal is to be more involved in the behind-the-scenes and creative aspects of production. Finding it difficult to say goodbye to "GH," she stated that her exit now frees her up to seek goals that she was meant to pursue. She ended by asking for continued fan support and mentioned that she'll be appearing in an episode of "NCIS" on May 22.
Ultimately, Ainsworth didn't explain whether or not it was her decision to leave the show, but we wish her well in the future!