Hollywood Icon Joan Collins Teases 'Naughty' First Meeting With King Charles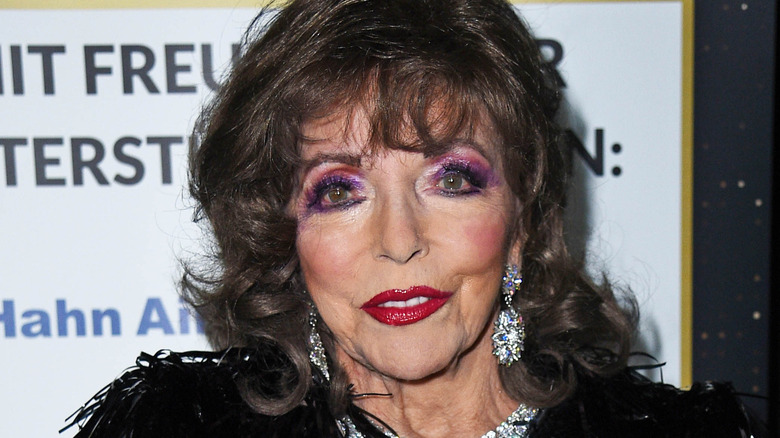 Tristar Media/Getty Images
At age 89, Dame Joan Collins has a long history with the royal family. In 1997, the actor was honored by Queen Elizabeth with an OBE for drama. Collins received royal recognition a second time in 2015 when she became a Dame for her philanthropic work. During the 2015 ceremony, King Charles proved to be an invaluable calming force for the star, as she wrote on her website. 
After nearly nine decades, Collins has been taking time to reflect on her life. Best known for her stint on the 1980s TV show "Dynasty," she continues acting with no intention of retiring. In addition, she's penned an upcoming memoir, "Behind the Shoulder Pads," and is about to present parts of the book live in a one-woman show. Collins has been reminiscing in other places, too. The iconic actor recently appeared on a morning talk show to talk about her interactions with King Charles, as she is going to be one of just over 2,000 guests at the monarch's May 6 coronation.  While Collins has sometimes been very outspoken, like when she threw shade at Prince Harry and Meghan Markle, this time she only hinted at a deeper story involving her first encounter with the king, who seemingly appreciated the low-cut gown she was wearing.
Collins got Charles' attention with her humor and her gown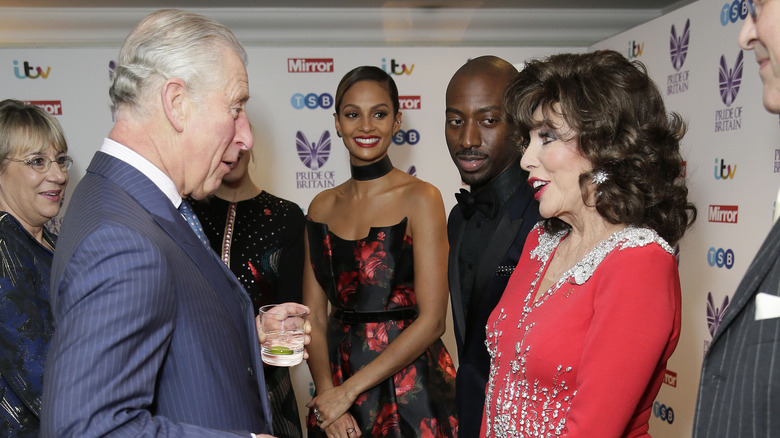 Wpa Pool/Getty Images
Dame Joan Collins has known King Charles since the 1980s. "I met him for the first time at the charity ball that Armand Hammer gave in Palm Beach, Miami," she explained to British Vogue. "We had a little dance together, which was very nice. He's quite a good dancer! And he wrote very flattering words about it in his book." During an appearance on "Good Morning Britain," the acting legend implied some intriguing details about the book's version of the tale, saying, "I can't say what it is on morning TV, it's a bit naughty." However, Collins then admitted newspapers had divulged the story and that it involved her wearing a "very very low-cut dress," (via Metro).
According to the Daily Mail, Collins is referring to "The King: The Life of Charles III" by Christopher Anderson, which details the monarch's celebrity crushes. The book includes a letter from the king: "[Collins] was very amusing and with an unbelievable cleavage! All raised up and presented as if on a tray!" (per Page Six).
Collins and Charles also connect through their mutual love of acting. "I think that he would have been very good," she said on the show (per Mirror). "The Royals have to do a lot of acting." Charles might agree having previously remarked, "So much of what one does requires—I find—acting ability in one way or another, and it's extremely useful if you enjoy it," (per Newsweek).