An Acting Icon Throws Shade At Meghan Markle And Prince Harry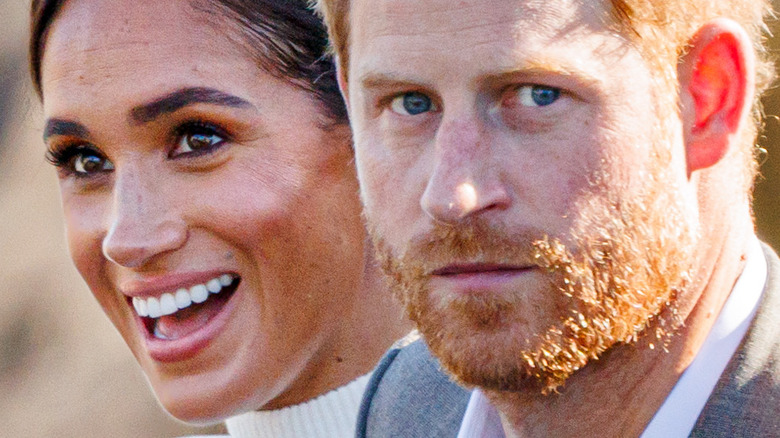 Patrick Van Katwijk/Getty Images
Prince Harry and Meghan Markle, Duke and Duchess of Sussex, have faced their fair share of criticism since they decided to step down from their royal duties in 2020. Piers Morgan has called the couple "the Royal Kardashians," and gave Markle an unflattering nickname after the launch of her podcast, "Archetypes," per The International News. "It's not your ambition we dislike, Princess Pinocchio — it's the vile way you trash the Royal Family whilst simultaneously exploiting your royal status for millions of dollars as with this podcast," he wrote on Twitter.
Megyn Kelly also lashed out at Markle about the podcast, with Kelly claiming she was "gagging on the narcissism" (via Newsweek). And Meghan McCain directed her ire at Harry after the prince made a speech at the United Nations in honor of Nelson Mandela Day. During his remarks, Harry called out the "rolling back of constitutional rights" in the United States, specifically the Supreme Court's decision to overturn Roe v. Wade. In an opinion piece for the Daily Mail, McCain called it "a rambling, unfocused speech" that was "wildly insulting to the undoubtedly few Americans, who may have been watching." She added: "It is hard for me to understand why anyone should care what the Duke of Sussex thinks — let alone what he thinks about America."
But while plenty of people have an opinion on Harry and Meghan, one Hollywood legend seems tired of hearing about them.
Joan Collins is over hearing about Harry and Meghan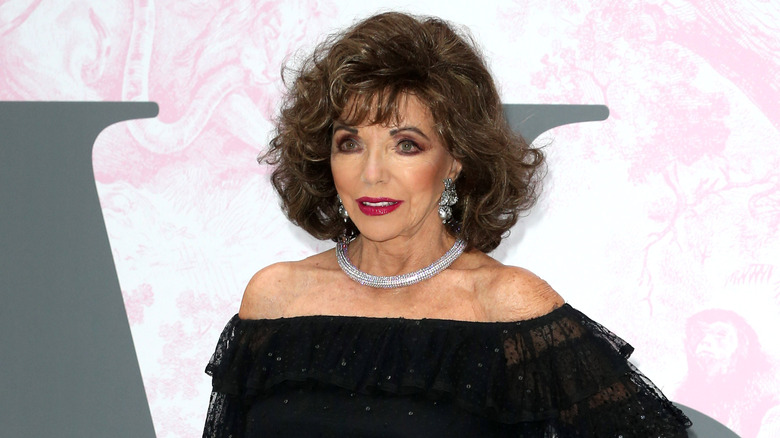 Cubankite/Shutterstock
While some people are busy lashing out at Prince Harry and Meghan Markle, Duke and Duchess of Sussex, Joan Collins is tired of hearing about the royals. During an appearance on ITV's "Good Morning Britain," the former "Dynasty" actor was asked about Harry and Meghan's recent visit to the U.K. "Do we need to give them anymore oxygen?" Collins quipped (via the Daily Mail). 
And after the hosts wanted to know if Collins has an opinion on "any other duchesses" in the news, she replied, "Who could that be? I have no idea."
Collins, who received her damehood from Prince Charles, Prince of Wales in 2015 (via the Los Angeles Times), was also confused as to why Markle was initially offended when her podcast guest, Mariah Carey, referred to the duchess as a diva. "I think it's rather nice to be called a diva now and again. I mean, it's supposed to be a compliment actually," Collins explained.
We guess it's safe to say that Dame Collins will not be appearing on "Archetypes" anytime soon.