The Brutal Way Queen Elizabeth Reportedly Described Meghan Markle Weeks Before Her Death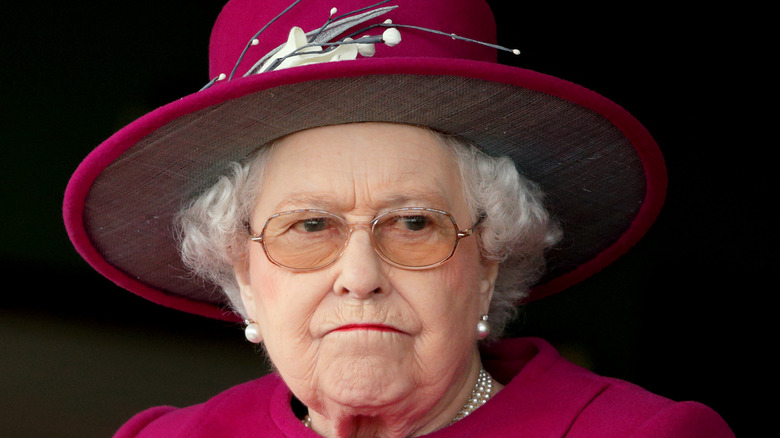 Max Mumby/indigo/Getty Images
The British royal family's job is not only to rule over their sovereign nations but also to ensure they carry on the bloodline. The members are expected to marry well and produce heirs — particularly those closest to the throne. While Prince Harry, Duke of Sussex, is a relatively low fifth place in the line of succession, his status as the younger son of King Charles III and the late Princess Diana makes him a highly watched figure. Thus, his marriage to Meghan Markle, Duchess of Sussex, was looked on with surprise and scorn by many royal watchers. 
To make matters worse, Meghan got off on the wrong foot with her sister-in-law, Catherine, Princess of Wales, over the dress young Princess Charlotte wore to her new aunt's wedding. By last fall, the two were so tense that Kate was said to hold a grudge against Meghan over Queen Elizabeth's death (Meghan wasn't welcome at the deathbed, so it was decided Kate should be left out, too). Now, a surprising new report claims the queen herself had harsh words about her granddaughter-in-law shortly before she passed on.
A new op-ed column on The Spectator website takes a less-than-complimentary look at what columnist Kara Kennedy calls "the Meghanaissance:" The Duchess of Sussex's attempts to become a leading public figure again. Kennedy claims the odds are slim to none that Meghan will ever return to the good graces of the royal family, particularly given the queen's opinion that Harry shouldn't have married her in the first place.
A source claims the queen called Meghan 'evil'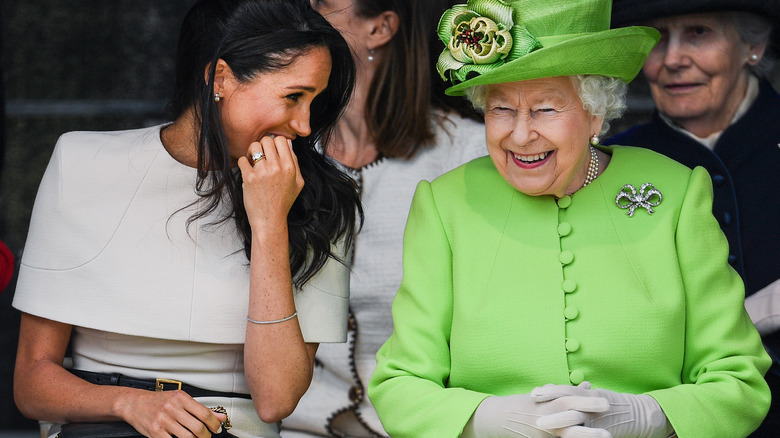 Jeff J Mitchell/Getty Images
Meghan Markle's relationship with her royal in-laws seemed amicable at first. She made appearances at official events such as the annual Trooping the Colour military parade, as well as family gatherings like Princess Eugenie's wedding. The queen and then-Prince Charles appeared fond of her. Then Meghan and Prince Harry made the choice both to leave royal life and to publicly criticize it, which didn't go over well with his family. Meghan's half-sister Samantha Markle has clear feelings about Meghan's marriage to Harry, calling their relationship "toxic" and "codependent" in a recent interview with 7News Spotlight. 
The late Queen Elizabeth reportedly had strong feelings toward her granddaughter-in-law, too. In her Spectator essay, columnist Kara Kennedy quotes an unnamed insider who described an incident in August 2022. The monarch had been quietly battling declining health, and it was an unspoken truth that her time was drawing near. Still, the queen managed to host a dinner event at her Balmoral estate, in which she was heard calling the Sussexes' relationship "a complete catastrophe." Shockingly, she also referred to Meghan as "evil." 
The source claimed, "It was out of character for the queen to use such a word as 'evil' to describe Meghan, but she saw straight through her. It was a startling sentence to hear from the most forgiving woman on earth." Is this an accurate account or another media attempt to make the duchess the bad guy? Unfortunately, the one person who knows for sure is no longer with us.
There were additional rumors circulating about the queen's feelings towards Meghan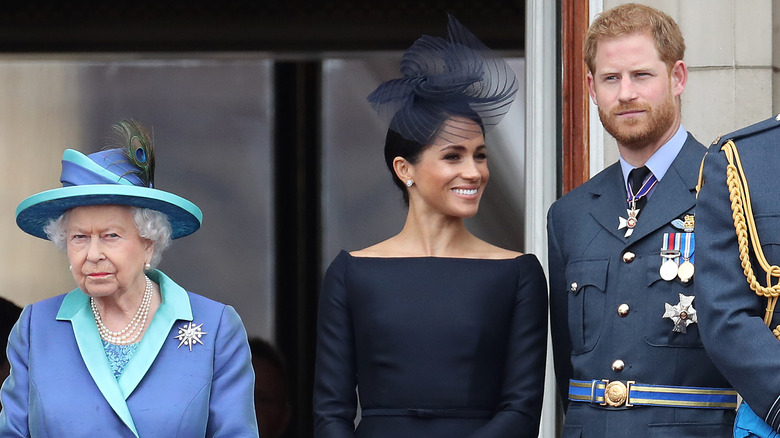 Chris Jackson/Getty Images
Meghan Markle didn't have the easiest time adjusting to royal family life, which could have made the relationship between her and the queen more strained. As highlighted in the documentary "Harry & Meghan: An African Journey," Meghan did not agree with the typical royal way of dealing with things — i.e. to say nothing and just get on with it. 
According to People, Meghan revealed to interviewer Tom Bradby that she "really tried to adopt this British sensibility of a 'stiff upper lip.' I really tried, but I think that what that does internally is probably really damaging." This comment directly contrasts with the setup the monarchy had been following for years under Queen Elizabeth's rule. 
Meghan also heartbreakingly admitted she felt increasingly hopeless when faced with intense media scrutiny after the birth of her son, Archie, none of which was discussed publicly by any other member of The Firm at the time. Still, it's impossible to know what the true relationship between Her Majesty and the duchess was. Either way, it seems the Sussexes are happily building their new life away from the pressures of being royal.