Prince Andrew Gets Special Treatment Over Prince Harry Again (That's Got To Sting)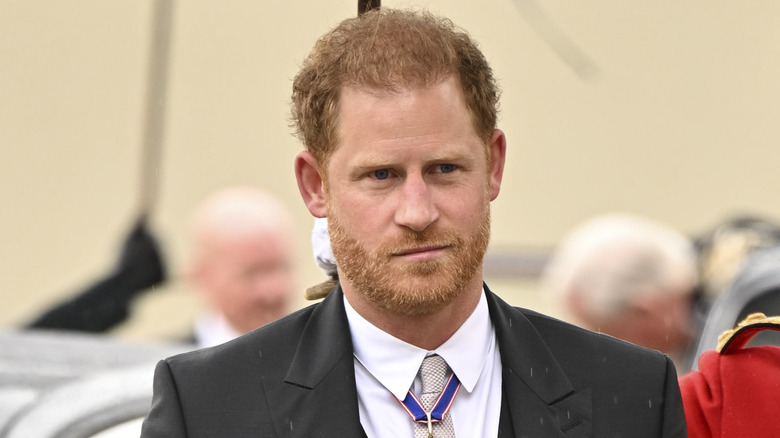 Wpa Pool/Getty Images
You have to hand it to the royal family. Despite drama behind the scenes, they manage to put aside their grudges and present a united front when it counts. In the course of just a few weeks last year, they gathered for the late Queen Elizabeth II's Platinum Jubilee celebration, then again for her lying in state and her funeral. On May 6, 2023, royals were present to witness the crowning of King Charles III and Queen Camilla (consort was officially dropped from her name). 
Among them was Prince Harry, Duke of Sussex. There had been speculation for months over whether he would attend. His public grievances against the palace and his memoir "Spare" have alienated him from many of his family members, particularly his brother William, Prince of Wales. Then once he and his wife, Meghan, Duchess of Sussex, got their invite, they waited an eternity to send an RSVP. But family loyalty won out in the end. Harry attended solo, with only a small role in the coronation — which experts believe was the royal family protecting him. He wasn't among the presenters of the regalia, nor did he swear allegiance to his father, as William did. 
Also in attendance was another disgraced royal, Prince Andrew. Andrew's humiliating behavior led to the queen stripping him of his official role and military titles. It was expected that he and Harry would be represented on equal footing at the coronation, but surprisingly, Andrew's outfit showed a marked difference in status.
Prince Andrew has been given privileges denied to Harry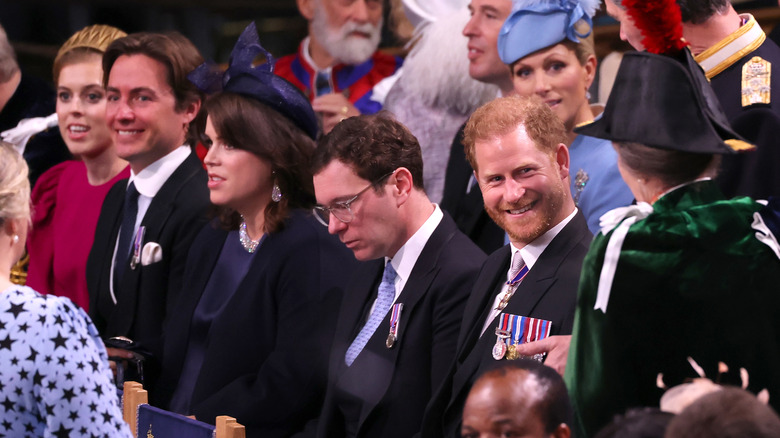 Wpa Pool/Getty Images
Despite predictions that Prince Harry would be seated far back from the family at Westminster Abbey, he actually was permitted to stay close to the action. (He's still fifth in line to the throne, after all.) He was seated in the third row from the front of the cathedral nave. Cousins Princesses Eugenie and Beatrice and their husbands were next to him, and his uncle Prince Andrew was in the farthest seat.
It was the only concession to the prince's importance in the family. Harry's determination to have his say about being the under-appreciated "spare" has made him unpopular among both the public and his relatives. Once he and Meghan Markle moved to California, the British Home Office took away their right to receive government police protection when they visit the United Kingdom. It's a decision he's been fighting in court for some time, arguing that it severely compromises his and his family's safety.
On the other hand, Prince Andrew has been permitted to keep his security detail, despite the fact that he humiliated the family and sullied the monarchy's reputation through his recent court settlement on sexual abuse charges . It's an inequity that probably isn't sitting well with Harry. One can only imagine his thoughts when he saw his uncle outranking him at the coronation.
Prince Andrew was allowed to wear robes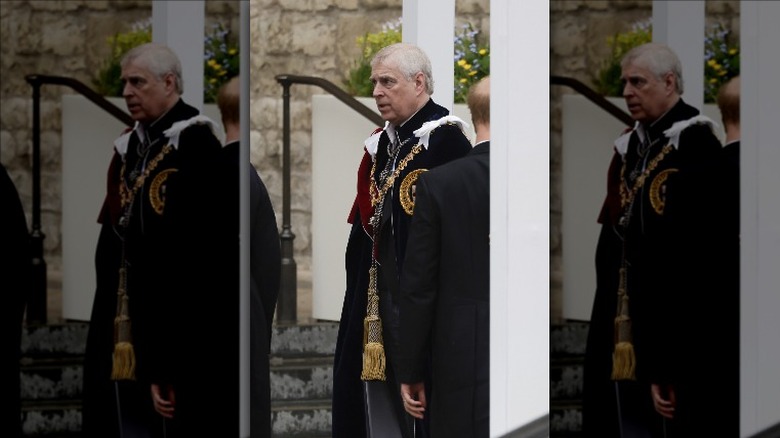 Jeff J Mitchell/Getty Images
Prince Andrew's welcome to King Charles' coronation was anything but warm. In fact, boos could be heard from the crowd along the parade route as his car drove by. His recent court settlement on sexual abuse charges is still fresh in the public's minds, and some royal loyalists feel he shouldn't have been invited in the first place. But it was his wardrobe that really caught attention.
As reported by the Daily Mail, the king's younger brother was wearing robes signifying the Order of the Garter, "the oldest and most senior Order of Chivalry in Britain." In other words, it was an honor he was permitted to keep, despite his demoted status in the family. By contrast, Prince Harry wore only a charcoal morning suit, with only his military medals as proof that he was once a respected senior royal.
This is the second time Harry has been denied the same privileges as his uncle. Following his resignation from palace duties, he was stripped of his government protection — a move he has protested on the grounds that it puts him and his family in danger every time they enter the United Kingdom. Andrew, on the other hand, retains the protection of the crown police. One can only imagine what Harry thought on coronation morning, realizing his un-robed state set him apart once again from his family.