Body Language Expert: Harry's Discomfort Without Meghan At Coronation Is Clear - Exclusive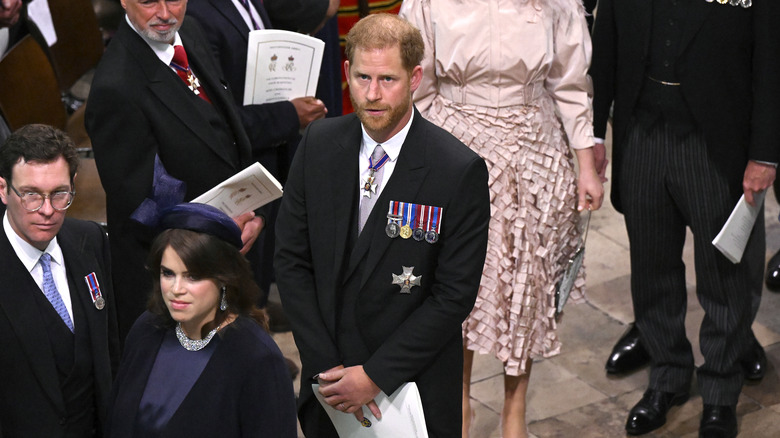 Gareth Cattermole/Getty Images
Prince Harry flew across the pond to attend the coronation of his father, King Charles III. The Duke of Sussex made somewhat of a last-minute decision to attend the event without his wife, Meghan Markle, who opted to stay back in California with the couple's two children — May 6 marks their son Archie's 4th birthday, after all. Harry showed up at Westminster Abbey wearing a suit with his military medals proudly displayed on his chest. The star around his neck symbolized his position as Knight Commander of the Royal Victorian Order, a title he has held since Queen Elizabeth bestowed it upon him in 2015. 
Inside the abbey, Harry was not seated with his brother, William, Prince of Wales, and while he did walk into the church solo, he arrived on the grounds with his first cousins, Princess Beatrice and Princess Eugenie. Once inside, the Duke of Sussex was seated alone in the third row behind Princess Anne and next to Eugenie and her husband. All eyes were on Harry as he mingled amongst the royal family for the first time in 2023; He was last in the UK for his grandmother's funeral in September. Tensions between Harry and his immediate family have been high since he decided to exit the UK and step down as a senior member of the royal family in search of a more private, peaceful, and safe life.
Royal watchers certainly couldn't help but notice Harry's every move while at the coronation, so we chatted with a body language expert to get some inside scoop.
Prince Harry appeared courteous and acted appropriately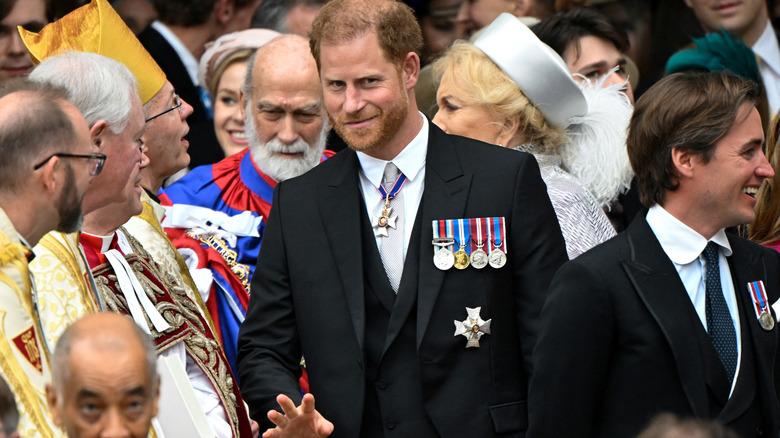 Wpa Pool/Getty Images
The List chatted with Jess Ponce III, a body language expert, communication coach, and author of "A.W.E.S.O.M.E.: Seven Keys to Unlocking the Speaker Within" about some of Prince Harry's tells at the coronation. Nothing spells isolation like walking into a crowded room by yourself, and Ponce could see that energy immediately. "One could not help but feel for Prince Harry as he walked into the church. He was chatting with other Royals but obviously on his own. He was physically distant from the others," he explained. At one point, royal watchers may have noticed that the Duke of Sussex adjusted his coat, which Ponce says indicates "self-awareness" as he attempted to "be as comfortable as possible."
Once seated, Harry appeared "self-conscious," according to Ponce. "You could see this by him continuously fidgeting with his outfit and him looking around to all sides of him. He is figuratively and literally trying to sort out his place. Literally alone, he did his best to fit in, although all indications point to a need for an ally," he explained. Ponce went on to note that Harry acted "very appropriate" as he "smiled and nodded respectfully as people came up."
Prince Harry seemed to be missing something important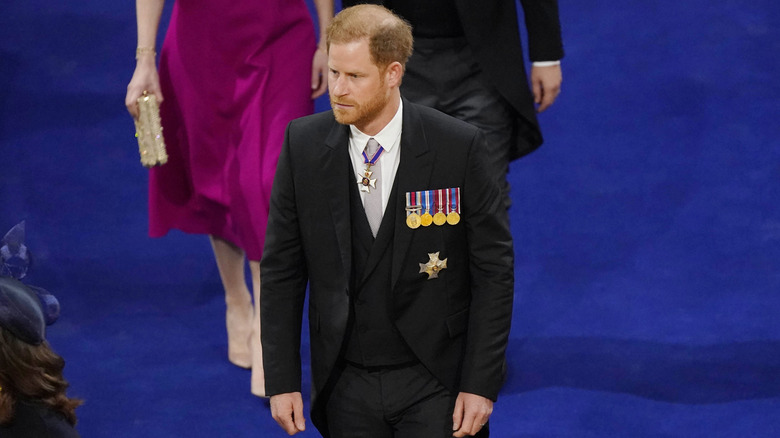 Wpa Pool/Getty Images
Despite putting on a happy face, Jess Ponce told The List that something was missing from Prince Harry's appearance: the "gleam in his eyes that he normally has." We can't help but wonder if that gleam would have been present if Meghan Markle had been by his side. The two are likely to be reunited soon, however. According to The Sun, the Duke of Sussex headed straight for the airport after arriving back at Buckingham Palace following the ceremony. As the new king and queen gathered on the palace balcony, King Charles' second son was nowhere to be found. 
Evidently, this abrupt exit was the plan all along. Ahead of Saturday's coronation, the Daily Mail reported that Harry wouldn't be taking part in anything outside of the church ceremony. Aside from not making an appearance on the Buckingham Palace balcony with his family, he wasn't a part of the procession from Westminster Abbey to the palace either; he was seen getting into a private car while his father and brother rode down the street in regal carriages. Harry also did not pose for any photos with his family and wasn't expected to be at the lunch banquet, either. It seems the rift between Harry and his family isn't shrinking, even if he did try to do the right thing by supporting his dad — the brand-new king.