How Meghan Markle Plans To Celebrate Archie's Birthday While Harry Attends Coronation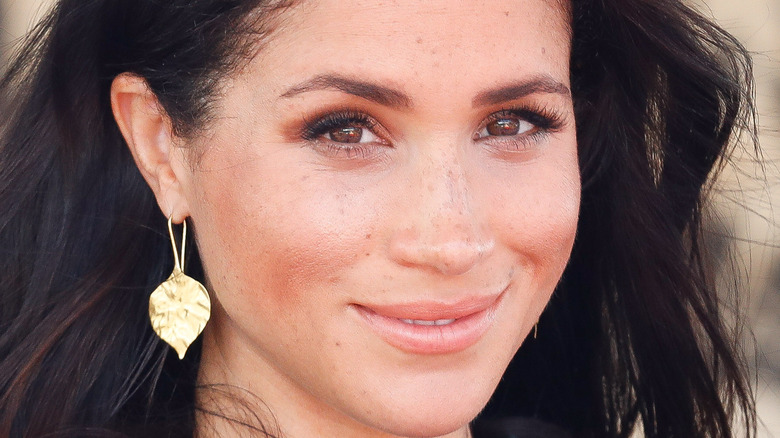 Chris Jackson/Getty Images
Prince Archie, the oldest child of Prince Harry and Meghan Markle, will turn 4 years old on May 6, 2023. While the decision to hold King Charles' coronation on the same day as his grandson's birthday was viewed by some as a snub to Harry and Meghan's kids, it may have made a difficult decision easier. On April 12, Buckingham Palace confirmed that Harry would attend his father's ceremony and Meghan would stay home in California. "Archie's birthday provides [Meghan] with the perfect excuse to stay behind at home," royal expert Charlie Lankston told Access Hollywood, per Yahoo! Entertainment. "The fact of the matter is her mere presence at the coronation would cause such a scandal, such a huge amount of public intrigue that it would completely overshadow Charles and the rest of the senior royals."
Royals rift aside, the Duchess of Sussex has been candid about how much she values her role as a mother. "I've been a waitress, an actress, a princess, a Duchess," Meghan told Oprah in 2021, per Town & Country, "the most important title I'll ever have is mom." Her recent decision demonstrates this philosophy. "As much as Meghan appreciates the invite to the coronation, she wouldn't miss her son's birthday for the world," a source shared with Us Weekly. "Meghan is a mom first." Meghan's been busy prepping for Archie's big day, with insiders revealing details about the upcoming celebration.
Prince Archie is having a low-key celebration with some potential A-list guests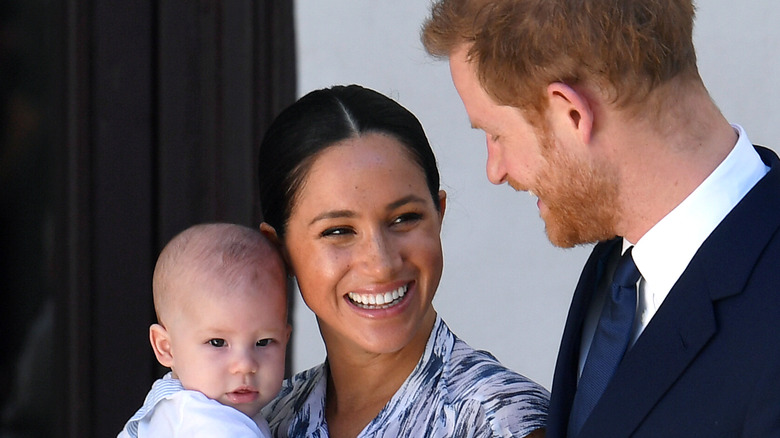 Pool/Getty Images
Meghan Markle, Duchess of Sussex, is planning on a small celebration for her son's 4th birthday. "It's going to be a low-key party at home," a source explained to People. "They'll have friends around them and Meghan's mom, Doria [Ragland]." However, while the guest list is forecast to be small, it could include some big names. Celebrities like Serena Williams and Oprah Winfrey might attend, given that they are friends of Prince Harry and Meghan. The Sussexes also have a lot of high-profile neighbors, including Ellen DeGeneres and Portia DeRossi, Natalie Portman, Katy Perry, and Orlando Bloom. Given their close proximity, it's possible some of them will be invited to Archie's celebration, although in Perry's case, she probably can't make it since she's participating in King Charles' coronation concert. 
In addition, given the fabulous outdoor playground Archie and Lilibet have at home, there's no need to rent anything extra for the birthday boy and his pre-school guests to enjoy. This playground came with the Montecito house and includes swings, slides, and a climbing wall. 
While Harry will be in the U.K. attending his father's coronation, reports indicate the prince plans to make a quick exit right after the ceremony. Given the time difference between the U.K. and California, it's possible he could make it home to celebrate with Archie on May 6. Alternatively, the family could hold Archie's party on May 7 to accommodate Harry's traveling. 
Meghan loves planning celebrations for her children
Back in 2020, Meghan Markle started a tradition of home birthday parties for her children when Prince Archie turned 1. Due to COVID restrictions that year, the celebration was very small and included Prince Harry, Meghan, Archie, and Meghan's mom, Doria Ragland. Viewers of the Netflix docuseries, "Harry & Meghan" got to see footage of the birthday boy wearing a small birthday hat and sitting in a confetti-decorated highchair.
Last year, the Duchess of Sussex celebrated Princess Lilibet's first birthday amid another big royal event: Queen Elizabeth's Platinum Jubilee. Like Archie's upcoming 4th birthday celebration, this party was also a small, laid-back event. Lilibet's festivities were held outside Frogmore Cottage, where Harry and Meghan were staying while they were in the U.K. Although King Charles and Prince William couldn't attend, Harry's cousins, Peter Phillips, and Zara Tindall, were there, along with their children. The party was also featured in the final episode of the Netflix series, where Archie helps his sister blow out the candles on a pink-frosted cake. The dessert was crafted by Claire Ptak, who used the same Amalfi lemon and elderflower cake recipe that she baked for Harry and Meghan's wedding. 
According to royal expert Charlie Lankston, Meghan is enthusiastic about planning these celebrations. "Meghan has a great eye for detail. She loves this kind of thing" Lankston commented to Access Hollywood, per Yahoo! Entertainment. "She absolutely embraces all of the different elements that go into organizing a party."