Queen Camilla's Necklace Ensured Queen Elizabeth Wasn't Forgotten At King Charles' Coronation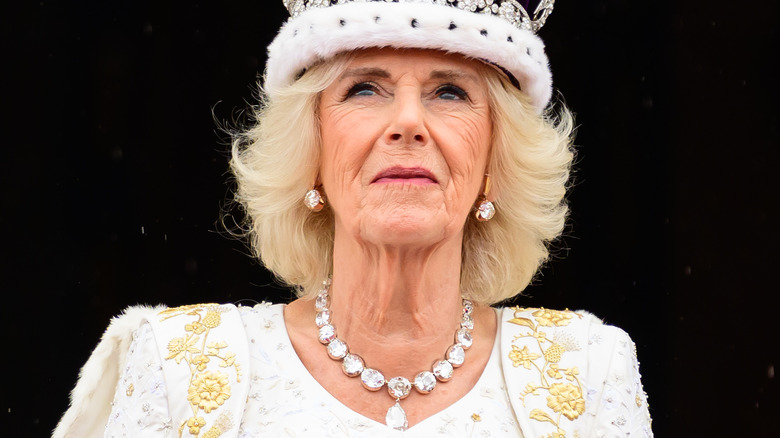 Leon Neal/Getty Images
Luckily for this new phase of the monarchy, newly crowned Queen Camilla did not make it onto any "worst-dressed at the coronation" lists. Camilla looked — dare we say it — queenly as she received her crown and officially stepped into her new role alongside King Charles III. When it comes to her coronation day look, Camilla's crown, originally made for Queen Mary's coronation back in 1911, stole the show. Yet, there was another accessory that was difficult to ignore. Camilla sported a massive diamond necklace which, beyond its beauty and scene-stealing size, also held a significant meaning. 
Being crowned as the new monarch makes you a big part of history, and it's understandable why Charles and Camilla both found it important to pay homage to the many monarchs who came before them. Since the heartbreaking death of Queen Elizabeth II is still so fresh, it was vital to make sure the presence of Charles' mother was felt by all. So, Camilla chose to put her famous mother-in-law's memory front and center and honor her with one thoughtful piece of jewelry.
Queen Camilla isn't the first queen to wear that necklace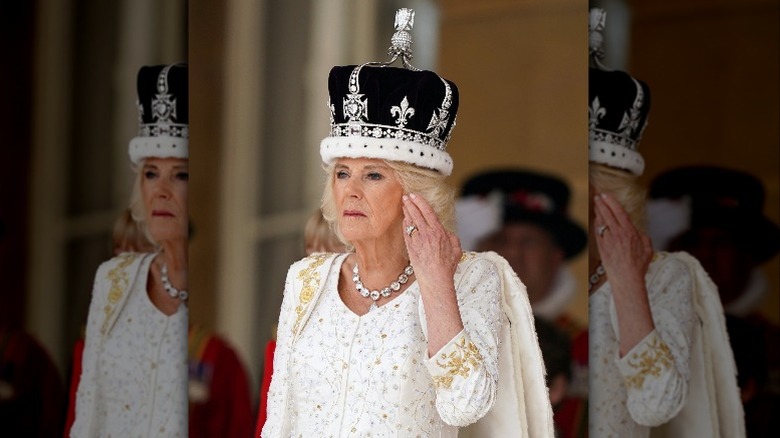 Wpa Pool/Getty Images
The eye-catching necklace Camilla donned for the big day once belonged to Queen Elizabeth II herself. In fact, it was her own "coronation necklace." Queen Victoria originally commissioned the necklace in 1853, and it was worn 100 years later by Queen Elizabeth when she began her reign in 1953. Now, exactly 70 years after Elizabeth wore the necklace, it's getting a new life and representing the beginning of yet another reign.
While it may have been the sparkliest, this necklace wasn't the only family heirloom Camilla made part of her ensemble to honor Queen Elizabeth. Queen Camilla's coronation crown choice also had more meaning than meets the eye. While the crown that was ceremoniously placed on Camilla's head was once Queen Mary's, the stones have been replaced and the new gems actually came from Queen Elizabeth's own collection. To incorporate a bit of Elizabeth into her crown was more than just a sign of respect; it was also a symbol that her influence will live on in this next iteration of the monarchy. While the system of the royal family ensured that Queen Elizabeth could never see this important day in her son and daughter-in-law's lives, it's surely comforting that Camilla was able to have the queen that paved the way with her in spirit.