King Charles' Equerry Jonathan Thompson Catches Eyes As Coronation's Prince Charming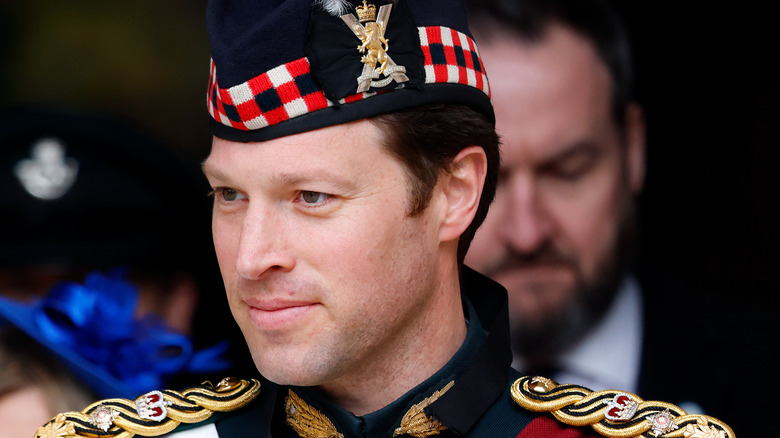 Max Mumby/Indigo/Getty Images
If you spotted a certain someone at King Charles III's coronation who was particularly easy on the eyes, you definitely weren't alone. Equerry Major Jonathan Thompson took the coronation, and consequently, the internet, by storm. So, who is this 39-year-old coronation dreamboat, anyway?
Thompson is an equerry, and an equerry's job is to help the royal family. Thompson has been assisting King Charles since the heartbreaking death of Queen Elizabeth II. Prior to that, he was Queen Elizabeth's senior bodyguard. And, yes –– we know that having a job all about protecting a VIP makes him even dreamier. When King Charles was being crowned, Thompson was right behind him, and for many viewers and onlookers, his presence distracted just a bit from the very historic goings-on. 
So, is this bodyguard babe single, and if so, will he be getting his own reality dating show called "The Equerry," where he hands out a rose to a few lucky singles every night? As solid as this idea sounds, it seems unlikely. Thompson has been happily married to his wife, Caroline, since 2010. They are parents to a young son and their two dogs, Piper and Odin. Don't worry, though. While you can't actually date Johnny Thompson, you can still admire him from afar, just as so many Twitter users are.
How one coronation hottie broke the internet ... twice
While Jonathan Thompson wasn't necessarily front and center at the coronation, he was certainly on screen long enough to make an impact. It seems that Thompson's presence was a light amidst all of the drama surrounding King Charles' coronation, at least for plenty of people on the internet. One coronation observer tweeted a photo of Thompson with the caption, "Anyone else clocked the dashing chap in the kilt standing near Penny [Mordaunt]?" The Twitter user was quick to find that yes, many people did, in fact, "clock" him. 
One commenter asked, "Are you new to Major Johnnie?" and followed up with, "he's absolutely lush." This apparent Jonathan Thompson expert was already familiar with the equerry, and they weren't alone. Interestingly, this wasn't actually Thompson's first time taking the internet by storm. As a bodyguard to Queen Elizabeth who was moving on to protecting King Charles, Thompson was, of course, present at the queen's funeral. For many, the funeral was the first time that they'd seen this royally ravishing helper, as he went viral at that time, too. Whether Queen Elizabeth's funeral or King Charles' coronation was your first time seeing Jonathan Thompson, we have a feeling that this won't be your last. He's sure to break the internet once again the next time a royal event comes along, and we're looking forward to it.