King Charles Coronation-Goers Tell The List Harry Betrayed Them, But The Outrage Isn't Fair - Exclusive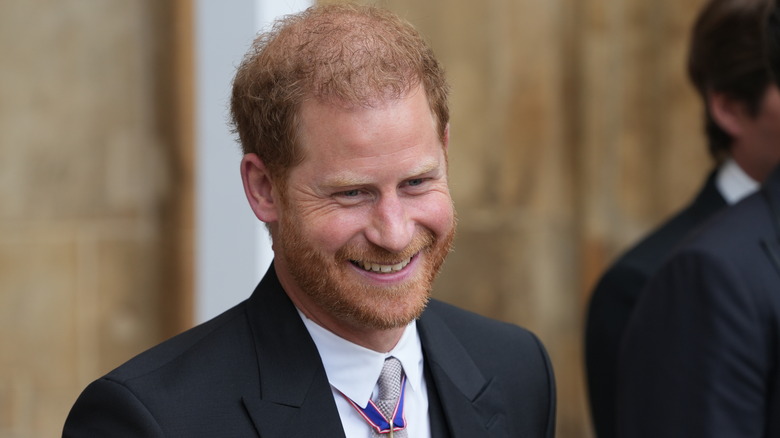 Wpa Pool/Getty Images
To the joy (and relief) of many, King Charles' Coronation was as splendid and memorable as could be expected. Even the Duke of Sussex was the picture of poise at his father's crowning, despite Prince Harry's small role in the coronation ceremony. While he wasn't given a part, he didn't appear to mind. He smiled as he sat by his cousins Princesses Eugenie and Beatrice, and even chatted briefly with Anne, Princess Royal. 
A reporter for The List camped out overnight near the coronation site to get a firsthand glimpse of the action, and spoke to fellow spectators about the disgraced duke. "The sentiment among diehard royal fans on the ground is Prince Harry did something wrong — and they're taking it personally," said our reporter. Feelings are still running high about Harry's departure from the palace and the tell-alls that followed. One woman bluntly summed it up: "He's a traitor."
To which we say: Not so fast. 
Prince Harry dared to break the royal code of silence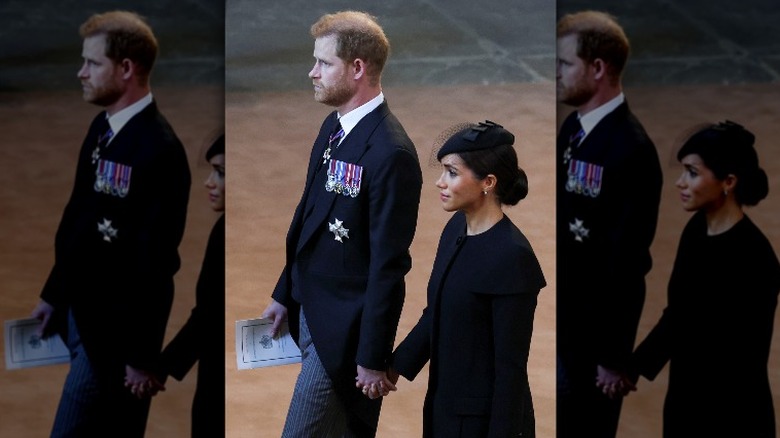 Wpa Pool/Getty Images
Prince Harry has been criticized over, well, criticizing his lot in life. He's been called a whiner for his interviews with Oprah Winfrey, the revelations in his Netflix "Harry & Meghan" docuseries, and his memoir, "Spare." However, the anti-Sussex sentiment isn't so much over the truth of his accusations as it is over the fact that he dared to say anything negative. The British may question the relevance of the monarchy, yet they're still protective of it. Sure, Kate Middleton may have been the one who made Meghan Markle cry over Princess Charlotte's ill-fitting bridesmaid's dress, but it seems some people would rather not know about it. They'd rather hold on to the fairy-tale illusion of royalty than have someone tell us about the cracks in the palace walls. As one observer told The List's reporter, "You just don't do that." 
Harry's oversharing is the explosive fizz of years of bottled-up silence. While he was a working royal, he was obligated to live by the family's code of silence. Now that he is free, it's as if he can finally explain what led to his mental anguish and his need to live his own life. Psychology Today notes that Harry saves his true "hatred" for the tabloids that gleefully painted him and Meghan as villains. Perhaps if his family had stepped in to stop the media attacks, things might have gone differently. Instead, they held to their above-it-all attitude and expected the Sussexes to do the same — until they couldn't.
Prince Harry missed out on being a special part of the coronation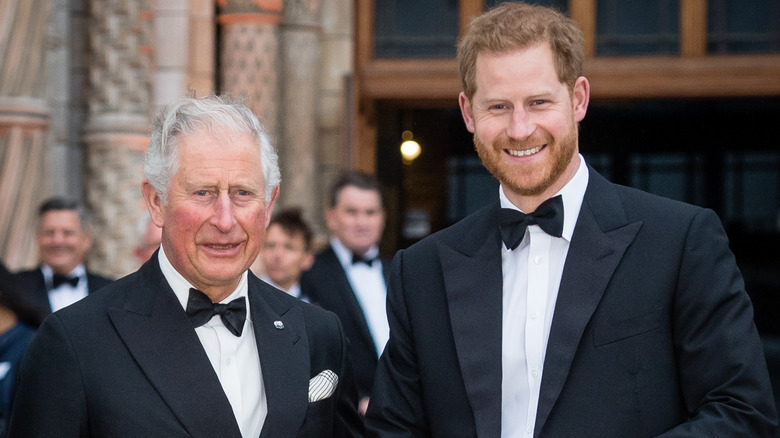 Samir Hussein/Getty Images
One coronation observer who spoke to The List expressed regret that things turned out as badly as they did for Prince Harry. After his "beautiful wedding" to Meghan Markle, hopes ran high that the American actor would be a breath of fresh air for the royal family. However, the combination of media attacks and Meghan's own unpreparedness for royal life proved too much. The Sussexes made their escape to California, and paid dearly for it. Queen Elizabeth took away the prince's patronages and military titles, and the couple were treated as ungrateful outcasts.
The onlooker pointed out to our reporter how much Harry was missing out on by not being in the family's good graces. He wasn't given a part in the coronation ceremony — not even so much as a chance to carry a ceremonial ring. He sat in the third row, uncomfortably removed from his brother. He was also omitted from the traditional Buckingham Palace balcony wave. Even Prince Andrew got special treatment over Harry by being allowed to wear his robes of state. "It's just so, so sad," the bystander sighed. 
There are rumors that King Charles III wants to start peace talks with his younger son, and perhaps then the public's resentment toward Harry will die down. We can only hope so. He's been punished enough for trying to cope with a no-win situation.