5 Rules Brides Have To Follow On TLC's Say Yes To The Dress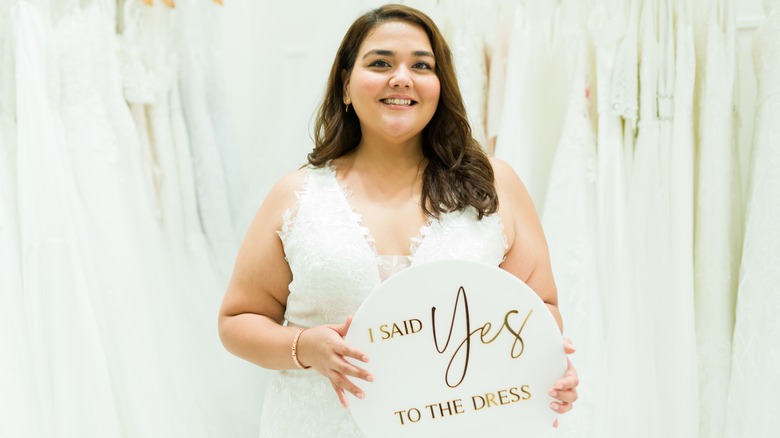 antoniodiaz/Shutterstock
If you are like us and like to binge watch "Say Yes to the Dress" on days you are feeling off, uneven, or just want something light and airy, you're in luck. The latest season, season 22, recently premiered on TLC, allowing us to forgo the reruns for a bit and get a glimpse at the latest brides searching for their perfect wedding gowns at Kleinfeld's.
The new season will still bring us all the things we love about the show, with Randy Fenoli leading the team as they help brides, no matter their circumstance or style, find the dress of their dreams. But one thing we don't get to see much of is the behind-the-scenes moments before a bride gets chosen to be on "Say Yes to the Dress." While it may seem like you simply walk in and are whisked away into a "Say Yes" whirlwind, it's actually much more than that. Here are just a few of the rules brides have to follow before appearing on the show.
They must disclose if they've applied for any other reality shows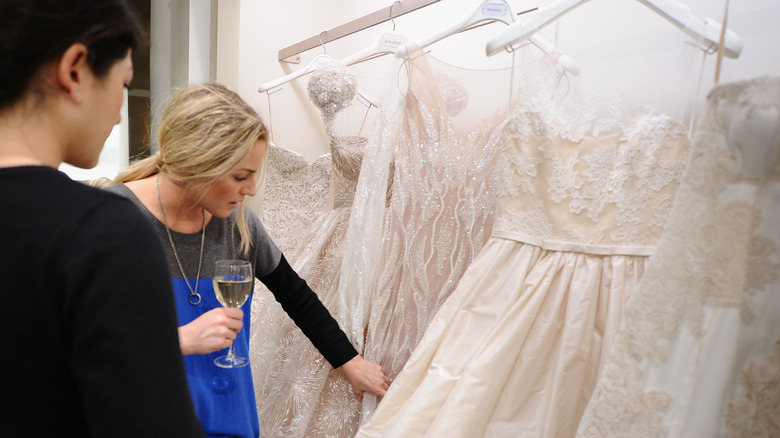 Andrew Toth/Getty Images
Unfortunately, not every bride who finds their dress at Kleinfeld's will be featured on "Say Yes to the Dress." And you can't simply walk into the bridal shop and start trying on gowns. Before any bride-to-be can be considered for the show, they have to send in an online application. In that application, they will reveal some basic information about themselves, their partner, and their wedding. But with so many brides applying, they also must disclose some more specific information, like whether or not they've applied for reality shows in the past.
If a bride answers yes and has applied to another reality show in the past year, their application will likely be turned down. This is because the show works really hard to only feature real brides who are actually getting married, not ones who just want their five minutes of fame.
They have to film on a weekday
Not every bride who is featured on the show is local to New York City where Kleinfeld's is located. In fact, watching the show, you'll see brides from all over the country, not to mention the world. So those who have to travel for the show need to block off their schedule during the week. According to Good Housekeeping, while the bridal shop is open on the weekends, they only film during the week, specifically on Mondays, Tuesdays, Thursdays, and Fridays.
The reason for this is simple: weekends are crowded — imagine all the brides, their families, and consultants trying to fit in the bridal shop with an entire film crew. So, to avoid the pandemonium, the crew is only there during the week, so brides have to be okay with a weekday bridal appointment. Plus, one filmed appointment can take an entire day, with interviews that have to be recorded in addition to the actual consultation, which is about three hours long.
They have to be transparent about their budget
We see some crazy budgets on the show. In fact, the most expensive dress featured on the show as of 2021 was a whopping $70,000. But just because you have a big budget, that doesn't guarantee you a spot in the show. According to BuzzFeed, the average price spent at Kleinfeld's is about $4,500, which is a lot more than the national average, but a lot less than some of the prices we see.
To keep things real, brides must be truthful when it comes to what they are willing to spend. When approved for the show, they will be given a price range, and their consultant will stick to that range regardless of any dresses the bride or their entourage may want them to try. This not only keeps the show from looking fake, but it also ensures that the bride doesn't fall in love with a dress she simply can't afford.
They must agree to cameras in their dressing room
It's a given that if you apply for the show, you are going to be filmed. But if privacy is a big concern of yours, you may want to skip it, as all brides must sign a release that says they are okay with cameras in the dressing room. If you watch the show, you will notice that a lot of the scenes are filmed in that dressing room, whether it's during a try-on session or a fitting. You may also notice that a female consultant is always in the dressing room with the bride. This is not only to help her get the dress on, it's also to make sure that the producers are getting all the shots they need while the two are alone in there.
However, the show's stars don't have to worry about TLC airing any scenes of them in their underwear. In fact, the show is extremely edited and so much of what is filmed on that day will never make it to the screen. According to Good Housekeeping, although brides can film for upwards of 10 hours, each bride only gets about 12 full minutes of screen time during their episode, so a lot of what is said and done will be cut out.
They don't get to talk to Randy Fenoli before filming
Randy Fenoli is the heartbeat of the show, and no bride can fully say yes to the dress without him there. But, meeting Randy before the show won't happen. He once told Good Housekeeping that he doesn't know anything about the bride other than her name before the cameras start rolling. This is because he truly wants the entire scene to be authentic, so he gets to know the bride on camera just as the viewer does. Referring to his focus on authenticity in the show, Fenoli said "I truly believe the audience can tell when it's being faked, and I think that's one of the successes of our show ... it's real."
The premiere episode of the newest season of "Say Yes to the Dress" features three brides, one of which has a heartfelt story to share. The entire season will continue that trend, including Fenoli himself, who is entering his first season as a newly engaged man.