Jana Kramer On How She Owes Everything To One Tree Hill - Exclusive Interview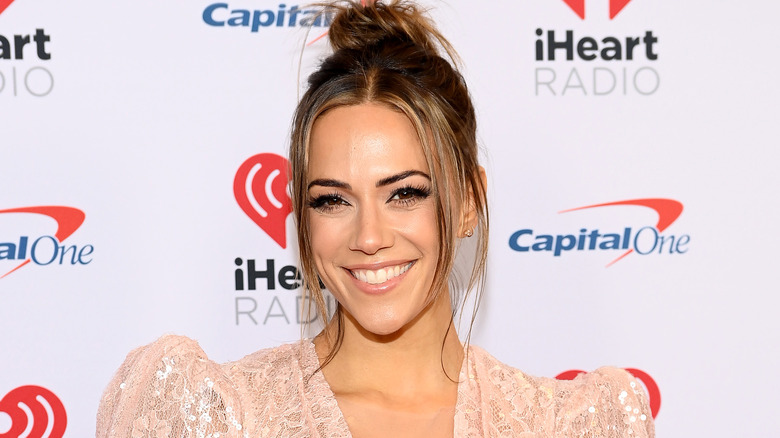 Dave Kotinsky/Getty Images
Jana Kramer is a true multi-hyphenate with a plethora of projects on the go at any one time. As well as being a successful actor and beloved member of the "One Tree Hill" cast, Kramer is a country music singer who recently released a new single, "Let It Burn." The mother of two also hosts the award-winning iHeartRadio podcast "Whine Down with Jana Kramer," and she founded the One Brick wine company.
Alongside all of her many endeavors, Kramer has now collaborated with LULUSIMONSTUDIO to create a limited-edition capsule collection of sweatshirts and tees featuring slogans celebrating Mother's Day. Speaking to The List, Kramer reveals why she loves all of the items in her latest clothing collection, saying, "They're comfy and they live on. It goes beyond Mother's Day." Kramer has poured all of her creativity and passion into her latest LULUSIMONSTUDIO collaboration, which features so many fun slogans and perfect gift ideas.
In an exclusive interview with The List, Jana Kramer opens up about her LULUSIMONSTUDIO Mother's Day collection, whether she'd return for a "One Tree Hill" reboot, and her recent travels with her new boyfriend.
On her third collaboration with LULUSIMONSTUDIO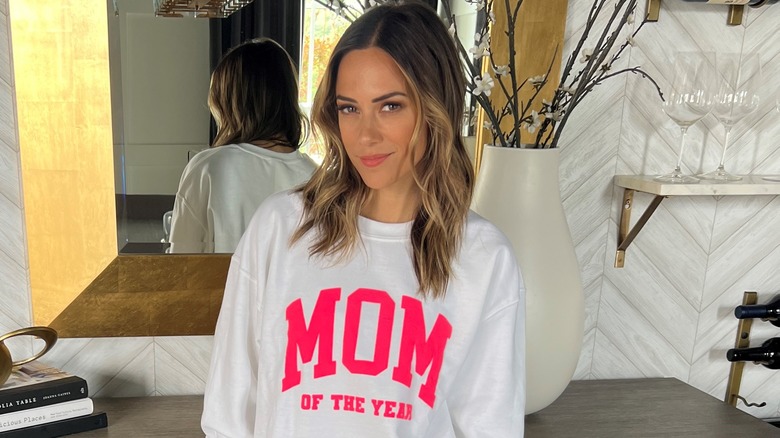 LULUSIMONSTUDIO
What were you most excited about when working on your Mother's Day collection with LULUSIMONSTUDIO?
I love LULUSIMONSTUDIO. They have the cutest clothes, and I love their little slogans and the play on words. I was like, "I want to do a cute little Mother's Day collab." So we did "Mom of the Year" because we are all mom of the year, even though we sometimes forget dinner. And "Doing Mom S***" is another one; that one's really fun too. I love their clothes. They're comfy; they're stylish; they're cute; they give you a little laugh.
It's fun to create things. I love creating, so it was cool to be able to go, "I want this color with this, and I want this slogan." LULUSIMONSTUDIO does an amazing job of letting whomever they're [working with] influence the shirt [and] have their own direction. That's really cool because a lot of times our hands are tied, but with them, they're very open, and I love that collaborative vibe.
I love that one of the shirts says "Better Off" on it. Do you have a particular favorite from this line?
I would say "Mom of the Year." I love the hot pink moment that's happening in life right now, and it reminds me of the '90s, with puffy [lettering]. It's fun; it's bringing me back. We're all mom of the year, and with Mother's Day, I wanted something fun for the mamas.
This is your third collection with LULUSIMONSTUDIO. Do you have any future plans in the clothing and lifestyle space?
I've been dabbling with loungewear because I love being cozy. It's my everything, so I've been toying with that. It's a really difficult market to be in. Trying to find the right people, the right company to be with has been what we've been up to. I soft-launched my one brand, Jolie & Jace, but we had the wrong partners, and I learned a lesson on that one. So that would be an awesome dream, but it's not at the forefront right now.
On new music and dream collaborators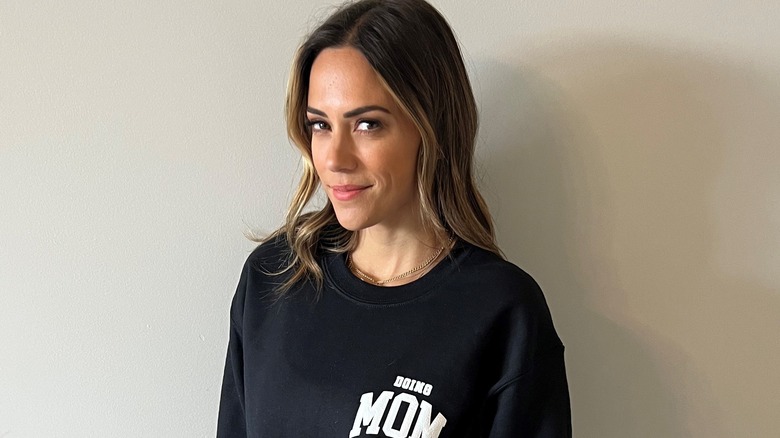 LULUSIMONSTUDIO
You recently released your new single, "Let It Burn." What was it like getting back in the studio, and what's the response been like?
It's been awesome. I have a whole new round of songs coming later this year. I think I'm actually going to do an EP — not sure 100% — but it's been so fun to write and create. Again, I love creating, and I love creating songs [about] things that I've been through because I know other people have gone through it too. It's fun to have someone be like, "Oh my gosh, I relate to this song so much." That's always been really nice, and being in that space is always cool. I love acting. I love being a mom. I love singing. There's so many things that I enjoy doing, and having a hand in all of that has been fun.
You're working on so many projects right now. There's your LULUSIMONSTUDIO collection, your music career, your wine business, your podcast, and you're a mom. How do you juggle all of it?
That's a good question. I'm learning how to juggle it better. I do a good job of [making sure that] when the kids are home, phones are away, phones are off, work is done. I usually pick it back up when the kids go to bed, but during the day when they're at school, I'm like, "This is my time to grind it out and not be lazy." There's seasons for all of it. It's been a slow start to the year with work stuff, so it's now starting to pick up, and that excites me.
As well as acting, you're a producer, so you're picking your own projects and building them from the ground up. Do you have any dream collaborators for future projects?
Jason Bateman is a huge one that I would love to work with. He's so funny, but he also does such a great job with drama. I love meeting new people too and creating and being like, "What's your idea? Okay, who do you know, or who do I know?" It's trying to figure out how we can all work together.
What genres would you like to work in next?
I'm so open to anything and everything. I really am. I don't like to say, "I'll only do this." I have a love for romantic comedies, but I'd love to do a thriller. I've been watching that show Jennifer Garner's doing right now, "The Last Thing He Told Me." I'd love to be a lead in something like that. That's so fun. But my heart always goes to "Virgin River" and stuff like that.
A long-overdue One Tree Hill reunion
You reunited with the "One Tree Hill" cast at the end of last year. What was it like seeing them again, and then meeting so many fans?
It's fun. The fact that the show is still kicking and getting new fans is wild to me. I was lucky to have a small part in the last three years on that show, and it was something that helped shape my career. It was the reason I got into country music, and "One Tree Hill" fans are the most loyal humans ever, so I enjoy those moments and those conventions to be able to thank them. I always thank them, because it is not lost on me that if I didn't do that show, I probably wouldn't be up on the stage singing. I'm very grateful for who [helped me get] and how I got to certain places, so [I'm] mindful of that and thanking those people, and that's the One Tree Hillers from the get. 
Then seeing some of the cast — Shantel [VanSanten] is one of my closest girlfriends. I love hugging her neck.
I loved how your character, Alex Dupre, developed on "One Tree Hill" because you made her your own, and that's why "One Tree Hill" fans still gravitate towards you.
I have to give her some heart because people hated her, so it was cool. I did get to have some freedom with that and share some ideas, and that's really neat as a new character coming in.
There have been rumors of a "One Tree Hill" reboot. Would you consider returning to the show?
I would. I don't know if they would have my character come back, but [I] totally would.
They should definitely have your character come back.
I think so too, but I would understand if they didn't.
On traveling with her new boyfriend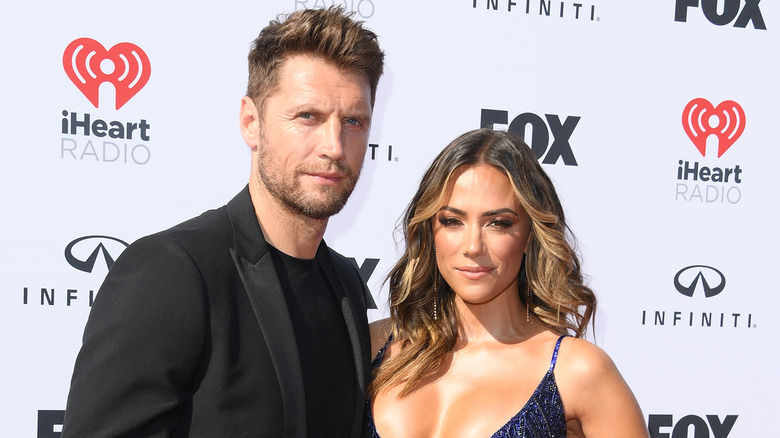 Steve Granitz/Getty Images
You recently spent some time in the U.K. with your new boyfriend, soccer coach Allan Russell. Were there any highlights from the trip?
So many. It's so beautiful. I love it so much. When I was in England [previously], I played The O2 [a music venue in London], so I was only there for 48 hours. I didn't get to see much. 
His team was [based] a couple of hours outside of London, so I got to see some really pretty countryside. Running [on] the countryside roads, I was like, "This is a dream. This is right out of 'The Holiday.'" That was fun. Then we went to Bath and saw some old churches and the Roman Baths. Then Marlow is such a cute little town. He took me to Windsor Castle. Being able to explore and see different places has been really cool. We went to Scotland, and how close it is to jump ship to different little places is so cool. I'm excited to spend some time there this summer. ... He's the best.
This interview has been edited for clarity.
Shop Jana Kramer's limited-edition Mother's Day collection at LULUSIMONSTUDIO now.