King Charles Unexpectedly Bests Prince Harry With UK Coronation Viewership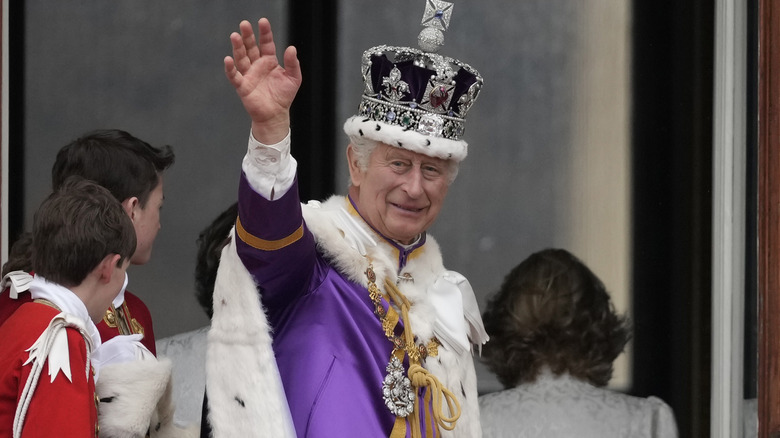 Christopher Furlong/Getty Images
When a British Royal gets married, it is innveitably a big day for television viewership around the world, as people from many countries tune in to watch the pageantry and glamor of a major royal event. For instance, when the then-Prince Charles married Diana Spencer on July 29, 1981, a record-breaking 750 million people in 74 countries tuned in for the live broadcast of the wedding (via Guinness World Records). 
On Saturday, May 19, 2018, an estimated 17.9 million people in the United Kingdom tuned in to various networks in order to watch as Prince Harry married Meghan Markle in a ceremony that took place at Windsor Castle in England (via The Telegraph). This was about on par with how many people in the UK tuned in to watch Prince William marry Kate Middleton in 2011, an event which drew an estimated 17.6 million UK viewers (via Hello! Magazine). 
And while royal weddings are considered amongst the most star-studded, gilded, and joyous occasions that the British Royal Family engages in, there is one type of occasion rarer and even more over-the-top where it comes to spectacle: the coronation of a monarch.  
More people in the UK watched the coronation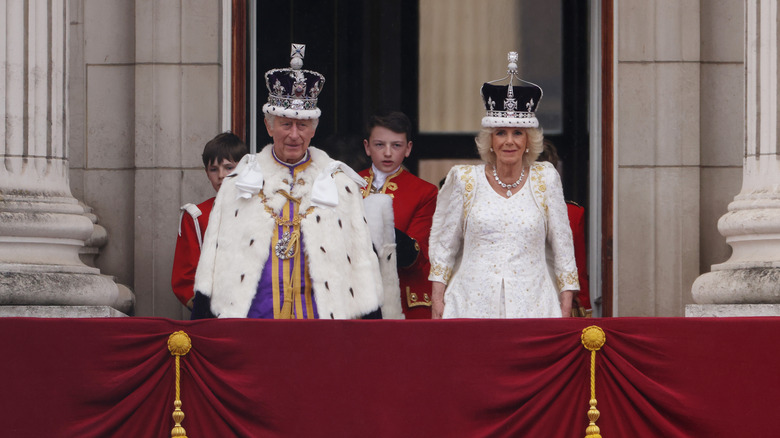 Dan Kitwood/Getty Images
When King Charles III and his wife Queen Camilla were crowned in an ancient ceremony in Westminster Abbey on Saturday, May 6, 2023, it was the first such event since 1953, when Charles' late mother, Queen Elizabeth II, had herself been crowned. While King Charles is committed to a scaled-back monarchy and took steps to scale back the pageantry, cost, and even some of the less tasteful traditions involved in coronations of the past, it was still an even of mythic proportions. And Charles' subjects tuned in to watch in droves.
According to statistics from BARB, the UK viewership of the coronation peaked at 20.4 million (via The Telegraph). The most-watched moments of the event occurred around midday, which is when The King was actually crowned. The viewership was split this way: 13.4 million people in the UK watched via BBC One, 3.6 million watched via ITV, and 1.5 million watched via BBC Two.
How Harry was received at the coronation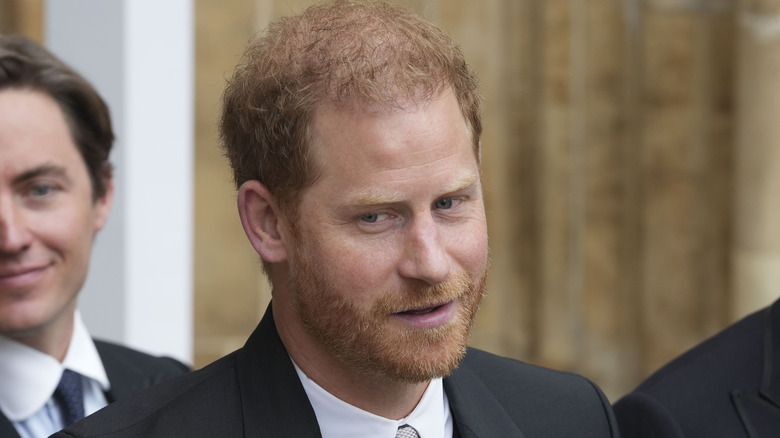 Wpa Pool/Getty Images
Why the comparison between viewership of Harry's big moments and that of Charles? Well, ever since Prince Harry and Meghan Markle, Duke and Duchess of Sussex, stepped down from their roles as working royals to move to the U.S. and raise their children out of the limelight, opinion has been split as to which side of the rift was the side to favor. And following the release of the docuseries "Harry and Meghan" and Harry's tell-all autobiography "Spare," that debate became all the more heated. The revelations made in these very-public admissions were shocking and often not-too-flattering to Harry's British family. 
As such, when it became public news that though both Harry and Meghan had been formally invited to attend the coronation of King Charles III, royal fans immediately began speculating as to whether they would attend, and if they did, how they would be received. As it turned out, Meghan chose to stay home with the couple's two children, Princess Lilibet and Prince Archie, whose fourth birthday actually fell on the same day as the coronation. 
While Harry did attend the coronation in person to support his father, he was seated away from the rest of his family and did not take part in any of the post-ceremony public celebrations or other festivities (via CBS News). Instead, he headed back to his home and to his wife and children, a decision some felt was appropriate and classy, and that others were upset over.