Lip Reader Claims King Charles Complained To Queen Camilla At Coronation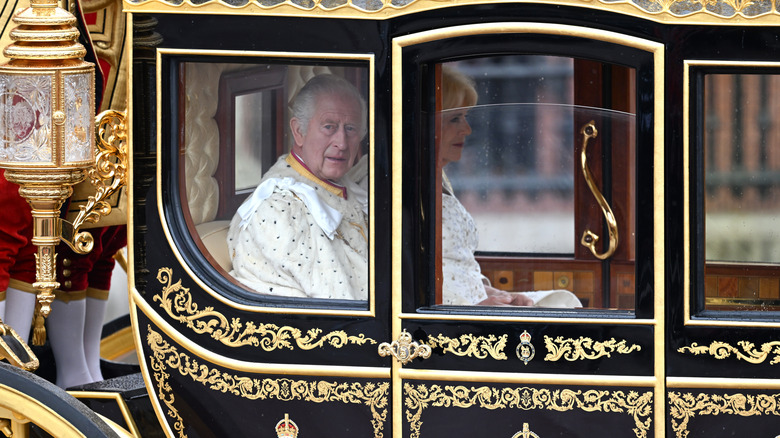 Samir Hussein/Getty Images
On May 6, 2023, King Charles and Queen Camilla were officially crowned the new monarchs of the United Kingdom. The coronation formally began in the early morning when Charles and Camilla rode in the Diamond Jubilee State Coach to Westminster Abbey. 2,000 guests, including Charles' and Camilla's children from their first marriages, were in attendance, putting a spotlight on the royal's blended family. The ceremony only lasted two hours and involved traditional aspects such as a sermon and an anointment ritual. However, celebrations for the big day went on for the entire weekend.
After it was all said and done, Buckingham Palace released a statement that read (per the Evening Standard), "Their Majesties were deeply touched by the events of yesterday and profoundly grateful both to all those who helped to make it such a glorious occasion — and to the very many who turned out to show their support in such numbers in London and further afield." While it appears that the coronation went on without a hitch, this was not the case. 
Dr. Guli Francis-Dehqani, the Bishop of Chelmsford, was involved in the coronation and as she revealed, via The Guardian, "There were one or two things that didn't go strictly to plan." She added, "I'm not going to embarrass anyone in particular." Lip readers point out that these setbacks may have led Charles to complain to Camilla as they were in the Diamond Jubilee State Coach.
King Charles' distress over a lack of punctuality
Although she did not mention names, it's believed that Dr. Guli Francis-Dehqani was referring to The Prince and The Princess of Wales. There were a few unusual details about King Charles III's coronation, one of which many might think is that William and Kate were said to be late to the ceremony. Per royal protocol, they, along with their children, Prince George, Princess Charlotte, and Prince Louis, had to be at Westminster Abbey before King Charles and Queen Camilla. Instead, Charles and Camilla arrived at Westminster Abbey first and were forced to wait for eight minutes for their family's arrival in their Diamond Jubilee State Coach. In that brief time, cameras captured Charles having what appeared to be a heated discussion with Camilla.
But what were they talking about? Lip reader Jacqui Press alleged to the Daily Mail that Charles said, "I'm worried about time, I mean it's been longer this time and, well, erm, I mean look! I know." However, another lip reader told Sky News Australia that Charles may have said, "We can never be on time. Yes, I'm . . . this is a negative. There's always something . . . this is boring."
In an article for Haarper's Bazaar, royal expert Omid Scobie wrote that William and Kate were late on account of their children. Nevertheless, this minor hiccup did not throw off the rest of the coronation.
This isn't his first public outburst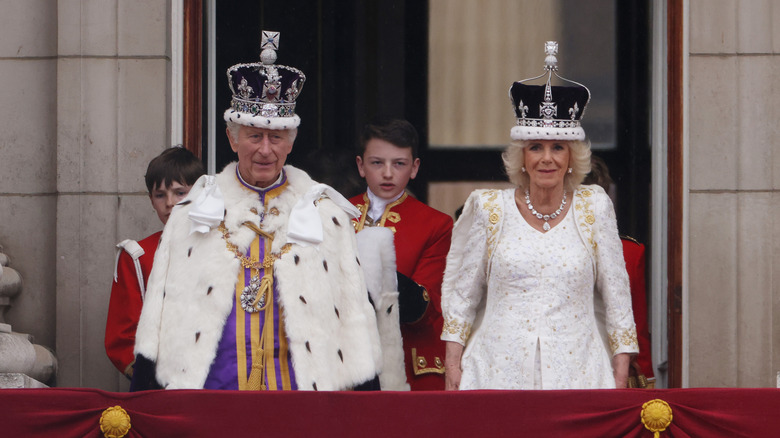 Dan Kitwood/Getty Images
King Charles' filmed frustration has led to online support from royal fans and disdain from others. Many of the latter referred to Charles' now-notorious pen outburst. In September 2022, shortly after the death of Queen Elizabeth II, Charles visited Northern Ireland and signed a guest book with a faulty pen. The Guardian reports that the pen leaked, which led Charles to say, "Oh god I hate this (pen)!" and "I can't bear this bloody thing . . . every stinking time." During a visit to Wales later that year, Charles expressed annoyance at Queen Camilla. In a video, Charles said that Camilla was greeting crowds for longer than expected.
However, the discussion between Charles and Camilla inside the Diamond Jubilee State Coach was not the only interaction that lip readers could interpret during the coronation. Lip reader Jeremy Freeman explained to The U.S Sun that as the king and queen greeted fans on the Buckingham Palace balcony, Charles said, "I can't see a thing with this crown. I can't look up."
Camilla, on the other hand, noted, "I can't see anything either, my crown will fall off." Freeman also claims that Prince Harry may have uttered, "I'm fed up with the way they treat me" during the coronation ceremony to Princess Euegenie's husband, Jack Brooksbank.