Why Many Think Kate Middleton Wore Two Dresses To King Charles' Coronation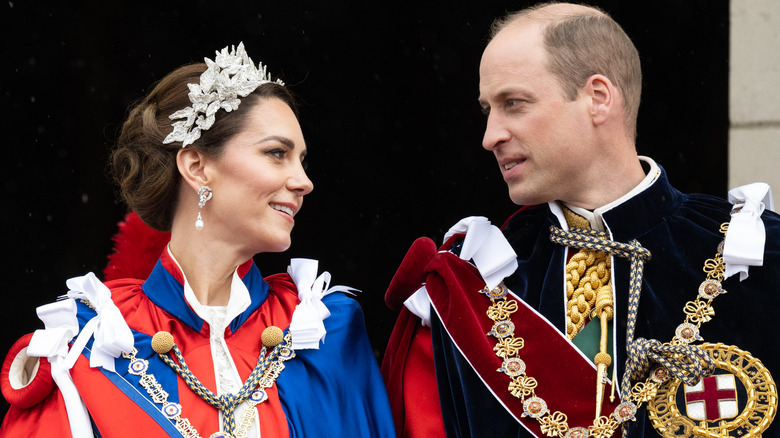 Pool/samir Hussein/Getty Images
Before King Charles III's coronation, we knew a lot about what the king would wear for the big day, considering the history and tradition of the event. The crowns and the robes were all pretty much guaranteed for the king, but for everyone else at the coronation, it was a wait-and-see situation. And people seemed particularly excited to see what Catherine, Princess of Wales, would be wearing, making guesses and speculating over whether Kate would be donning a tiara for the coronation — Kate ended up wearing a Jess Collett x Alexander McQueen silver and crystal 3-D leaf embroidered headpiece, instead of the traditional tiara.
Kate's outfit came as a surprise to the public since Kate only dropped a tiny clue as to what she'd have on, at one point saying the outfit would have "a hint of blue," per Town & Country. It had more than a hint of blue, thanks to the formal robe she wore. The floor-length blue robe, trimmed in red, denoted her position as a Dame Grand Cross of the Royal Victorian Order: Kate received the honor from Queen Elizabeth in 2019. She wore the robe over a long ivory silk crepe Alexander McQueen dress, matching Princess Charlotte's coronation look. And when Buckingham Palace released official portraits from the coronation, Kate still had on an ivory silk embroidered gown, but it definitely seemed to have a different neckline. So, did she change outfits for the picture?
The neckline on Kate Middleton's dress in the coronation portrait has sparked debate
If you look at pictures of Catherine, Princess of Wales, at the coronation ceremony itself, it's clear that the ivory Alexander McQueen dress had a high neckline, close to the base of her neck. But in the official portrait, the dress has a v-neck, and the necklace she's wearing is clearly visible, while it wasn't in photos from the ceremony. It definitely has some on Twitter confused. One wrote: "The neckline is 200% different than the neckline on the day."
One potential reason for the seeming change is that Kate may have been wearing a cape, similar to the one that Princess Charlotte wore over her dress. Sky News commentator Alistair Bruce tweeted in support of that idea: "Additional temporary Cape to compliment Mantle, collar and protect dress from wire woven fastening cords, with heavy swagged knots." Though not all royal fans are convinced, with one disputing it was a cape.
Whether it was one dress or two, we don't yet know for sure and may never know. But we do appreciate getting a better look at the three-strand diamond necklace Kate wore. It was the George VI Festoon Necklace, which King George VI had made in 1950 for his eldest daughter, making it a sweet tribute by Kate to Queen Elizabeth.