What Happened To The Queen's Staff After She Died?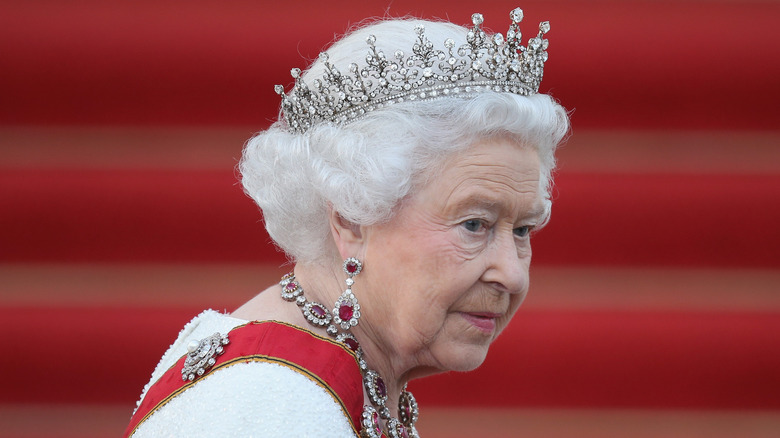 Sean Gallup/Getty Images
Queen Elizabeth II died in September 2022 after sitting on the throne for 70 years, making her the longest-reigning monarch in British history. Over the decades, thousands of people had the privilege of calling Elizabeth their boss, from cooks to personal assistants. Insider reported in 2022 that around 1,133 people worked for the queen, ranging from paid staff members to volunteers. The 2021-2022 Sovereign Grant Report mentioned that 491 staff members worked at Buckingham Palace alone during the year 2022, so as you can imagine, the payroll department is pretty busy.
Considering just how long Elizabeth was the monarch, it's hardly surprising that she had some favorite staff members. Some of her closest aides worked with her for decades, right up until the end. From butlers to ladies-in-waiting and Elizabeth's private secretary, what happens to the queen's loyal employees now that she's no longer there?
As an already established royal, King Charles III has his own trusted staff that knows how he likes to operate, so it's probable there will be some redundancies across the network. Who will be staying on and moving into Charles' reign, and who has bid farewell to the royal household for good? The answer is more complex than you think!
One of Queen Elizabeth II's favorite aides resigned in November 2022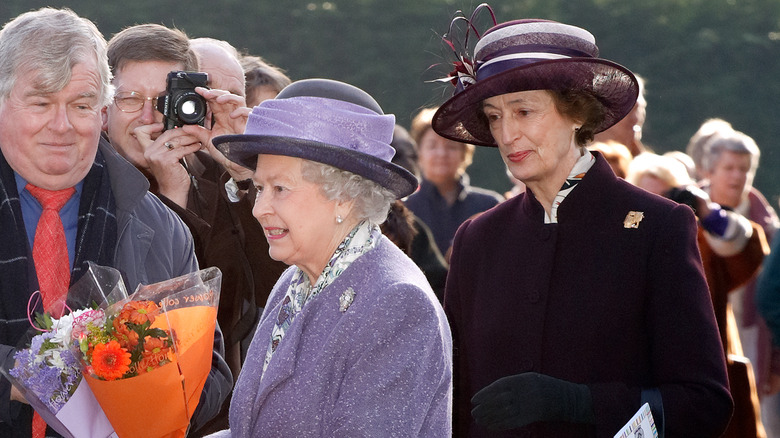 Max Mumby/indigo/Getty Images
Lady Susan Hussey was one of Queen Elizabeth II's closest aides and worked for her until the end. But what exactly did she do for the queen? Hussey started working for Elizabeth in 1960 as a lady-in-waiting, a job that involved a lot of responsibility but, interestingly, was not paid. Traditionally, it's a role given to aristocratic women. The responsibilities can be varied, but Hussey was often spotted accompanying Elizabeth to events and helping her complete daily tasks. When Elizabeth died, Hussey became a lady-in-waiting to Camilla, Queen Consort, but her time with the royal family came to a halt in November 2022 amid accusations of racism.
At an event hosted by Camilla, Ngozi Fulani — the founder of a domestic violence charity — claimed that Hussey asked her: "Where do your people come from?" among other inappropriate questions (via Insider). Fulani tweeted about the incident, including a transcript of the exchange. She also detailed how Hussey touched her hair without consent. Subsequently, Hussey tendered her resignation shortly afterward. Speaking to Sky News, a Kensington Palace rep condemned her actions, explaining: "Obviously, I wasn't there, but racism has no place in our society. The comments were unacceptable, and it is right that the individual has stepped aside with immediate effect." 
However, after offering her apology to Fulani, Hussey was seen representing Princess Anne at an event and "back in the royal fold," a friend told the Daily Mail. 
The queen's dresser left days before King Charles III's coronation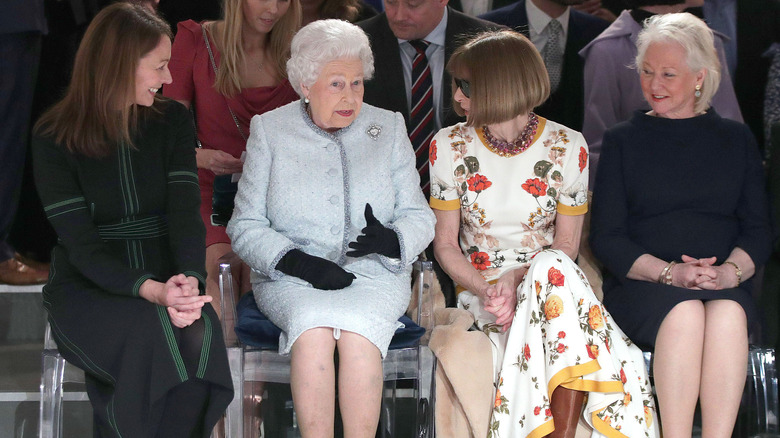 Wpa Pool/Getty Images
There are many important aspects to a successful reign, from holding your own with other powerful heads of state to making sure you look the royal part. Queen Elizabeth II did both with vigor. Elizabeth always dressed immaculately, whether she was walking the grounds at her beloved Balmoral Castle or attending a lavish reception. Elizabeth's dresser, Angela Kelly (pictured far right), had a prominent part to play in her appearance since she was hired in 1994. Kelly remained a committed member of staff, becoming one of Elizabeth's most trusted allies. Kelly was even gifted a grace-and-favor home in Windsor, which she wasn't expected to relinquish after Elizabeth's death, according to Tatler.
That being said, it came as a surprise when the designer took to her now-deleted Instagram account to share a "farewell" picture of her cottage garden just days before King Charles' coronation with the caption: "Getting ready to say goodbye. I am moving at last to my new home which I will be able to call My Home at last" (via the Daily Mail). Kelly didn't explain the reason for her leaving, but did post a cryptic Instagram story that read: "I am too old to worry about who likes me and who dislikes me! I have more important things to do! If you love me — I love you! If you support me — I support you! If you hate me — I don't care!"
Trusted 'Tall Paul' is expected to leave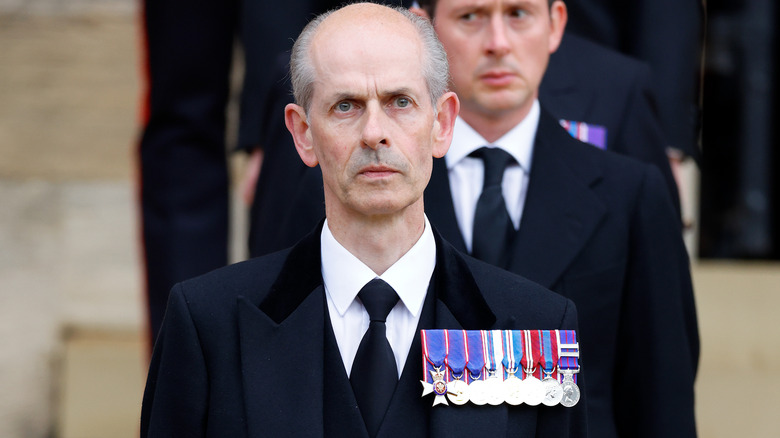 Max Mumby/indigo/Getty Images
Queen Elizabeth II had many butlers and servants over the course of her reign, but one of the most prominent was Paul Whybrew, aka "Tall Paul." Whybrew served Her Majesty for four decades and had an especially close bond with the late queen, not least because they worked together for so long. The stoic butler likely gained further appreciation after he came to Elizabeth's aid when an intruder was found in her bedroom back in 1982. The famous incident went down in history, but it was Whybrew who came to the rescue when Elizabeth raised the alarm. The loyal butler dealt with 33-year-old Michael Fagan and escorted him to the butler's pantry where he calmed his nerves with whiskey and called the authorities. 
Over the years, Whybrew's relationship with the queen only deepened. He was one of the few people to tend to Elizabeth during her last days at Balmoral, reportedly bringing her the morning paper as he had done for years previously and spending time with her. As a mark of just how important he was to Elizabeth, Whybrew was asked to take part in her funeral procession, something reserved for those nearest and dearest to the monarch. With no ma'am left to serve, it's likely that "Tall Paul" has now moved on, although there has been no official statement on his exit.
There may be a new doctor in town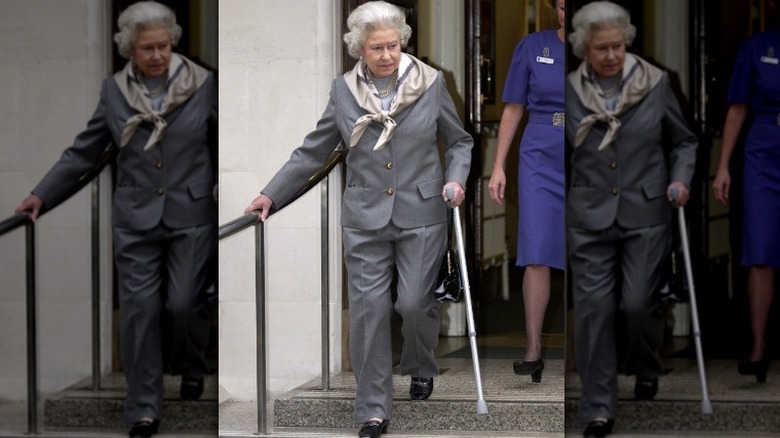 Tim Graham/Getty Images
Being a monarch is no easy task, not least because your health is under constant scrutiny. The longer and healthier the reign of a sovereign is, the better it is for the stability of the public. In large, Queen Elizabeth II was blessed with good health, living until the ripe age of 96. Her husband, Prince Philip, also lived until he was 99 years old, proving that their doctors were doing something right. As you might expect, being the monarch's doctor is a huge responsibility. Elizabeth had numerous doctors over the years, but Professor Sir Huw Thomas was the head of the medical household from 2014 to 2022.
Although Thomas only served Elizabeth for a relatively short period of time, she thought highly of the doctor, honoring him with a knighthood in 2021. At the event, he expressed his gratitude, stating: "It's been a busy couple of years in this role, so I feel very grateful to have been recognised for my service to date" (via the Independent.) It's quite usual for this position to be replaced when the monarch changes and nothing is different in this instance. King Charles III likely has his own trusted physician who will follow him into his reign.
The chef isn't going anywhere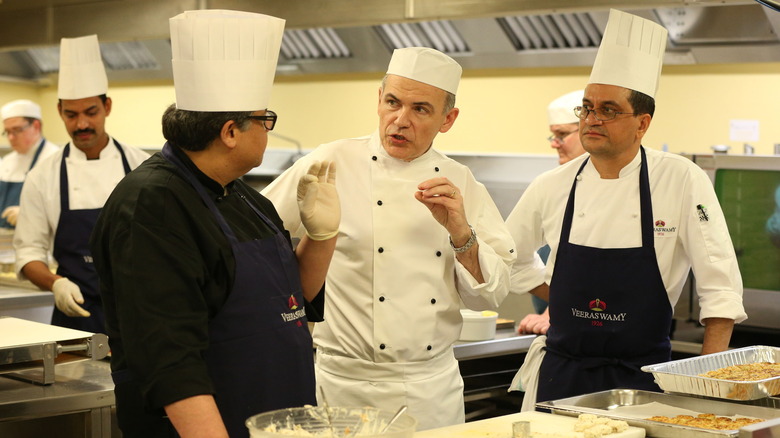 Wpa Pool/Getty Images
Cooking for the royal family is one of the most important jobs out there. Not only do you have to ensure that the monarch and other royals are fed, but you have to create menus for seriously important events, such as state dinners. For many chefs, landing a job at a royal household is a true mark of excellence. Mark Flanagan became the head chef of the royal household back in 2002, a position he has held ever since. Even though Queen Elizabeth II is no longer in charge, it doesn't look like Flanagan is going anywhere.
Back in 2021, Elizabeth made her favorite cook a Lieutenant of the Royal Victorian Order, an honor he accepted graciously. Flanagan was busy in the run-up to the coronation, coming up with dishes to delight King Charles III as well as the British public. The BBC released his official recipe for the "Coronation Quiche" which included eggs, cheese, spinach, and more. It's not a shock that Flanagan is staying put, considering he has some of the best credentials in the business. He previously worked for Raymond Blanc and was the mastermind behind the food at Prince Harry and Meghan Markle's wedding in 2018.
The queen's private secretary is out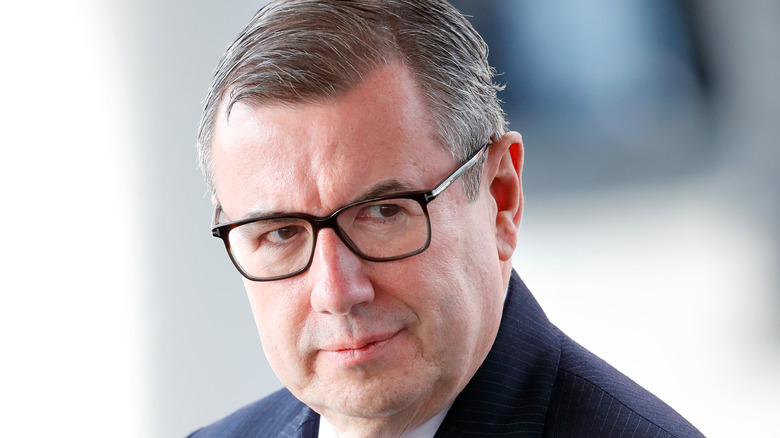 Max Mumby/indigo/Getty Images
The private secretary to the monarch is a difficult position that requires someone with superb organizational skills. Essentially, it is their job to relay any information received to the sovereign and to take care of any of their needs on a day-to-day basis. This can range from breaking redundancy news to staff members to making sure dinner reservations are made. It's not a simple undertaking and certainly not for the faint of heart. Queen Elizabeth II's private secretary was Sir Edward Young, who took up the position in 2017 after Sir Christopher Geidt resigned after 10 years.
Sadly for Young, he will eventually be replaced by Sir Clive Alderton, a trusted adviser to King Charles III and Camilla, Queen Consort, for almost two decades. Since Alderton has worked with the couple for such a long time, the transition makes sense. It won't be an immediate switch, though — for the moment at least, Young and Alderton are sharing the position to ensure the early days of Charles' reign go off without a hitch. Given the scope of the job description, there's probably one heck of a handover to facilitate! 
King Charles III hired the queen's piper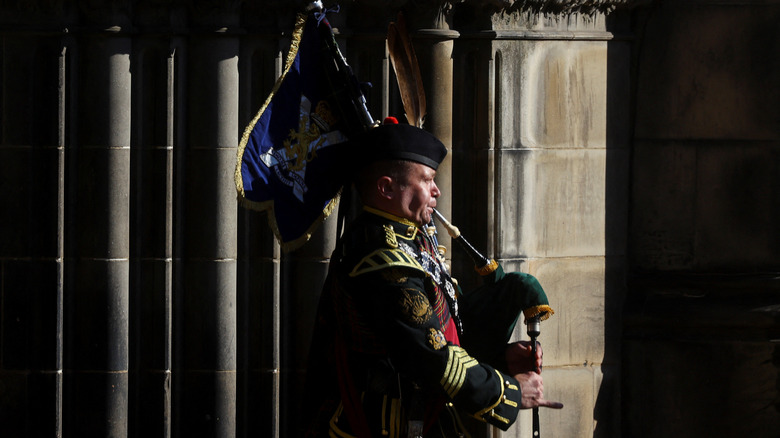 Wpa Pool/Getty Images
It makes sense that King Charles III will keep some of his mother's staff, but it's not just maids and servants that are staying put. Watchers of Queen Elizabeth II's funeral may remember the prominent role pipers had to play in the service. One moment, in particular, moved many. Pipe Major Paul Burns played a moving rendition of "Sleep Dearie Sleep" as Elizabeth's coffin was lowered out of sight at St George's Chapel in Windsor after one of the grandest funeral processions in history. The poignant rendition of the song brought thousands to tears on an already emotional day. 
It wasn't just onlookers that found it beautiful. Charles himself was so pleased with Burns' performance that he appointed him his personal piper. It may seem strange, but the position has been around since 1843, making it a traditional and honorable royal job. Burns takes on the responsibility of waking Charles up at 9 am every morning by standing outside his window and playing a tune on his bagpipes. Most of us may rely on our alarm clocks and smartphones to get out of bed in the morning, but the same can't be said for royalty.
King Charles' staff were also made redundant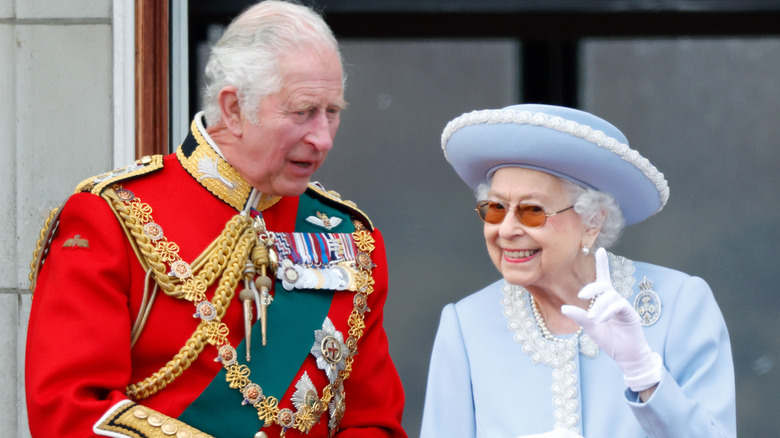 Max Mumby/indigo/Getty Images
Queen Elizabeth II's death didn't just mark a seismic shift in daily life for her own staff, but for King Charles III's staff, too. As Charles and Camilla, Queen Consort prepare to move from Clarence House to Buckingham Palace in the next few years, it's thought that around 100 employees will be made redundant. While it's not immediately clear who will be bidding farewell when the time comes, the staff were reportedly told at the thanksgiving service for the queen that their posts could be on the chopping block.
Receiving this kind of warning is worrying even if you're new to a job, but some of these staffers have been with Charles for decades. Sir Clive Alderton delivered the news to Charles' employees in a letter that read: "The change in role for our principals will also mean change for our household ... The portfolio of work previously undertaken in this household supporting the former Prince of Wales's personal interests, former activities and household operations will no longer be carried out, and the household ... at Clarence House will be closed down. It is therefore expected that the need for the posts principally based at Clarence House, whose work supports these areas will no longer be needed ... I appreciate that this is unsettling news and I wanted to let you know of the support that is available at this point" (via The Guardian).
The Woman of the Bedchamber received the highest honor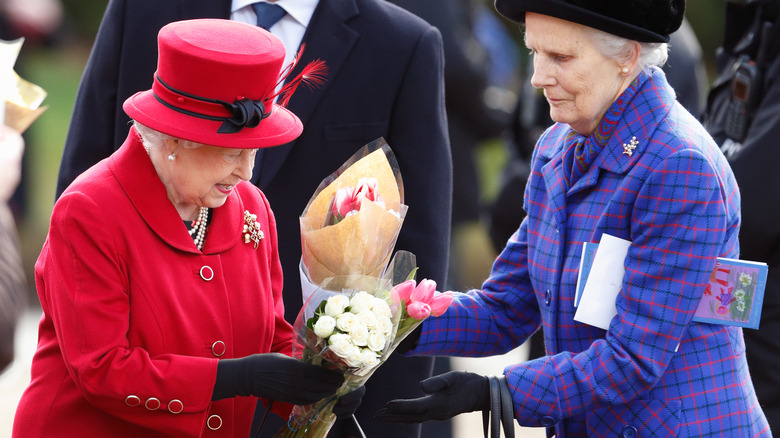 Max Mumby/indigo/Getty Images
Queen Elizabeth II had a select few ladies that served as her closest aides. For those in aristocratic circles, it was a deep honor and privilege to serve the queen in this way. Dame Mary Morrison first undertook the position of Woman of the Bedchamber in 1960 before becoming a lady-in-waiting. As part of her role, Morrison often accompanied Elizabeth to events and kept her company during her downtime. As a reward for her dedication, Morrison was awarded several honors, including multiple Royal Household Long and Faithful Service medals.
It wasn't always smooth sailing, though. In 2018, Morrison was with the queen at Balmoral when she tripped and fell down a flight of stairs, breaking her ankle. Morrison was 81 at the time, but thankfully recovered and was soon serving the queen again. Some expected that Morrison would leave the royal household after the death of Elizabeth, but King Charles III decided to keep the ladies-in-waiting on in the new, rebranded role of "ladies of the household." Their job will be to help the king when arranging events at his new homestead, Buckingham Palace. Given her experience, Morrison is certainly up to the task. In her 80s, Morrison seems to show no signs of slowing down when it comes to serving the sovereign.