Princess Charlotte's Latest Outing Proves Once Again She's Just Like Other Kids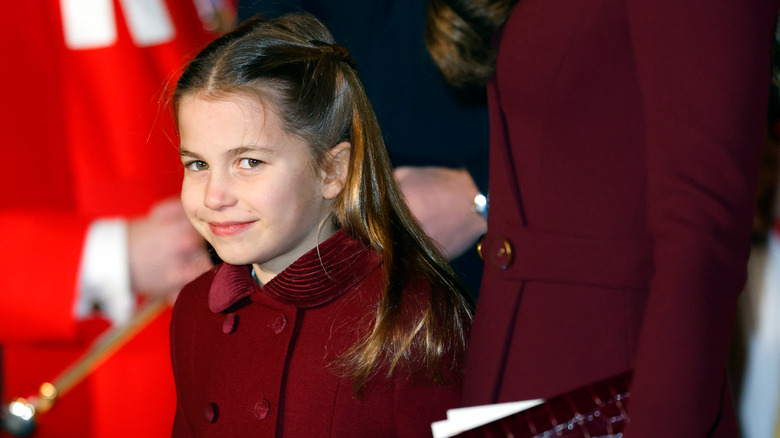 Max Mumby/indigo/Getty Images
All eyes have been on the royal family of Britain since King Charles III's Coronation on Saturday. The star-studded affair, which had guests like Katy Perry and Lionel Richie in attendance, drew over 18 million broadcast viewers (via BBC). The crowds at the actual event were also impressive. Everyone was thrilled to be a part of history and, of course, to get another glimpse of what the royals are like in person.
It seems like no other members have gained as much affection from royal fans as the children of William and Catherine, Prince and Princess of Wales. Prince George, Princess Charlotte, and Prince Louis always tag along with their parents to royal events, and people can't get enough of seeing the children's adorable antics.
Although she must participate in grown-up affairs like coronations, it's a welcome sight for fans when they catch sight of Princess Charlotte acting like any other child might, such as when she had a sing-along with Katy Perry at the coronation concert. On her latest outing, Princess Charlotte got caught on film eating a delicious snack she accidentally dropped on the ground in a move everyone's calling relatable.
The three-second rule is true even for royals
Princess Charlotte is a fashion icon for having matched her mother Kate Middleton at the coronation, but this hilarious and adorable moment reminds us that the middle child princess is still like any other eight-year-old.
The princess, her brothers, and her parents participated in The Big Help Out on Monday and volunteered their time at the 3rd Upton Scout Group in Slough, according to People. Being the big sister she is, Charlotte kept an eye on little brother Louis during the event, chastising him when he got carried away with the paint and supplies that were set around for the project.
But even big sisters need a moment to relax and be a kid. While stacking some tasty-looking s'mores with the other volunteers, Charlotte accidentally dropped a small piece of her chocolatey snack onto the ground. Rather than let the graham cracker go to waste, the princess scooped it off the grass and, after a few seconds, ate it right up. As good as the s'mores looked, we can't say we blame her for trying out the "three-second rule."
She blew everyone else away at this event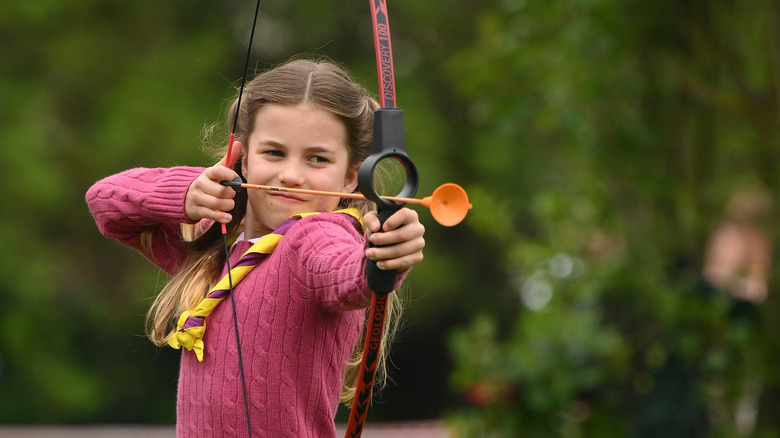 Wpa Pool/Getty Images
Besides setting an example by not letting her food go to waste, Princess Charlotte set another great example for children everywhere by giving her time to The Big Help Out. After a weekend of celebrating, she and her siblings went right to work for the community, a good representation of what they'll be doing in the future. It was also a time for the children to let loose after all the stiff formalities of the coronation and just have fun with their friends and family.
Part of that fun was roasting marshmallows and making those oh-so-delicious, famous chocolate sandwiches with everyone at the event. Princess Charlotte also got to try her hand at adding stain to furniture, but her favorite event of the day (perhaps besides the s'mores) had to be when everyone in her family tried their hand at archery. According to the Evening Standard, the princess shot and scored a perfect bullseye, defeating both George and little Louis with ease. If either brother tries to pick on her about the s'mores ordeal, we're sure she'll have this little tidbit of information to share with them, in standard sibling fashion.