Wide Headbands Are The '90s Trend Taking Over The Fashion World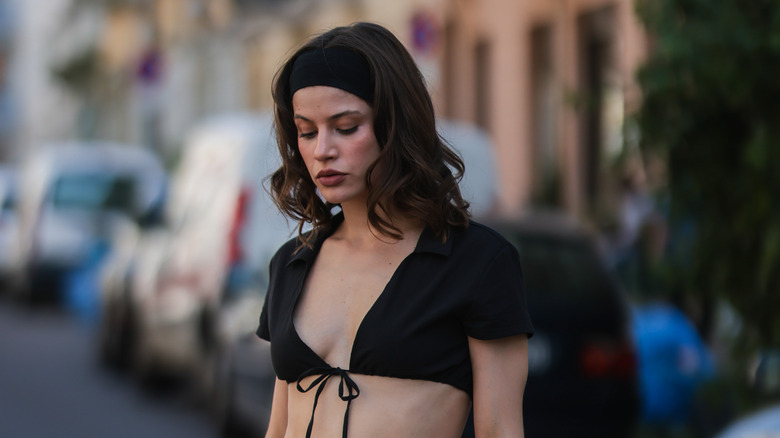 Jeremy Moeller/Getty Images
It's safe to say that a fair share of '90s fashion trends have taken hold over the past few years, and the latest one to emerge is the wide headband. No longer reserved for pushing back hair that's looking a bit greasy on day five of not being washed (no judgment here), the wide headband is officially back.
Celeb hairstylist Kieron Justin told Bustle that the accessory's popularity is down to the fact it "can be worn high-end and chic or as [a way to pay] homage to '90s nostalgia." Further, "We have seen so many celebs wearing these headbands, such as Bella Hadid and Kendall Jenner, who opt for the classic '90s sports headbands with soft, stretchy elastic cotton." 
Celeb-approved and comfortable? We're in. However, wide headbands run the risk of making you look like you just threw them on or are having a lazy day. While there's nothing wrong with that, it probably isn't the look most people are going for when picking out an outfit. Here's how to style a wide headband in a cool, "I just threw this on" kind of way rather than something you would wear on a grocery store run.
Don't be afraid to mix things up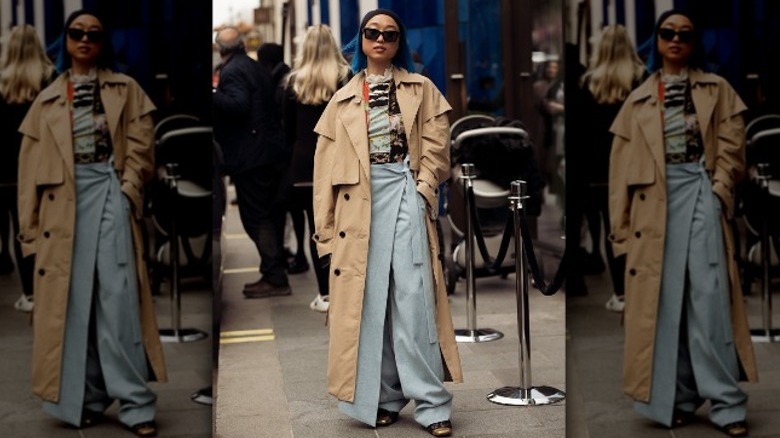 Raimonda Kulikauskiene/Getty
Wide headbands aren't just for dress-down days; effortlessly elevate them by pairing them with a chic trench coat. Trench coats are having a major moment right now, and their casual-formal mix makes them ideal for those days when you're going out straight after work. The headband used here is plain black, so it will go with any outfit. Keep things sleek and simple by wearing all black under your beige trench to create a timelessly cool look.
An all gray outfit? Cute and comfy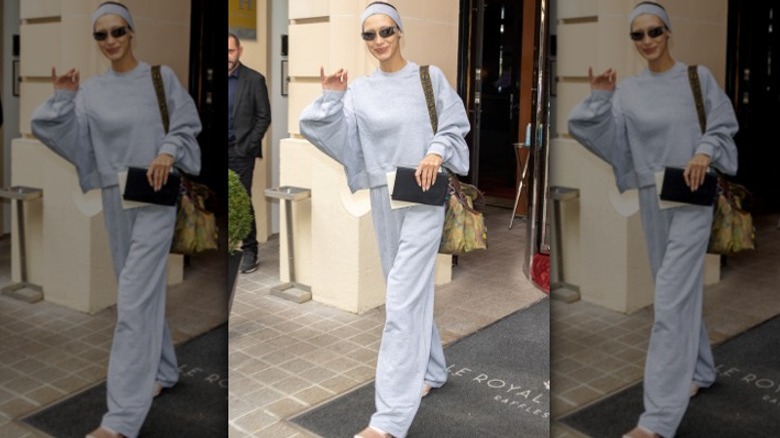 Marc Piasecki/Getty Images
Bella Hadid was spotted wearing ballet flats with sweatpants, so we went out and bought ballet flats and sweatpants (we're only half joking). Matching sweatpants and sweatshirts are always cute and will give you a more put-together look. We love how Hadid embraced the balletcore trend with her flats, while her wide headband not only matches her outfit but also ties it in even more. If you're not a fan of the balletcore bun, a wide, stretchy headband will give you the same "I have just been practicing my pliés" effect.
Working out, but in a runway-esque way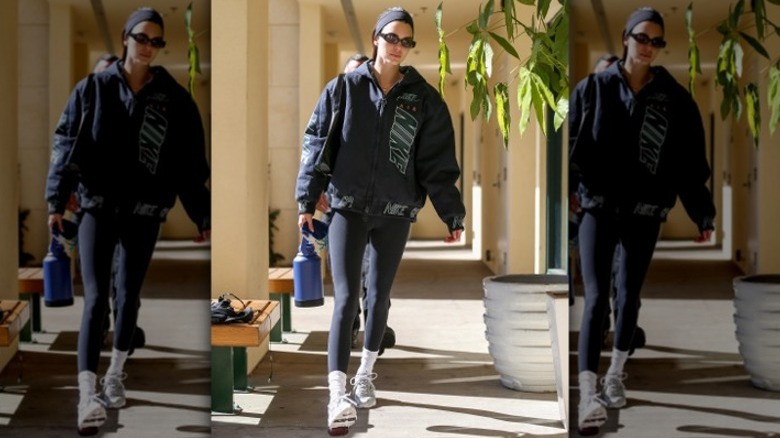 Bellocqimages/bauer-griffin
Another queen of athleisure, Kendall Jenner's wide headband only adds to her cool and sporty '90s fit. We love how this ensemble is casual yet thought-out, making it suitable for hitting the gym and then meeting your friends after for brunch (it's all about balance). Add a slightly oversized jacket, preferably one with a big logo, to channel your inner Sporty Spice. Tying the rest of your hair back in a ponytail is also a good option if you don't like the spiky hair effect that wide headbands can sometimes create.
Combine '90s and Y2K style
The resurgence of Y2K fashion is still going strong, and what throwback '00s look is complete without a wide, stretchy headband? Low-rise jeans and a cutout top are both noughties style staples, and a wide headband is simple enough to add depth to your look without it being too much. If you want to give your hair an extra volume boost, bump up the front sections, clip them in place, and use the headband to hide the clips for instant height that won't leave you looking like you've been electrocuted. 
Minimalism is out and maximalism is taking over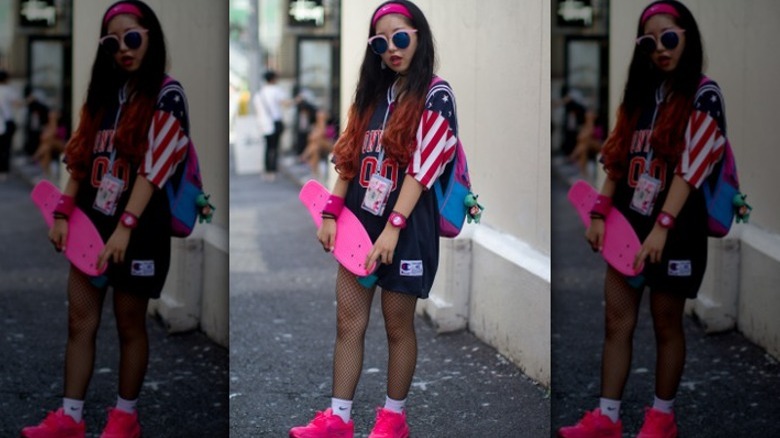 Onnie A Koski/Getty Images
Though wide headbands are a '90s trend, there's nothing to say you can't take inspiration from the '80s when styling yours. Neon colors will turn any outfit into a bold statement, whether your go-to is neon pink, yellow, or green. Bonus points if your headband has a logo on it, as this will tie into another trend too. The designer logo trend has been back for a while now, and a headband is a good way to try it out without committing to buying a more expensive piece.
(Literally) take it back to the '90s
We've established by now that the wide headband trend originated in the '90s, and who better to take inspiration from when it comes to the fashion of that era than Cher from "Clueless." A woman who inspired several trends that are still going strong today, including plaid co-ords, Cher wears her headband wide with a little bit of hair peeking out at the front, but you can rock yours fully forward for something more modern like Bella Hadid's or Kendall Jenner's takes above. Match your headband to the top half of your outfit for a cute and casually coordinated look.