The Balletcore Bun Puts New Spin On A Favorite Hairstyle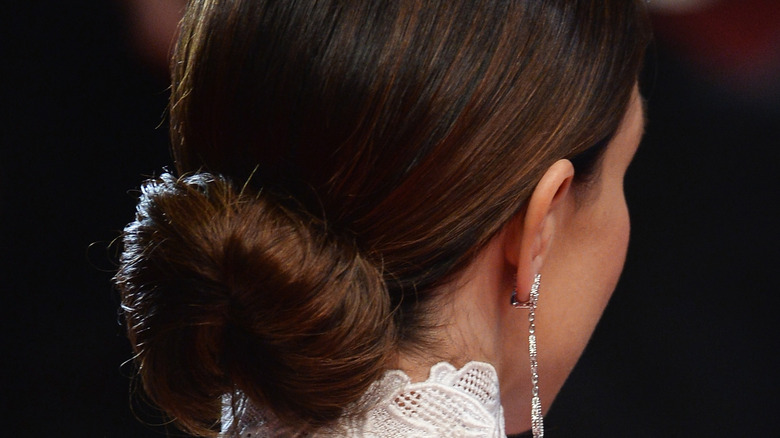 Dave J Hogan/Getty Images
Balletcore made a splash in 2022 and from the looks of things, the trend isn't going anywhere. According to Fashionista, balletcore takes inspiration from ballerinas and their signature style — so think airy styles like leotards, wraparound sweaters, and tulle skirts. And while the trend may seem tough to follow, it actually focuses on comfort, which has been a main focus of many fashion-focused girls this year. Plus, balletcore takes aspects of the ballerina's full look and makes it doable for the everyday person.
The Zoe Report notes those interested in mirroring the balletcore trend can start slow. They recommend trying a ballet flat to get a hint of style. Those who want to give in head first should focus on tulle skirts or dresses. But the trend isn't just about what you wear, it has also entered the hair world. In fact, when most of us think of ballerinas, we think of their iconic right bun. That bun is now entering the mainstream and is putting a new spin on a favorite hairstyle.
The balletcore bun is an easy upgrade to the classic bun
According to PopSugar, buns have made their way into mainstream fashion. Messy buns were all the rage until celebrities started sporting more put-together buns that earned the term "supermodel buns." With the new balletcore trend going viral, that supermodel bun is seeing yet another upgrade — the balletcore bun. If you are thinking of the tight, slicked-back bun you see on professional dancers, think again. This new trend is a softer, more versatile version of that classic bun and is more of a ballerina's day off look.
As Salon Magazine reported, there are a few different variations of the balletcore bun. A popular option is to pull your hair up into a low, braided bun using rope braids, pulling out little baby hairs near your ears. If you want something more laidback, there is a messy balletcore bun option that is higher up on your head — start with a high pony — and requires you to pull out pieces of the bun to achieve that relaxed look.
How to achieve the full balletcore look
Once you have your bun secured, complete with a dainty bow, pearl accents, or ribbons, you may be inspired to lean into the trend a bit more and try some more balletcore items. If you want to go all out, The Zoe Report recommends a wrap skirt with tights. You can even pair those items with a bodysuit for the ultimate ballerina look. If you are looking for something a bit more modern and classic, consider a maxi skirt styled with ballet flats. This style can take you just about anywhere and is a comfortable yet stylish option that anyone can wear.
The best way to wear the balletcore trend is to invest in a few key pieces. Fashionista recommends adding a pair of ballet flats to your shoe rotation. This Shop Peche pair or this classic pair from Charles & Keith are great options. As for apparel, consider this dark swan bodysuit, a gorgeous pink tulle skirt, or this ballet wrap skirt. Top it all off with a dainty bow for your balletcore bun and a pair of pirouette-inspired earrings.