How Often Does Savannah Chrisley Visit Parents Todd And Julie In Prison?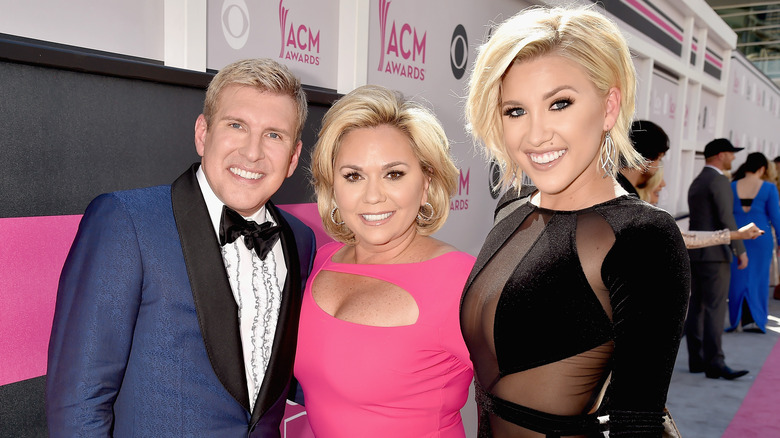 Jeff Kravitz/acma2017/Getty Images
It's been a little over three months since reality TV stars Todd and Julie Chrisley's prison sentences began, but that hasn't stopped their daughter Savannah Chrisley from showing her unwavering support. It's not easy to deal with having certain issues made public, especially if they involve a scandal, but Todd and Julie Chrisley's resilience and having the last word before heading off to prison helped shape the positive outlook Savannah has been maintaining. She's regularly shared her thoughts about the aftermath of her parents' fraud convictions, leaving little room for assumptions about how she feels.
In recent months, Savannah has realized how difficult it is to choose which parent to visit. Although she's adamant about spending time with them every weekend, she told People it's similar to "what having divorced parents feels like." This is due to Todd being located at the Federal Prison Camp in Pensacola, Florida, while Julie is at FMC Lexington in Kentucky. Currently, that places the couple around nine hours away from each other, with Savannah having to drive over three hours to see her mother or six hours to see her father.
Savannah shares how her parents are adjusting to prison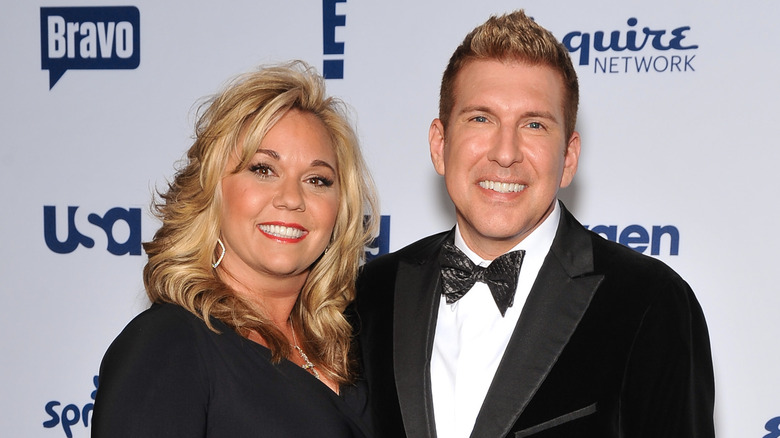 D Dipasupil/Getty Images
When Todd and Julie Chrisley went to prison, Savannah Chrisley became the guardian of her younger brother, Grayson, and niece, Chloe, which indicates she's taken on more responsibility than she probably intended to at this point in her life. Nevertheless, she's exercising faith and grace to willfully face this challenge. However, this doesn't mean she's not experiencing the effects of missing her parents. In the same People article, Savannah said, "They're both in federal prison. So it's, it just kind of is what it is. That's our new normal, and it's so hard because people are so hateful on social media."
She went on to share that her mother is doing her best to take things one step at a time despite not having an easy time adjusting to life in prison. She also noted that Julie spends most of her time alone but talks to her during their visits and writes many letters. Compared to his wife, Todd Chrisley is managing his new normal a little better. In the latest episode of her podcast "Unlocked with Savannah Chrisley," Savannah shared that the couple hasn't been able to speak to each other since January and believes this is just one of the reasons her mom is struggling.
Savannah shares the breakdown she had prior to a visit
Savannah Chrisley didn't shy away from the truth about how devastating it was to learn about her parents' convictions. In an earlier episode of "Unlocked With Savannah Chrisley," she talked about how difficult it is to balance her role as a sister and aunt to Grayson and Chloe. While trying to prepare Chloe to visit her parents, she had a breakdown that made her realize the little ways her mom helped take care of everyone. Not only that, but the reality of being unable to speak with her dad as frequently as she used to, aside from their weekly visits, is tough to navigate.
At this time, it's unclear how long Todd and Julie Chrisley will spend in prison — they've been sentenced to twelve and seven years, respectively, but are appealing. In the meantime, Savannah is doing the best she can to maintain as much of an open line of communication with her parents as possible. Only time will tell how she will continue to manage visiting her parents each week and making sure Grayson and Chloe are also able to see them.