Savannah Chrisley Has Something To Say Amid Her Parents' Fraud Convictions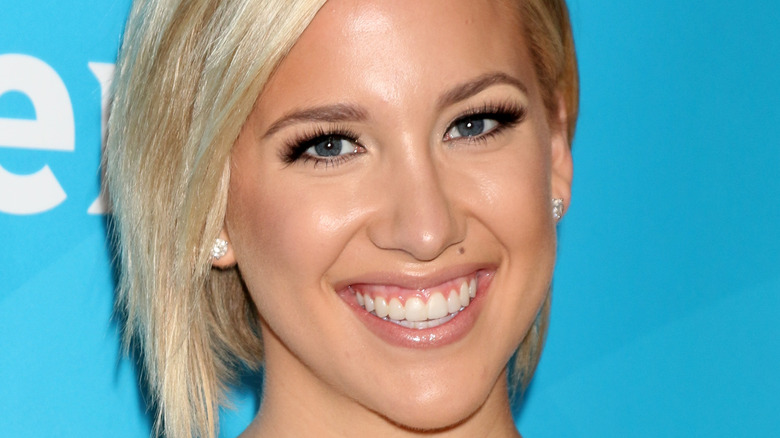 Kathy Hutchins/Shutterstock
The Chrisleys don't always know best, especially when it comes to their finances. Back in 2019, Todd and Julie Chrisley, the stars of "Chrisley Knows Best," came under fire for tax fraud and were eventually indicted. Per US Weekly, the pair denied the allegations; however, their recent conviction has brought out the truth. Todd and Julie were convicted of 12 counts of tax evasion and wire fraud in June 2022. The crux of this conviction is that the couple lied about their income and received millions of dollars in loans fraudulently.
As the news came to light, fans everywhere waited for the pair to speak out. Recently, they addressed the conviction on their podcast "Chrisley Confessions," simply saying that they can't discuss the case but that they are heartbroken at what is happening, per CNN. While hearing this statement put some fans at ease, many were waiting to hear from their children — specifically the ones who have remained close to their parents through it all. 
After a few weeks of silence, their daughter, Savannah Chrisley, finally spoke out. Here's what she had to say.
Savannah Chrisley is supporting her parents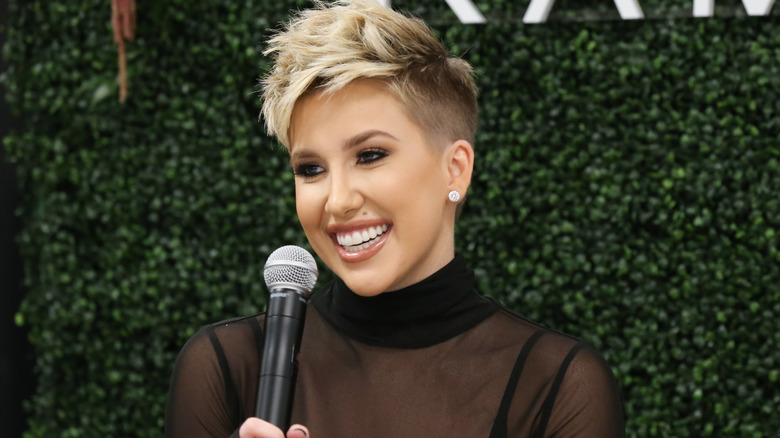 Terry Wyatt/Getty Images
While tension between Todd Chrisley and his daughter Lindsie Chrisley has been highly publicized in the past (via Us Weekly), his relationship with his daughter Savannah Chrisley has always seemed positive. In fact, she has credited her father for a lot of her own success. When discussing her fashion line with HSN, she told People that "My dad has been the biggest supporter of me throughout. He's my best friend and without him I couldn't have made it happen."
So, when news broke about Todd's charges, it was no surprise that Savannah had his back. While the reality TV star did not speak out immediately, she eventually made a statement on Instagram. She addressed her fans, asked them to be kind, and stated that she "will continue to stand by my family and fight for justice. Justice for ourselves and for others that the system has failed."
She has since released another statement, too.
Savannah Chrisley turned to her faith during this time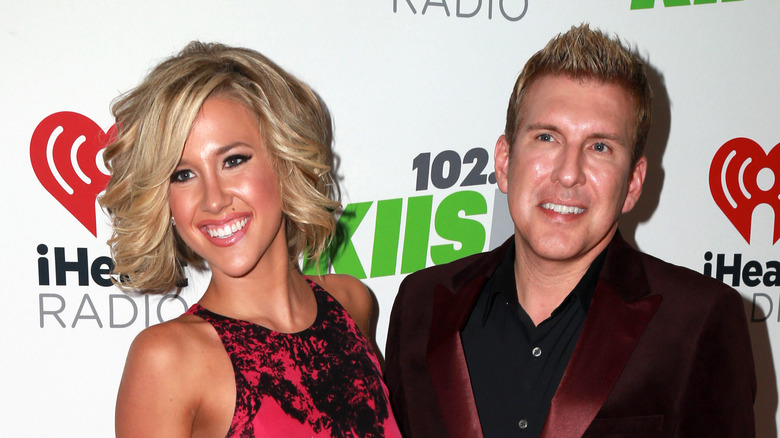 Kathy Hutchins/Shutterstock
Five days after her initial statement, Savannah Chrisley posted again. This time she focused on her own personal journey and shared a slideshow of images. "Sitting here this morning reflecting on life...Pre Storm and Post Storm. One thing I can say is that I am thankful for those around that choose to love and love hard...no matter how difficult it may be," she started her message. She continued by focusing on her relationship with God and how she is choosing to take a slower approach to life in order to become better for her family. She ended the post by saying "Thank you so much to all of those who continue to love on my family and I."
While the amount of jail time the Chrisley's will face is still unknown, the charges are serious, and, according to US Weekly, they could be seeing up to 30 years each. This may seem steep to some, but their crimes and celebrity status could have them facing the maximum amount.