What We Know About Tom Holland's Ex Girlfriends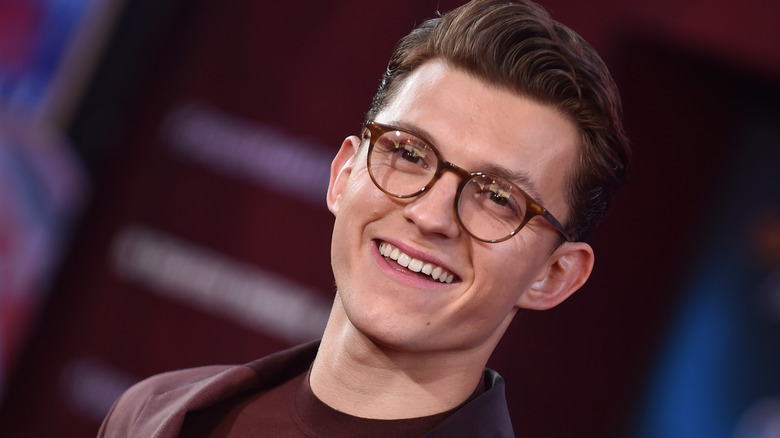 DFree/Shutterstock
Tom Holland didn't always shoot webs and scale Manhattan skyscrapers. Before he was cast as the MCU's Spider-Man in 2015, the actor starred in "Billy Elliot the Musical" on Broadway and even appeared alongside future Marvel co-star Chris Hemsworth in "In the Heart of the Sea." Born in 1996, Holland was exposed to the entertainment industry at a young age thanks to his family. "I come from very creative parents," he told "Spider-Man" co-star (and future partner) Zendaya in a 2017 Interview Magazine conversation, adding, "It's nice to have a dad who's been in the industry for probably over 30 years because he knows all the dos and don'ts and the ins and outs and stuff."
Holland and "Euphoria" star Zendaya have been romantically linked for the past two years, although their close friendship has sparked rumors for much longer. Thanks to a viral paparazzi photo in July 2021, suspicions were confirmed. Years before, in 2017, an anonymous source told People that Marvel's Peter Parker and MJ were an item (this was later laughed off by Zendaya herself).
Before this Hollywood it-couple made it official, Holland was relatively quiet about his other romances. Here's what we know about who he dated before Zendaya entered the chat.
Tom Holland was linked to actress Ella Purnell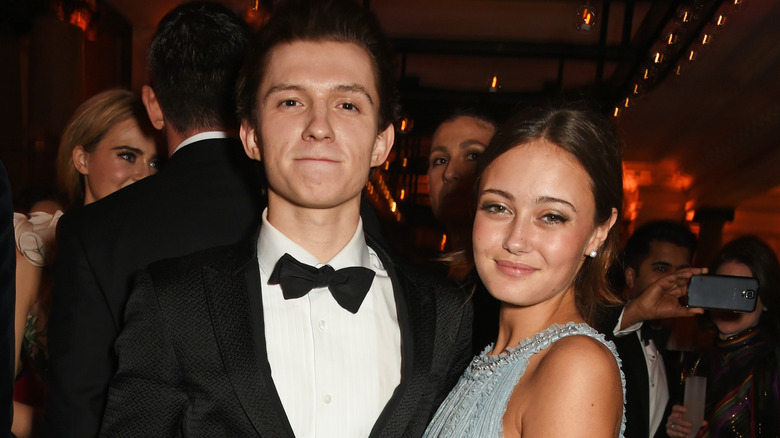 David M. Benett/Getty Images
Ella Purnell, known for roles in "Miss Peregrine's Home for Peculiar Children" and, most recently, Showtime's "Yellowjackets," was briefly linked to Tom Holland in 2017 (although, all anonymous reports were never confirmed). "He was out for a huge night and was leading her around the dance floor by the hand," an unnamed source told The Sun, referring to the time the pair spent together at the 2017 BAFTAs — this was also the year Holland won the Rising Star Award. Reportedly, this short-lived couple was never serious, and the actress is now happily dating singer Max Bennett Kelly.
Before spending time with Purnell, Holland was tied to Elle Lotherington, who's known for her behind-the-scenes work as an assistant director. When Holland landed the role of Spider-Man in 2015, Lotherington tweeted, "Couldn't be a more proud girlfriend right now. Tom Holland, I love you. #spiderman."
Prior to making it official with Zendaya, the MCU star also dated childhood family friend Olivia Bolton and "Dr. Who" actress Nadia Parkes — he even posted a picture of the latter on Instagram in July 2020. Parkes and Holland quarantined together throughout the early days of the pandemic. 
Tom Holland and Zendaya have tried to keep their relationship private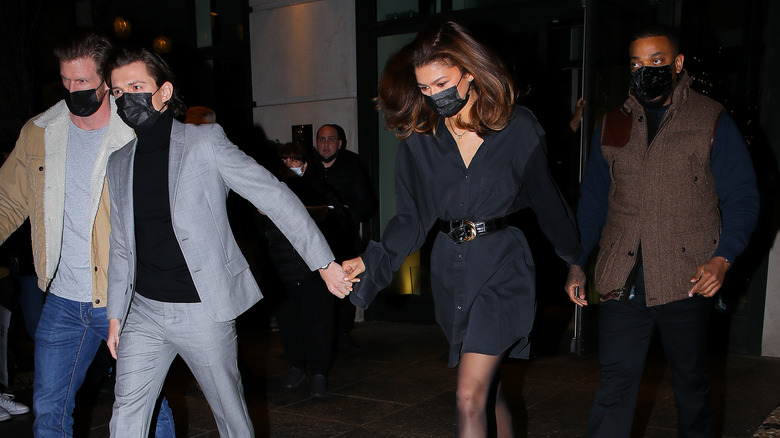 Mega/Getty Images
Since their relationship was unceremoniously outed two years ago, Tom Holland and Zendaya have tried to stay mostly out of the spotlight. "One of the downsides of our fame is that privacy isn't really in our control anymore, and a moment that you think is between two people that love each other very much is now a moment that is shared with the entire world," he told GQ in a 2021 interview, adding, "We sort of felt robbed of our privacy." Now, the pair reportedly share a home in London – according to Zendaya, Holland is quite the cook.
The famous duo belongs to a long line of "Spider-Man" co-stars who've taken their chemistry off-screen. Tobey Maguire and Kirsten Dunst dated on the set of 2002's "Spider-Man," and Emma Stone and Andrew Garfield were together for a total of four years while filming the "Amazing Spider-Man" series. Holland is seemingly returning as Peter Parker in a fourth "Spider-Man" film, although Zendaya has not yet confirmed her reprisal.