How Prince George's Relatable Fear Convinced King Charles To Buck Coronation Tradition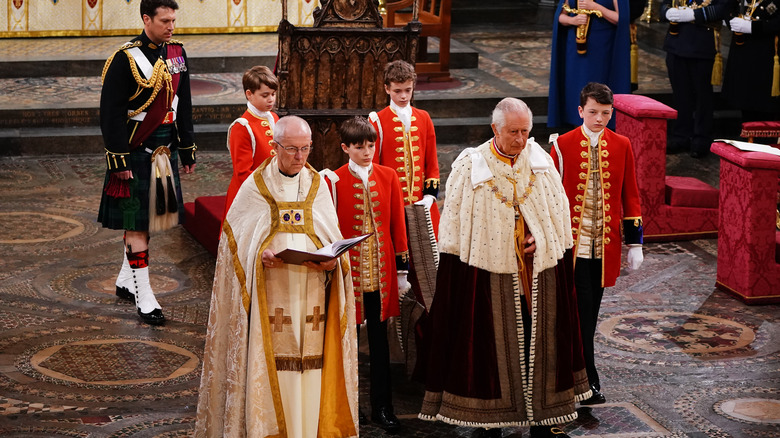 WPA Pool/Getty Images
King Charles' 2023 coronation vastly differed from Queen Elizabeth's 1953 ceremony. During preparations for the event, Charles made it clear that he wanted to keep things straightforward. Charles sized down the guest list and ensured that his wife, Queen Camilla, was crowned in the coronation. Charles also included his grandson, Prince George, in this historical moment. At 9 years old, George is the oldest child of Prince William and Princess Catherine of Wales. Although his younger siblings, Princess Charlotte and Prince Louis, also attended the coronation, George was the only one with an official role.
George, the second line to the throne, received the duty of being a Page of Honor to his grandfather. Before this decision, heirs to the monarch were not involved in coronations; they watched the event and nothing else. Speaking about George's role in the coronation, a spokesperson for Prince William and Princess Catherine told People, "It's something that his parents have thought long and hard about and are very much looking forward to — and I'm sure George is too."
George was joined by three other pages: Lord Oliver Cholmondeley, Master Nicholas Barclay, and Master Ralph Tollemache. However, having a grandfather as king comes with certain perks. Per George's request, Charles reportedly made some changes to the pages' traditional outfits.
No breeches or tights for Prince George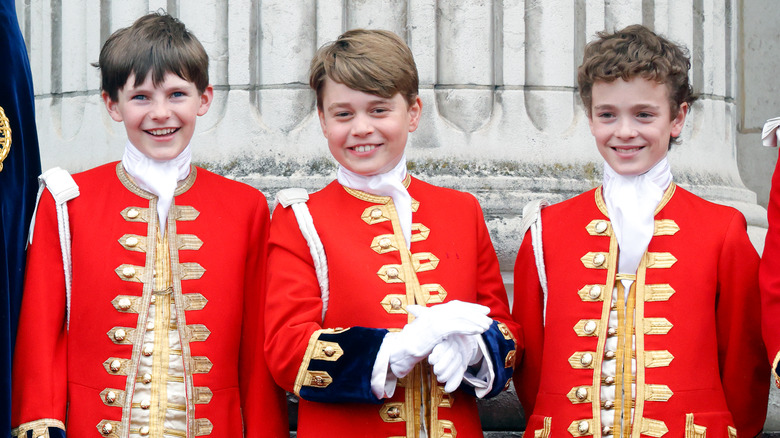 Max Mumby/Indigo/Getty Images
As a Page of Honor, Prince George and the three other boys carried King Charles' robe during the coronation as he stood in Westminster Abbey. Traditionally, a page would wear a red and gold coat with white breeches and tights, a uniform that ELLE UK writes was designed in 1902. However, thanks to George, the outfit was slightly altered. Instead of wearing breeches and tights, he and the others were allowed to wear pants. Per the Daily Mail (via the Daily Express), George asked his grandfather for the change because he had concerns that the original outfit would lead to bullying at school. Charles agreed, further bucking tradition with the coronation dress code.
Charles himself decided against wearing breeches or tights on his big day as well. A source explained to The Sun why. They said, "It is largely to do with modernising the Coronation and stripping away the stuffiness." Under his sumptuous coronation robe, Charles wore a silk shirt and naval pants. Charles also asked the coronation's attendees to adhere to a more casual dress code.
Anda Rowland from Anderson & Sheppard, an English tailoring company, told GQ why Charles also modified the coronation dress code for guests. She said, "You would want everybody to be invited on an equal footing rather than have too much hierarchy within dress codes. It's far friendlier to people who are attending internationally or from the causes and different groups that he works with."
Prince George has defied royal protocol before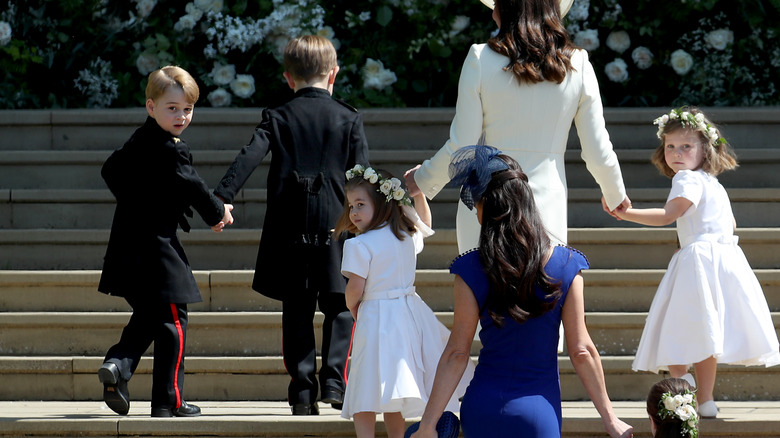 WPA Pool/Getty Images
Prince George's amended Page of Honor uniform is not the first time he's gone against fashion rules set by the royal family. In 2018, the then-four-year-old (pictured on the far left) made international news when he was captured wearing pants at Prince Harry and Meghan Markle's wedding. This went against royal protocol; George was supposed to be wearing shorts, and should have only been allowed to wear pants once he turned eight. Etiquette expert William Hanson told Harper's Bazaar UK why shorts are essential to a young royal's wardrobe. He said, "Trousers are for older boys and men, whereas shorts on young boys is one of those silent class markers that we have in England.
Hanson continued, "Although times are (slowly) changing, a pair of trousers on a young boy is considered quite middle class — quite suburban. And no self-respecting aristo or royal would want to be considered suburban. Even the Duchess of Cambridge." George made news again when he attended the UEFA Euro 2020 Championships wearing a suit and tie. As he was then 8 years old, this officially marked a shift for the young prince to wear more adult-like attire. 
Unlike his older brother or male ancestors, Prince Louis, who is 5, has rarely been seen wearing shorts. While these dress code changes might appear inconsequential, they demonstrate that the royal family is open to breaking the mold and bringing about a new era for the monarchy.