Donald Trump Brutally Mocks E. Jean Carroll's Allegations After Lawsuit Verdict At CNN Town Hall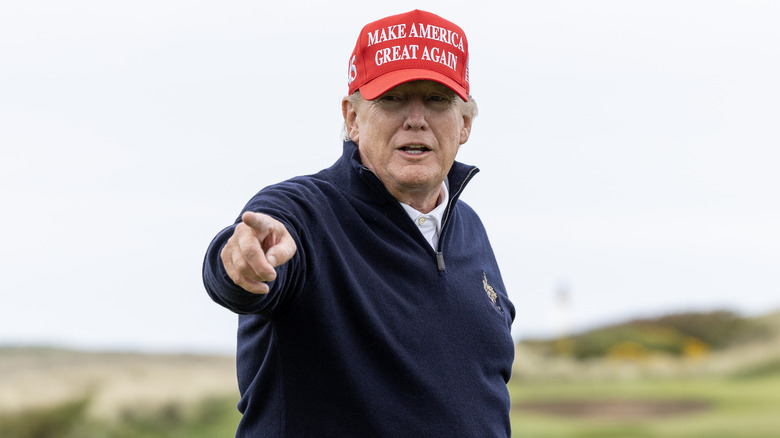 Robert Perry/Getty Images
Former President Donald Trump's efforts to become future President Donald Trump are once again meeting with severe roadblocks. The discovery of numerous highly classified government documents being stored at his private Mar-a-Lago residence called his judgment into question. Being the first president to be impeached twice was a historical moment, but not the kind one puts on a résumé. 
Earlier this year, the defamation case brought against Trump by adult film star Stormy Daniels was dismissed; and, although it was technically a victory for the controversial politician, it also reminded the public of his reputation as a womanizer. In the latest chapter of this ongoing saga, Trump was found liable for abuse in the case filed against him by E. Jean Carroll. The writer alleged that he sexually assaulted her in a department store dressing room in 1996, then publicly smeared Carroll's credibility by claiming her allegations were "a hoax" and a "con job" (via NBC News). 
The jury found Trump guilty of battery and defamation, ordering him to pay Carroll $5 million in damages. Rather than admit to any wrongdoing, however, the former president took to social media to decry the case as just another part of the "witch hunt" the liberal media is apparently waging against him. "I HAVE ABSOLUTELY NO IDEA WHO THIS WOMAN IS," he all-capped, per Sky News. Just one day later, Trump appeared for a scheduled town hall session on CNN, no doubt knowing he'd be asked about the verdict. He came prepared.
Donald Trump tried to disprove E. Jean Carroll's claims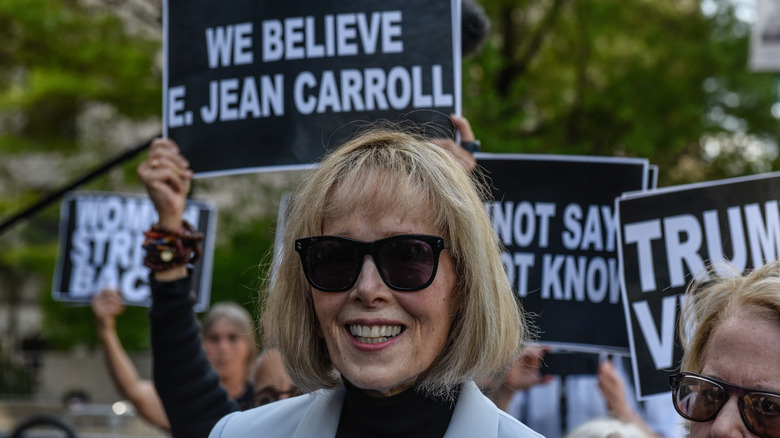 Stephanie Keith/Getty Images
During the CNN town hall with Donald Trump on May 10, former White House reporter Kaitlan Collins asked whether he thought the verdict would affect his ability to run for president again in 2024 (via Twitter). Trump stuck to his claim that the whole lawsuit was concocted as an effort to keep him out of the race. He then doubled down on his earlier assertion: "This woman — I don't know her, I never met her, I have no idea who she is." 
The former president drew some chuckles from the crowd by ridiculing the notion that two strangers could be so immediately attracted in a department store before calling Carroll's character into question. "What kind of woman meets somebody and brings them up, and within minutes, you're playing hanky-panky in a dressing room?" Trump barreled on, swearing again — "on my children, which I never do" — that he had never met Carroll before in his life. 
"This is a fake story, a fake story, a made-up story," he insisted (notably, not long after Trump blasted Meghan Markle for her supposed treatment of Queen Elizabeth). Undaunted, Carroll had a simple response of her own. She posted a tweet, using a meme saying, "WE WON."  Her caption read, "Uh Ladies ... may I have a word with you?" Does this really mean the end of Trump's hopes for a second term in office? Let's just say that he's beaten the odds before.