How To Achieve The Scandinavian Summer Aesthetic
When you think of Scandinavian style, Matilda Djerf probably comes to mind. Of course, Matilda Djerf isn't the only Scandinavian influencer out there, but she is one of the most well-known thanks to her brand Djerf Avenue. Her Instagram is flooded with style inspo that only serves to tie in with her ultra-cool Scandi girl image — but what exactly is Scandi style?
Co-founder of Swedish clothing brand ATP Atelier Maj-La Pizzelli revealed the secrets of how Scandi girls dress to Marie Claire. "Scandinavian women love to mix-and-match so you can never go wrong with a collection of basic tees, sophisticated blouses, jeans, pumps, and a suede or leather tote bag," La Pizzelli shared. She also mentioned accessories and how important they are to Scandi style. In general, Scandi style is relatively minimalist and relies upon basics, which are then elevated with accessories like bags and your choice of footwear. 
However, this doesn't mean Scandi looks are boring — just more focused on timeless pieces put together in a feminine way. With this in mind, here are some of the key pieces to look out for if you want to dress like a Scandinavian girl this summer.
Prioritize comfort above all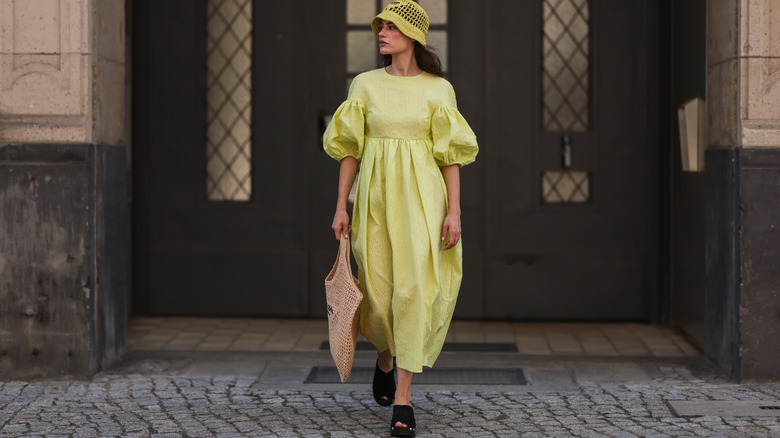 Jeremy Moeller/Getty Images
First things first, every Scandi girl has a flowy dress in their closet. Speaking to British Vogue, Vogue Scandinavia's diversity and inclusion editor Mona M Ali reiterated that, above all, comfort is key to Scandinavian style. This is especially true for summer, where hot days can leave you feeling sweaty and flustered. A long flowy dress with puff sleeves is chic and stylish, and will keep you cool. Wear one for your days out this summer with some on-trend clogs or platform sandals.
Layer up to add depth to your look
Layering is another key component of the Scandinavian style aesthetic, and just because you're dressing for summer, that doesn't mean you can't abide by this sacred fashion rule. A cute cardigan over a dress will never go out of style, especially if you choose a cardigan in a neutral color like white or cream. Plus, a summer dress with a sweet floral print is basically summer personified. Pair with some matching neutral sandals for a wear-anywhere kind of look.
When it comes to shoes, you need a pair of these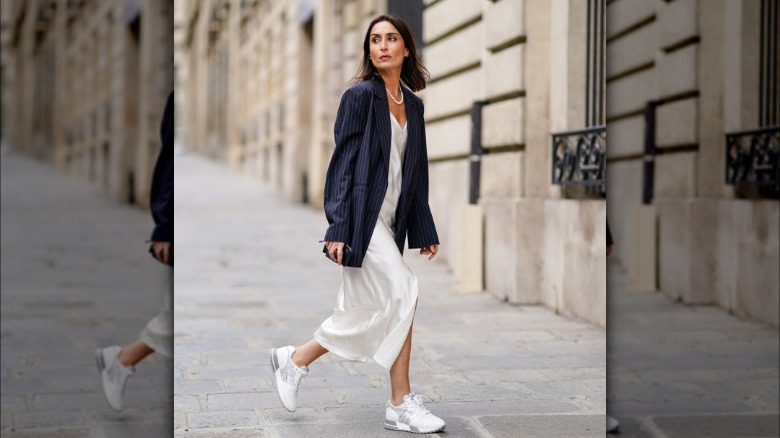 Edward Berthelot/Getty Images
If there's one shoe you'll find in a Scandi girl's wardrobe, it's white sneakers. Fresh, simple, and the perfect accompaniment to any Scandi summer outfit, you probably already have a pair in your wardrobe. Wear yours with dresses, jeans, or even a suit to achieve the laid back aspect that's so key to Scandinavian style. You don't have to get a particular brand of sneakers, either — any that are pure white or off-white will work.
This item will become a closet staple for you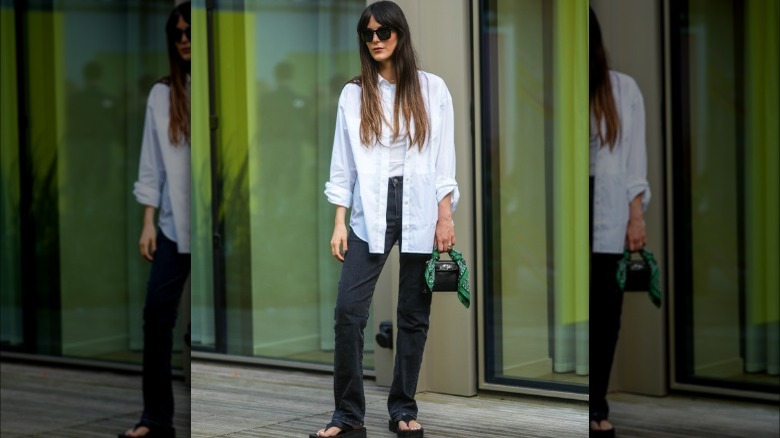 Edward Berthelot/Getty Images
Another wardrobe essential you'll need this summer is a white shirt. Scandi girls wear theirs with a slightly oversized fit, so take note and buy one size larger than your usual for a more casual look. Much like a cardigan, a white shirt can go with anything, whether you half-tuck it into your jeans for brunch or throw it over a top and skirt combo to dress it down. Make sure you get one made from linen or cotton for the relaxed look that's so vital to Scandi style.
Hats aren't just for cold weather
Although the color palette of the Scandi style is relatively neutral, each outfit will usually have a pop of color in the form of a standout accessory. This can be earrings, a handbag, or even an item like a scarf or gloves, but one of the easiest ways to incorporate it is with a hat. A bright hat will bring an element of fun to your look and prevent it from looking one-dimensional — think a beret, baker hat, or oversized headband.
Tap into another trend with a mini bag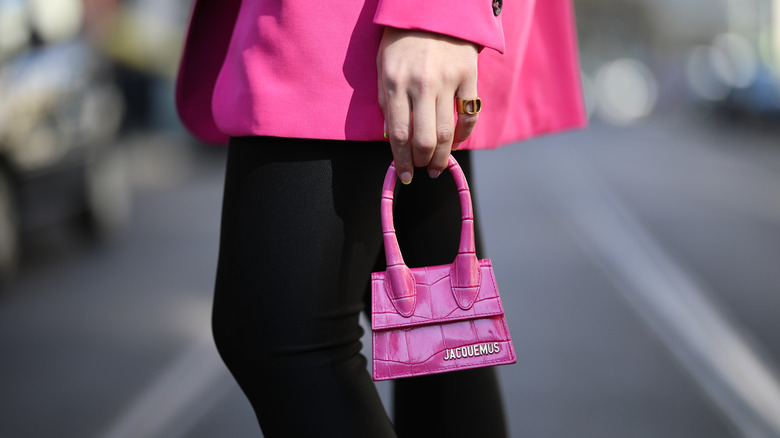 Jeremy Moeller/Getty Images
Speaking of accessories, every Scandi girl has a mini bag in her wardrobe that's ready to pair with anything. This handbag can be neutral to match the overall color palette of the Scandinavian summer aesthetic, but it's also a good way to bring in the aforementioned pop of color. The tiny handbag trend gave us some comically teeny bags, but the Scandi version of the mini bag is more about practicality than fashion. Structure is key, too, so look for bags that have a square or rectangular silhouette and a firm base.
Much like sneakers, these shoes will go with everything
Ballet flats may have gained more popularity recently thanks to the balletcore trend, but Scandi girls have been wearing them forever. The perfect shoe for summer thanks to the lightweight design, wear yours with a skirt and a white shirt. If you live somewhere that has a slightly cooler summer climate, ballet flats also look great with jeans and a tank top for a minimalist look that still ties in with Scandi style.
Make the streets your runway with a trench
The last item you'll need for a Scandinavian summer is a trench coat. If it gets too hot during summer where you live, you might want to sit this one out. Still, a trench coat is a great cover-up to take during evening events it gets a little chilly. It goes with jeans, dresses, and everything in-between, making it the ultimate transitional coat. We recommend opting for a beige or camel trench coat, as these are the most versatile colors.