Why The Bold And The Beautiful's Katie And Bill Divorced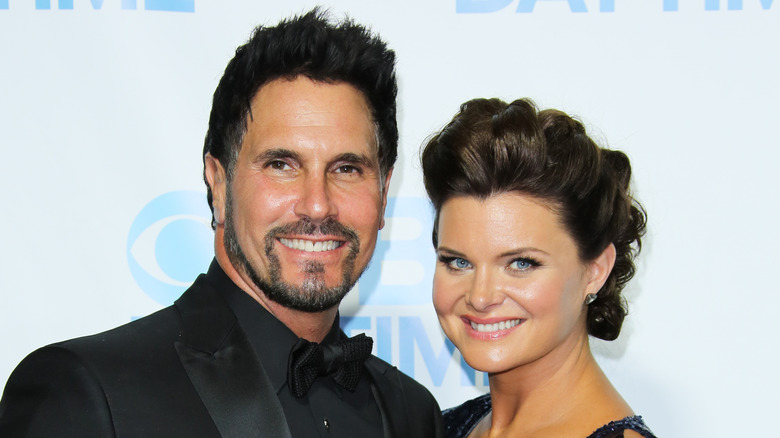 Paul Archuleta/Getty Images
Katie Logan (Heather Tom) and Bill Spencer (Don Diamont) have had a complicated love story on "The Bold and the Beautiful." Katie gave Bill a plethora of chances to change his bad behavior before finally ending their on-again-off-again relationship for good. Often, Katie would sit by the wayside, watching on as her sisters Donna Logan (Jennifer Gareis) and Brooke Logan (Katherine Kelly Lang) got repeated chances at love. Meanwhile, Katie's weak heart led to rocky health issues along with her lack of luck in love. Viewers have witnessed Katie's heartbreak both romantically and medically on numerous occasions, and sadly, Bill has been the reason for much of that pain. 
Bill and Katie's relationship began in 2009 as part of his mission to destroy Forrester Creations at his father's request. He used Katie to get closer to the Forrester family, hoping to gain access to the company. However, at some point during the process, Bill developed genuine feelings for Katie, complicating his master plan. Eventually, Bill and Katie found happiness together and were married in one of the soap's most iconic wedding ceremonies. Unfortunately, Bill had an affair with Steffy Forrester (Jacqueline MacInnes Wood), and it threatened to derail everything. The reveal of their betrayal was too much for Katie's embattled heart to handle, and she suffered a cardiac event, though she survived the ordeal, as did their relationship. 
However, the biggest threat to Bill and Katie's marriage was her sister, Brooke. The connection between Brooke and Bill was a hurdle Katie was forced to overcome on several occasions.
Katie initially drove Bill and Brooke together
Katie Logan experienced an intense bout of postpartum depression following the birth of her and Bill Spencer's son, Will Spencer. The illness changed Katie's outlook on life, causing her to make rash decisions that her marriage arguably never recovered from. Katie felt the need to distance herself from everyone, but she wanted to maintain a nuclear family for her son in the process. She came up with the idea to push Bill and her sister, Brooke Logan, closer together as a romantic item so they could raise Will together. Brooke and Bill pushed back against the idea of being involved at first, but eventually, Katie's efforts were successful following a romantic hot-air balloon ride. The pair had no idea that Katie was behind the joyous flight through the air, but it was a moment that ignited a spark that has never fully disappeared.
Eventually, Bill and Brooke crossed the line from mutual attraction to becoming physically intimate with one another. After the passing of Forrester matriarch Stephanie Forrest (Susan Flannery), the two shared a kiss. However, what they weren't expecting was Katie's emotional return. Katie had received mental health treatment and was ready to step back into her old life, blissfully unaware of how successful her plot to push her husband and sister together was.
Katie and Bill's marriage couldn't survive his betrayals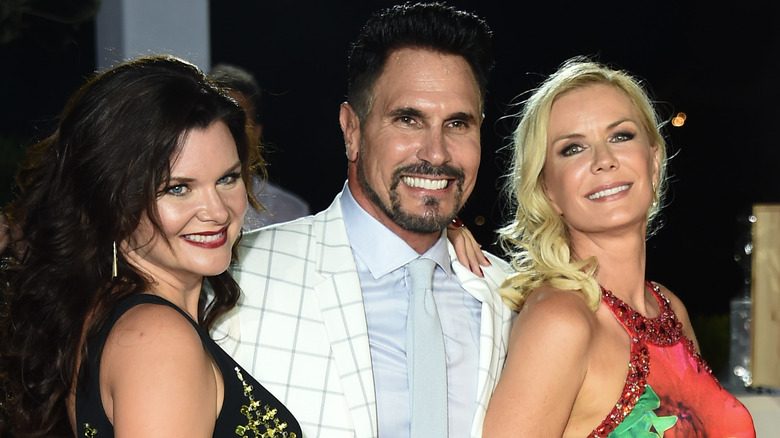 Stephane Cardinale - Corbis/Getty Images
Bill Spencer's wandering eye toward Brooke Logan has been the single largest problem in his marriage to Katie Logan. Every time it looked as if Brooke and Bill were finally ready to quit one another, Katie caught them in another web of lies or compromising position. One of the most egregious instances was when Bill secretly slept with Brooke, which led to an unplanned pregnancy. Brooke suffered a miscarriage, but the secret was exposed to Katie, leaving her reeling from yet another betrayal. Katie decided to divorce Bill, but after much persuasion, she agreed to remarry him.
Throughout the years, Brooke and Bill shared several more inappropriate kisses, and every time Katie learned what happened, she lost more faith in the two people closest to her. She eventually made it clear to Bill that she wasn't going to be anyone's consolation prize and he couldn't come running back to her every time Brooke became unavailable. After finally standing her ground, she and Bill divorced for good.
In recent years, Bill has made countless unsuccessful attempts to win Katie back, but she's denied him. However, this hasn't stopped Bill from attempting to undermine the fledgling and unexpected romance between Katie and Carter Walton (Lawrence Saint-Victor). After seeing Katie distraught from Bill's actions in the past, Carer has become protective of her, encouraging her not to go down the same painful path. There were good reasons Katie and Bill didn't work out, and there's no evidence to show it wouldn't happen again if they reunited.