Your Skin's Undertone Can Work In Harmony With Your Blush Color To Create A More Subtle Look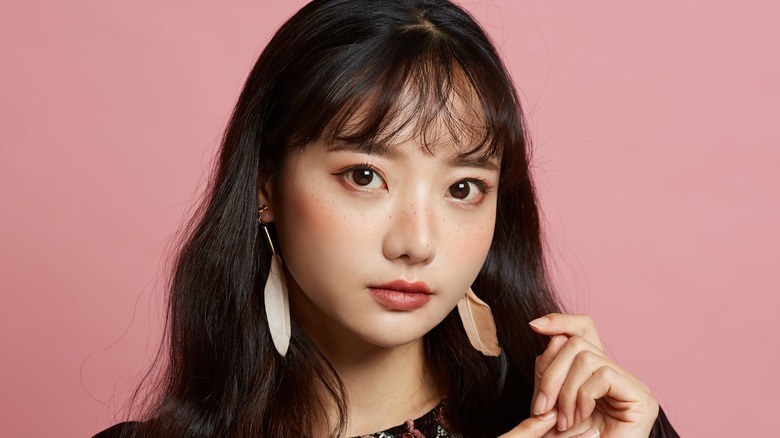 K-Angle/Shutterstock
If you've ever been told to bask in the sun or get a workout in to "put some color on your cheeks," then you know just how much a bit of blush can change the face. From dramatic makeovers to a subtle lift, the glowing pinks, bright reds, and warm oranges always look so beautiful on the skin. Whether you're a powder blush type of person or you prefer cream-based blush, a makeup look is truly never complete without it.
However, not everyone is attuned to the transformative power of a good blush. For some people, applying blush makes them look like they're a Revolutionary-era aristocrat. You may think that blush simply isn't for you — but perhaps haven't found the perfect one. If blush tends to look too extreme on you, finding one that suits your undertone will do the trick. Think of blush sort of like foundation: Even if it's the proper hue, the undertone may be vastly different from your own. A good blush shade needs to look like you're flushed from within.
Use these tricks to discover your undertone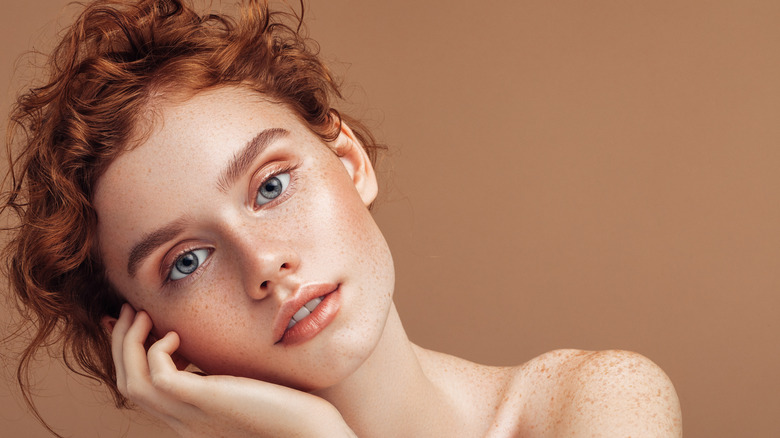 Coffeeandmilk/Getty Images
To discover which blush color is right for you, you'll need to know what your undertone is. Determining your undertone can be done through a few different processes. The easiest way to figure out your skin's undertone involves glancing at the color of your veins. Looking at your wrist, check to see what color they are in natural lighting. If they lean towards more purple or blue, then you have a cool undertone. Green veins are indicative of a warm undertone, while a mix means that your undertone is neutral.
If you're darker skinned, figuring out your undertone from your veins alone may be difficult. You can look at the different hues of your skin to know what your undertone is. When looking in the mirror, do you mainly see yellows and golds under the surface of the skin? You have a warm undertone. Meanwhile, seeing reds and purples means you have a cool undertone. The jewelry test also works to find your undertone: If you look better in gold jewelry, you lean warmer, whereas shining in silver indicates a cool undertone.
What's the best blush color for each undertone?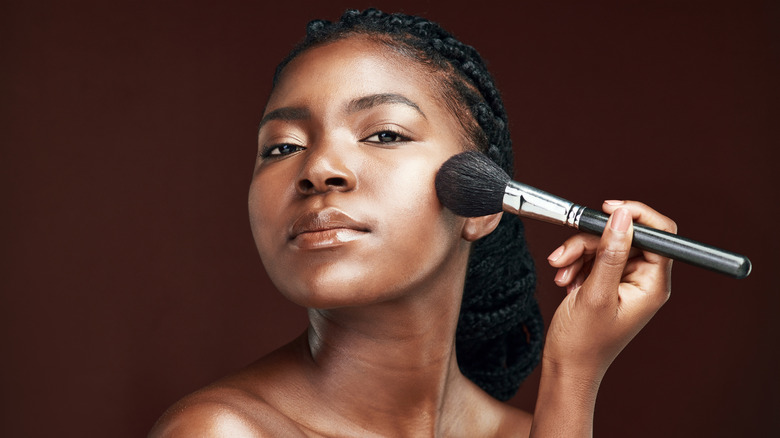 Jay Yuno/Getty Images
When it comes to choosing a blush color, you'll want to look at both your skin tone and undertone to find the perfect shade. A blush shade that complements your undertones makes it look like you're glowing underneath the skin's surface, instead of simply appearing like you've applied color on top of your cheeks.
People with a warm undertone will look best in peachy pinks and corals. Anything that leans more orange is the key to a natural look. Where skin tone comes in is in choosing the intensity of the color itself. While Coral from Dior looks best on lighter skin tones, something deeper, such as Taj Mahal by Nars, a deep, burnt orange with flecks of gold shimmer, is suitable for darker skin.
For cool undertones, opt for something that has shades of blue or pink within it. Again, pick a shade that matches the depth and intensity of your own skin tone. Fair to medium skin tones can use a lighter shade, such as Pale Pink by Bobbi Brown. A deep purple, like Sweet Berries by Juvia's Place, is ideal for dark skin with cool undertones. If you have a neutral undertone, both orange and blue-based blushes work well with your skin. The same goes for olive undertones, although you may want your choices to be more in the direction of something with peach or mauve, rather than a light, baby pink.