Cream Based Blushes May Be The Key To Keeping Your Blush In Check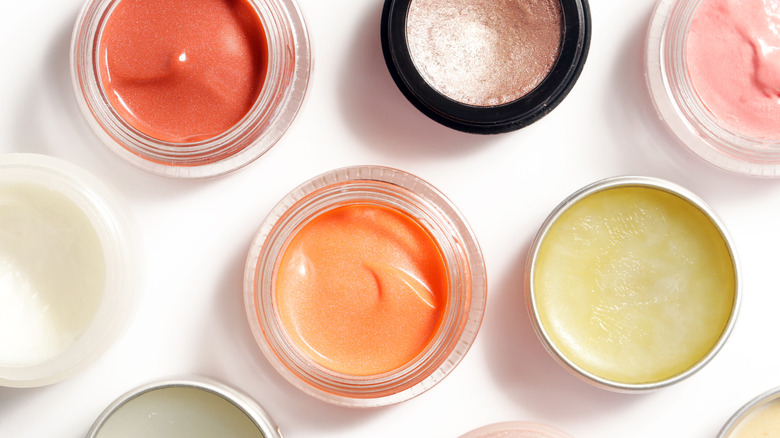 Triocean/Getty Images
Those familiar with the Coke or Pepsi debate can probably relate to this new controversy: cream blush or powder blush. While powder has been the crowd favorite for decades, cream blushes offer simplistic, dewy pigmentation that draws users in repeatedly. InStyle notes that the formula of standard cream blushes is of a wax, oil variety. This consistency, as opposed to powder, allows for more accurate, skin-toned pigments to give you a natural blush-like look. Many cream blushes are also hypoallergenic and more mature skin-friendly than powders, because of their ability to maintain moisture. Plus, even with all of these properties, they remain affordable and accessible, with many incredible cream blushes available at the drugstore. 
If you're debating whether or not cream blush will impact your natural blush look, these additional qualities may influence your decision. Cream blushes are easier to layer than powder blushes, and are great for days you need your cheek color to last and remain bright, without maxing your color quota. Cream blushes are also worth the bang for your buck because they offer fuller coverage (not skimping out on product use), and steadier control than ordinary powder blushes, all of which make it the missing key needed to keep your blush in check.
The secret to blush unlocked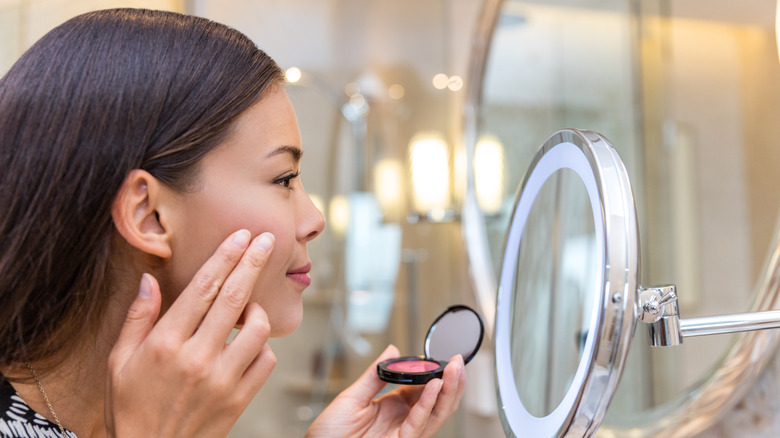 Maridav/Shutterstock
Just because cream blushes are thicker than powder blushes doesn't necessarily mean they're denser. They're considered sheerer than powder blushes, which makes them easier to layer. We're sure you're familiar with the saying, "you can always add more." Well, that saying is true here, because cream blushes are easily stackable in color and pigmentation, meaning if you feel the coverage isn't enough, you can throw on another layer without going over the top. After all, it is easier to over-apply with powder blushes, making it more difficult to backtrack and remove the product, and guesstimate how much blush you need to apply.
Additionally, cream blushes have a quicker set time than powders. This helps the blush to rub off less frequently, which can help you avoid over-applying later in the day. Ultimately, a little can go a long way when using cream blushes, providing the opportunity to save more product, and thus, save money in the long run.
It's all about control
Perhaps the greatest advantage of cream blushes is their quantity control, though there is a method behind knowing how to properly apply cream blush. Powder blushes are used with a brush, and can expel more excess product in the same way a sponge soaks up water: the brush often holds too much powder for its own good. Cream blushes are formulated to be more compact, giving you the control to add as much, or as little product as you like.
Makeup artist Kasey Spickard explained to Makeup.com, "I always apply cream blushes to the back of my hand first, then take a brush or sponge and dip it into the product that way. With this technique, you're able to control how much product actually goes on your face."
It also helps that many creams are lipstick-like in their application. The cream comes in a roll or stick that is easy to grip and simple to adjust. Or, as Kylie Jenner does, you can sometimes apply cream blush with your fingers. This allows you to be in full control of how much product they do or don't use. Using your fingers also allows the product to be spread easier than with a powder brush, covering more surface area and making it less likely to need to fill any missing spots on the cheeks.