All The Worst-Dressed Stars At The 2023 ACM Awards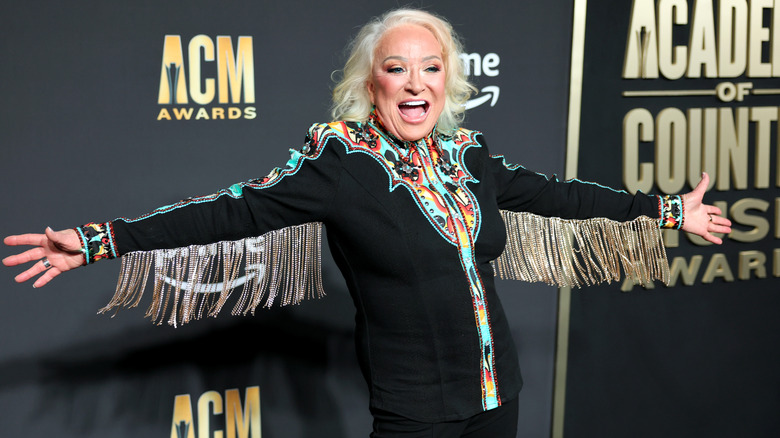 Theo Wargo/Getty Images
Ah, the Academy of Country Music Awards — one of the biggest nights in country music and the best time to see everyone's favorite country stars all in one place. And, while the 2023 ACM Awards certainly honored plenty of today's best country music artists, something else stood out about this star-studded event: there were lots and lots of truly bad outfits on this red carpet. While the 2023 CMT Music Awards was every stylist's nightmare with four copycat looks, this year's ACM Awards also managed to be plenty of stylists' nightmares in myriad different ways.
It seemed as if the stars out on the ACM Awards red carpet weren't exactly sure what the appropriate attire was, which is interesting, considering the ACM Awards' best-dressed stars of all time have given us some truly amazing looks. This year, though, there were plenty of contenders for the "worst dressed" list. These stars may be the best of the best when it comes to country music, but when it comes to making fashion statements on the red carpet, they were totally off-key.
Paige Hathaway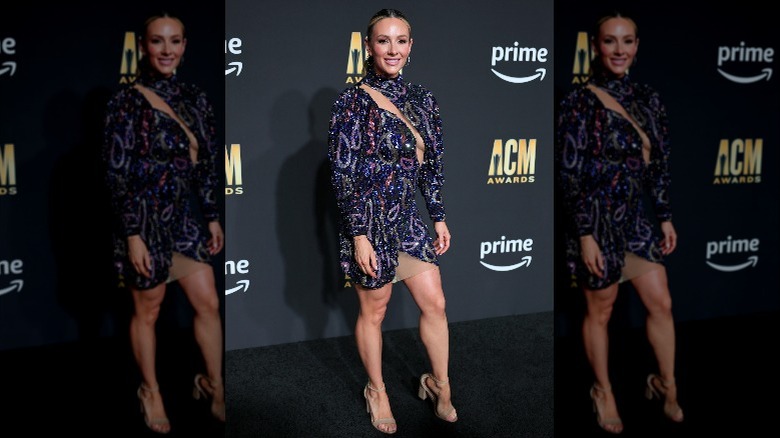 Theo Wargo/Getty Images
Among many confusing ensembles, model and influencer Paige Hathaway presented us with one of the most confusing. Her super short, extra busy purple-printed minidress was way too much; it was difficult to know where to look. In addition to the wild print, this dress was also shiny and had a major, oddly placed cutout, massive shoulder pads, and a strange illusion patch at the hem. While Hathaway made the right choice not to add any more detail with simple hair and makeup and nude shoes, this dress was way too much all on its own.
Trisha Yearwood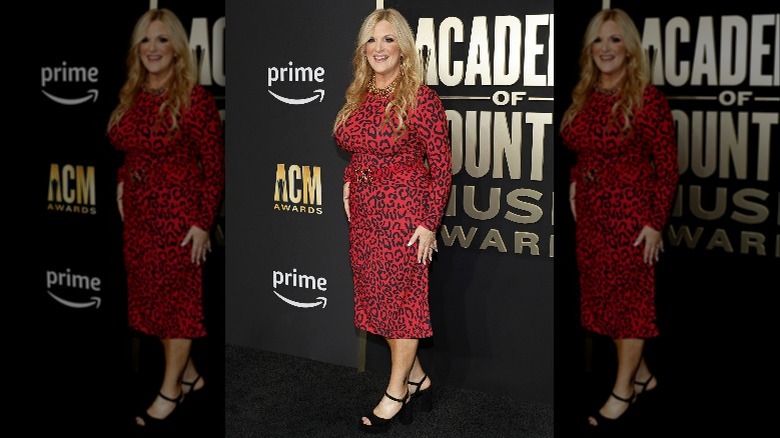 Jason Kempin/Getty Images
Trisha Yearwood arrived at the 2023 ACM Awards having already won three of the awards in the past and prepared to support her husband, Garth Brooks, as he hosted this year's event. Yet, Yearwood looked more like she was headed to an office party than a red carpet. Despite the bold pattern and contrasting color palette, Yearwood's dress didn't make enough of a statement, and she looked too dressed down for the occasion. She would have looked like the star she is in something a bit more elevated in a simpler print.
Nastia Liukin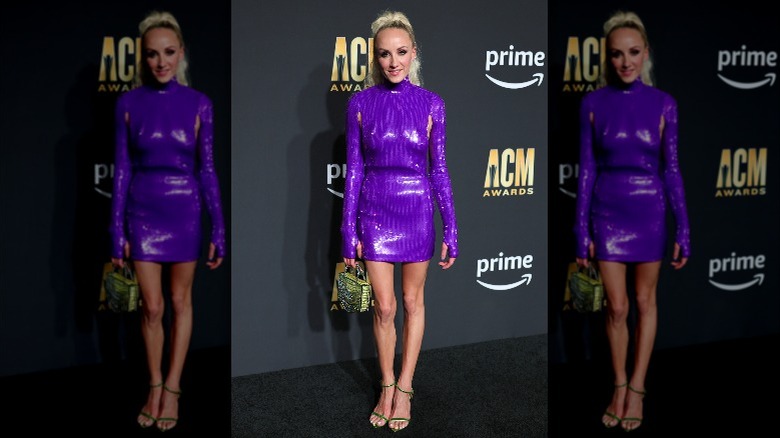 Theo Wargo/Getty Images
It was hard to miss Olympic gymnast Nastia Liukin when she hit the red carpet. We loved her choice to follow the evening's jewel tone trend with a bold purple hue. Yet, this skintight, shiny, backless dress was weird in just about every other way. It would be difficult to style this number in a way that would make it appropriate for an award ceremony, but she managed to make matters worse with her lime green accessories and slicked-back, frizzy high ponytail.
Hardy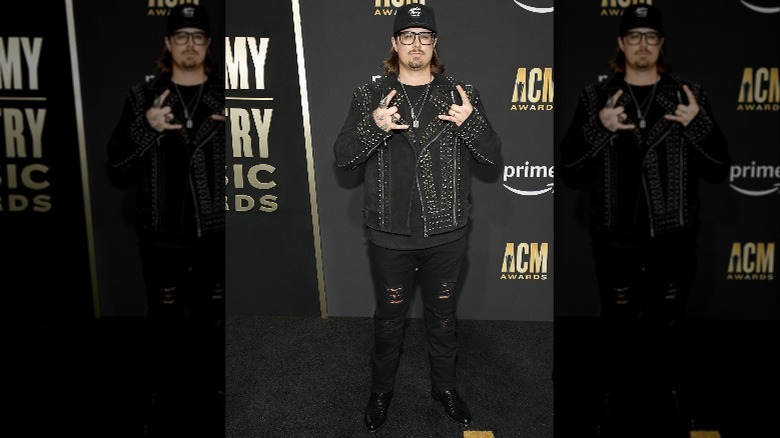 Jason Kempin/Getty Images
Hardy had the most ACM Award nominations at this year's ceremony, but you never would have guessed that by looking at him on the red carpet. The ACM Awards aren't as fancy as the Oscars, and it's clear, based on the wide range of attire, that there aren't hard and fast rules about what is too casual for the event. Even so, the combination of ripped jeans, t-shirt, bedazzled moto jacket, layered necklaces, and baseball cap didn't work. It was both too busy and too casual, and he would have been better off in something with fewer details.
Brittney Kelley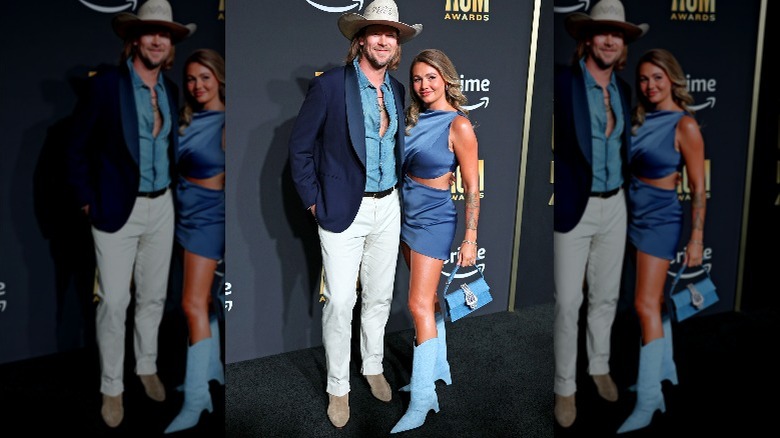 Theo Wargo/Getty Images
Brittney Kelley is the founder of the fashion brand Tribe Kelley so it's safe to say that she knows a thing or two about style. It's clear that Kelley had a bit more of an eye when choosing her blue monochrome look than some of the evening's other guests, yet it still didn't quite work. A bit more length on the dress or some different accessories may have saved the look, and while hubby, Brian Kelley, might not have made the list on his own, he certainly isn't helping matters in his mismatched ensemble.
Ian Munsick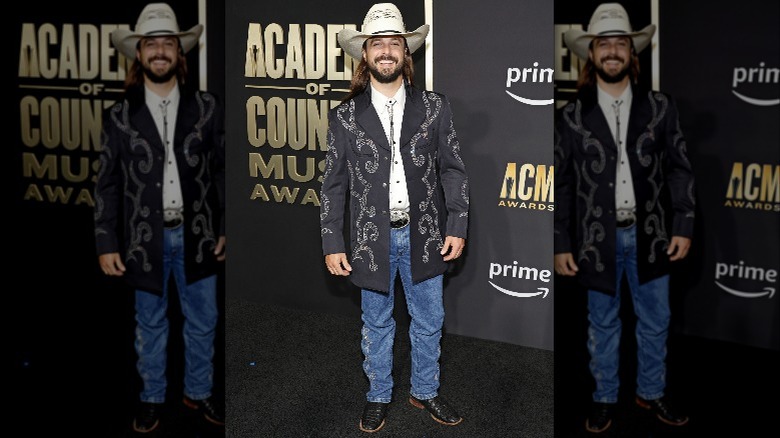 Jason Kempin/Getty Images
Oversized jackets among men were a bit of a trend at the ACM Awards this year, and we're really not sure why. Yet, if there was a way to make the oversized jacket look work, Ian Munsick did the exact opposite. His heavily bedazzled jacket was way too long. The jacket on its own probably would have landed him on the list. Yet, he also paired it with too many country music-inspired accessories, from a bolo tie and huge belt buckle to a cowboy hat, which left him looking like he just raided a costume closet.
Criscilla Crossland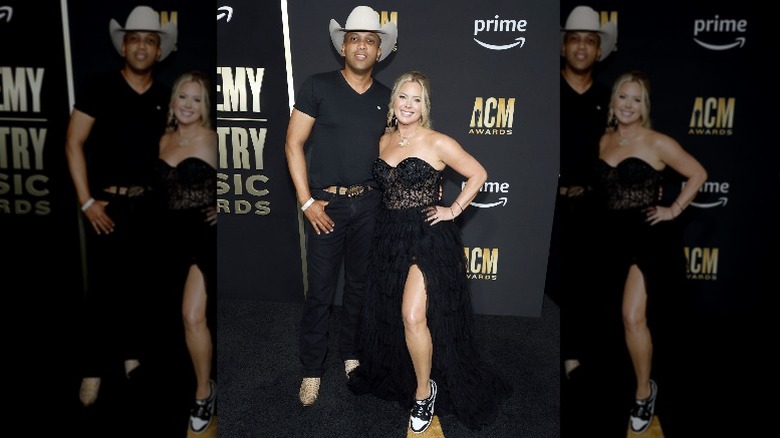 Jason Kempin/Getty Images
We love sustainable dressing and reusing our favorite 'fits for multiple occasions. But that doesn't mean that we support Criscilla Crossland looking like she re-wore her Jessica McClintock prom dress for the ACM Awards. This dress is a bit over-the-top and looks way too much like prom queen attire for the event. And, while a more casual, funky footwear choice could have had the potential of dressing the gown down and adding some welcome edginess, the athletic sneakers just make the look even more confusing and out of place.
Brittany McGuire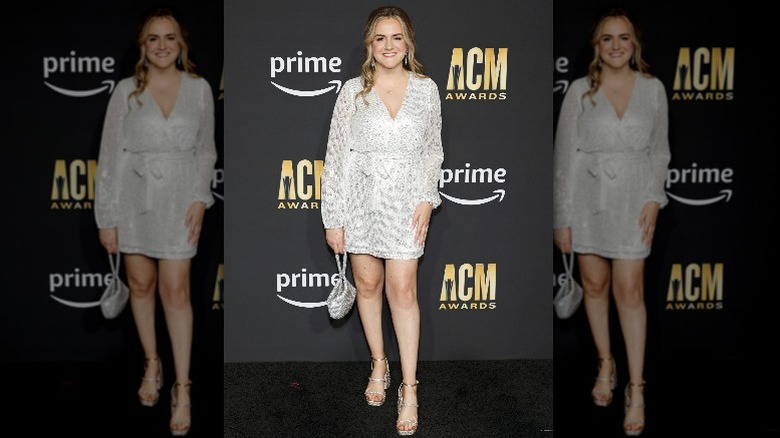 Jason Kempin/Getty Images
TikTok star Brittany McGuire certainly didn't sport the most egregious ensemble of the night. Yet, she did manage to fit into one of the night's biggest trends: looking like you were dressed for an entirely different occasion. With a few tweaks, this dress may have been red carpet ready, but its slouchy fit made it look boring and casual. Maybe some statement shoes and accessories could have helped to elevate the look, but this styling just made the dress feel even more dated and drab.
Hailey Whitters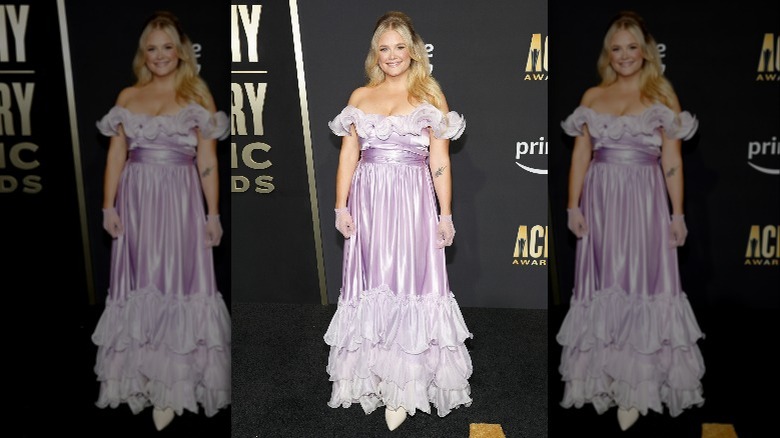 Jason Kempin/Getty Images
According to the pre-show red carpet coverage, Hailey Whitters admitted to gracing the event in an actual bridesmaid dress. There are plenty of bridesmaid dresses that could have worked perfectly for the red carpet without anyone knowing that they were intended for a wedding. This, however, was not one of them. This lavender gown certainly does have big bridesmaid energy and too many overwhelming frills. Plus, the closed-toe shoes she paired with it acted to swallow her up in the ensemble even more. She would have shined in a shorter, sleeker version of this dress.
Jo Dee Messina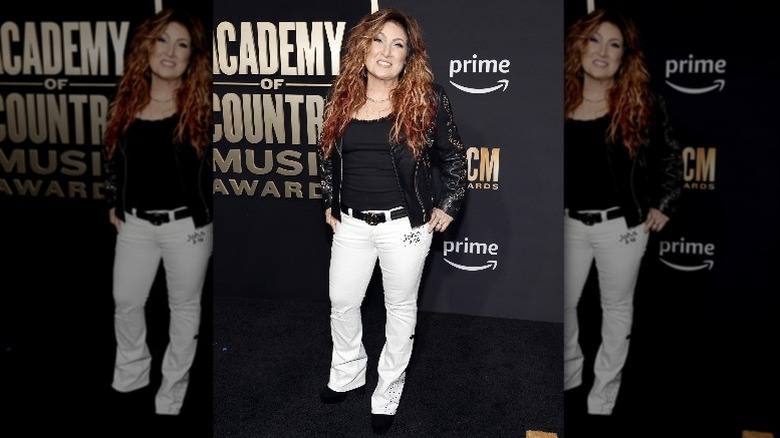 Jason Kempin/Getty Images
When Jo Dee Messina opened the second performance of the awards ceremony, it was clear why she was present for one of country music's most important nights. Yet, she was dressed for a night that was far less important. It would be surprising if Messina even attended one of her own concerts in this 'fit, let alone the ACM awards where she was performing. She could have layered this leather jacket over something more elevated to stay true to her personal style. But this look is much more appropriate for a trip to the grocery store.
Davis Burleson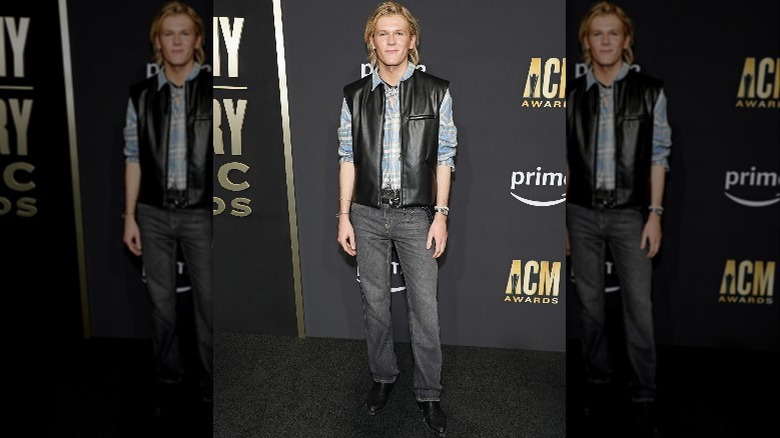 Jason Kempin/Getty Images
You may know Davis Burleson from his TikTok series, "What's Poppin? With Davis!!" And, we simply must know what was "poppin'" with Davis when he put this ensemble together. As was a pattern with many folks at this year's ACM Awards, Burleson's outfit was too casual for the event. Yet, what makes this look even stranger is the way none of these elements quite go together. The gray jeans, plaid shirt, and leather vest all would have worked better with entirely different outfits, and we're not sure any one of them would've been right for this red carpet.
Tanya Tucker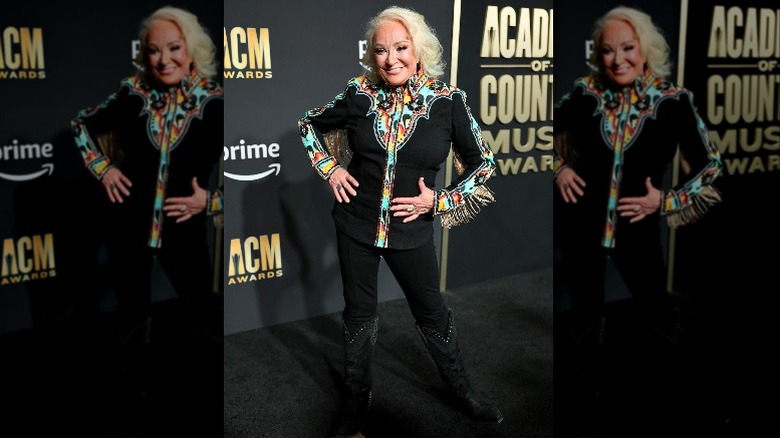 Theo Wargo/Getty Images
Tanya Tucker is nothing, if not a country music legend. As such, we would have loved to see her dressed to impress for such an important night for country music. The outfit she chose, however, was so distracting we almost missed who was wearing it. Her black pants and cowboy boots were an example of how to do a casual look well for this red carpet. Yet, the top is so busy and colorful in all the wrong ways that Tucker gets lost in it.
Lainey Wilson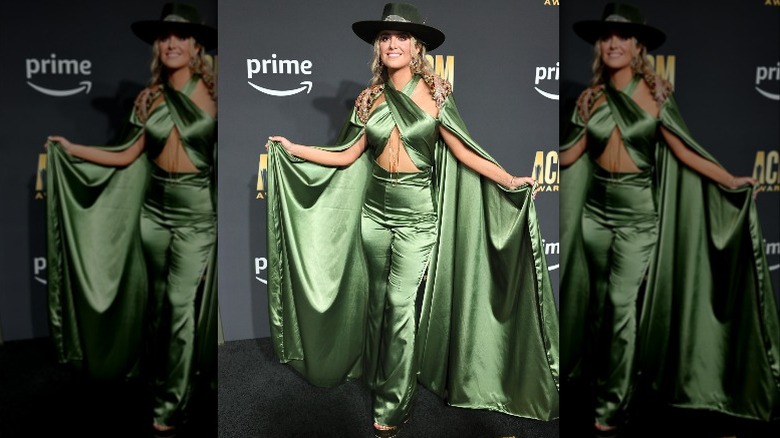 Theo Wargo/Getty Images
While we don't have an official "worst of the worst dressed" list, if we had to choose, country star Lainey Wilson would certainly be a contender. The star sported a shiny green jumpsuit with skintight pants, a major cutout, and an attached cape. This get-up is all-around strange. And, while we know that the cowboy hat is basically Wilson's signature accessory and one that's more than welcome at the ACM Awards, it doesn't go with the jumpsuit at all and makes the outfit even odder.
Kendra Slaubaugh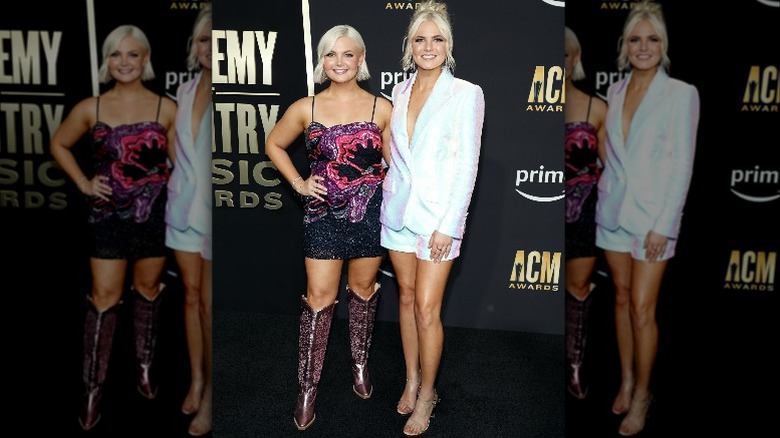 Jason Kempin/Getty Images
Tigirlily Gold performed ahead of the ceremony, and as always, these sisters were in sync for their performance. Yet, when it came to their looks, one sister excelled while the other crashed and burned. We loved Krista Slaubaugh's short suit and updo for the occasion. Kendra, on the other hand, wore a super short minidress in an outrageous pattern paired with metallic boots. This look was just a mess and a better option for a night out than for a major event.
Brothers Osborne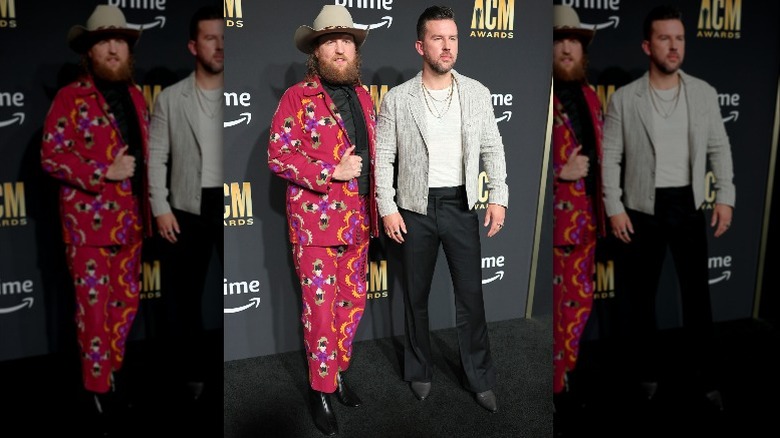 Theo Wargo/Getty Images
It's so nice when a pair of brothers love to do everything together: from taking country music by storm to taking over a "worst dressed" list. T.J. and John Osborne both managed to make a peculiar fashion choice for the night but in two very different ways. John's red patterned suit may have been a nice way to put a fun twist on a dressy ensemble. Yet, this print is glaring and plain old unpleasant, and the black shirt and cowboy hat don't work with it. T.J.'s t-shirt, ill-fitting jacket, and pointy shoes also make for a mismatched combination.