Miranda Lambert's Jewel Tones At 2023 ACM Awards Led The Trend (But Not All Her Looks Shined)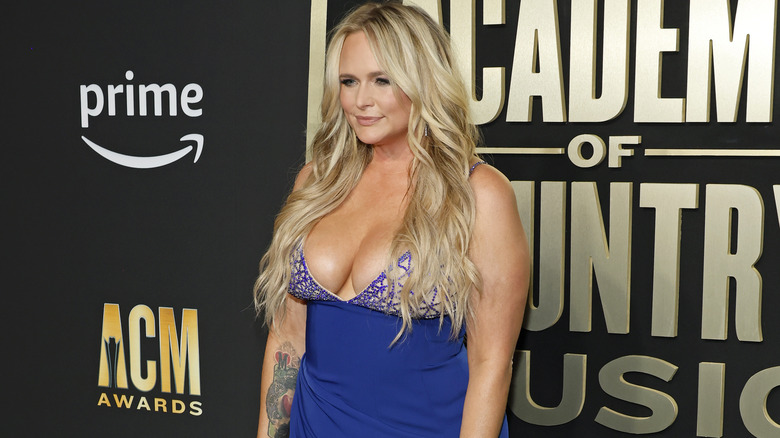 Jason Kempin/Getty Images
Miranda Lambert is one of country music's most beloved stars. Consequently, plenty of country fans were excited to see the singer hit the ACM stage for this year's Academy of Country Music Awards. Miranda Lambert has made history at the ACM Awards many times before, so it's really no surprise that she went all out for this year's awards, doing two costume changes over the course of the night. She sported three show-stopping ensembles and didn't manage to be one of the worst-dressed stars at the awards, which is a feat all on its own. Yet, that doesn't mean that all three outfits were big hits the way her music is. 
Lambert, who was nominated for four awards this year, walked the red carpet in a dress that fit right into the evening's jewel tone trend, performed in a pretty pink gown fit for a princess, and appeared backstage in a plunging red suit. So, which of her outfits rose to the special occasion, and which fell flat?
Miranda Lambert made three major fashion statements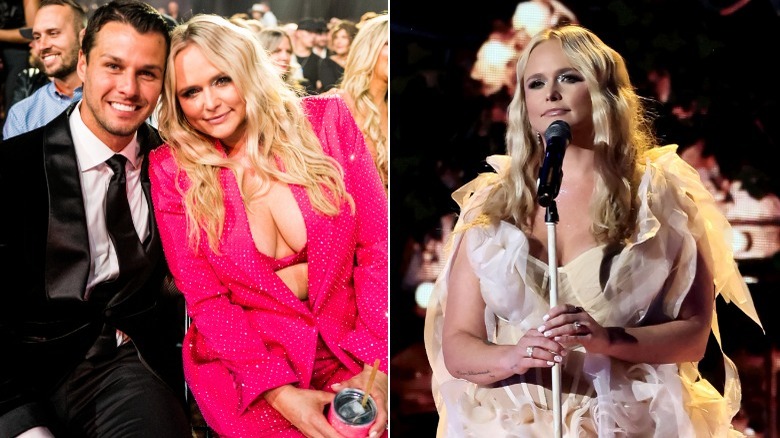 John Shearer/Getty & Theo Wargo/Getty Images
Miranda Lambert's first ensemble of the night was a bold blue gown. While the color was a beautiful hue on her, this dress didn't feel like it was the perfect pick for the star's first 'fit of the night. The long leg slit, dragging train, and gathering on the bodice paired with a bedazzled top and ample skin-showing made for many details that took away from the dress' otherwise sleek look. Still, plenty of folks were fans of Lambert's first and unarguably most glam look of the night. 
Lambert changed for her performance of her song, "Carousel." Amidst the complex, fantastical carousel-themed set, Lambert stood in a pale pink gown made up of tons of ruffles and texture. This dress was picture perfect for this performance, and it created an angelic, ultra-feminine look that allowed her to shine while also blending seamlessly with the nostalgic, super-sweet set around her. 
As for her final look, Lambert sported an exposed red bra underneath a shimmering red suit. One Twitter-user tweeted, "Is Miranda going out tonight" with the hashtag, #bejeweled, as a nod to the Taylor Swift song, referencing Lambert's glittering jacket and rhinestone-clad purse. While our favorite Miranda Lambert look of the night has to go to her pretty in pink performance ensemble, this red suit was certainly a show-stopping way to finish off her fashion statements, and it allowed her to end the night how she started it: shining in a bold jewel tone.